Wall Street Is Ready to Put Lina Khan's FTC to the Test
(Bloomberg Opinion) -- An overburdened U.S. Federal Trade Commission is warning acquirers that if they get impatient and close any deals without the agency's permission, it just might slap them with a lawsuit. Dealmakers won't hold their breath. 
As President Joe Biden pushes for more aggressive antitrust enforcement — an effort spearheaded by legal scholar Lina Khan, his controversial pick to lead the FTC — the agency is running up against practical limitations. It's working with very limited resources for a very large number of deals. How large? So far this year, nearly 10,000 U.S. companies agreed to be acquired for a combined deal value of $1.25 trillion, data compiled by Bloomberg show. That's already surpassed last year's sum and may even be on track for a record. Not all of those tie-ups will require regulatory approval but in July alone, 343 transactions filed premerger notifications and are awaiting review, compared with 112 in July 2020, according to the FTC.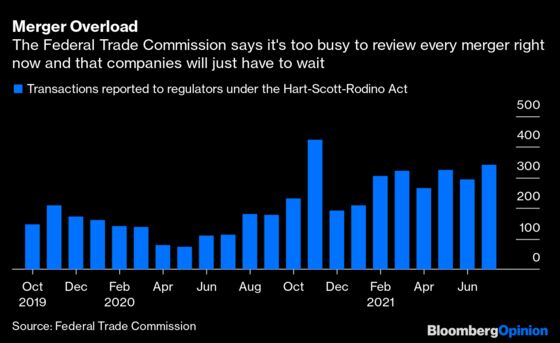 These filings start a 30-day clock for regulators to decide whether to further investigate a deal. If that waiting period expires without any action, a company would typically take that to mean that it's free to complete the transaction. But now the FTC says it can't get to its backlog fast enough and that inaction on its part doesn't signal permission to proceed. In warning letters sent to filers this month, the agency said companies that go ahead anyway do so at their own risk because the FTC might later decide a deal violates antitrust laws and sue to undo it — and what a mess that would create for buyers and sellers. And yet, if the agency thought such an aggressive move might discourage mergers, it was wrong. 
"To my mind, it is a completely hollow threat and makes the agency look weak," Joel Mitnick, a partner in the antitrust and global litigation groups at law firm Cadwalader, Wickersham & Taft LLP, said in a phone interview. "They're saying they're going to ignore the statutory time limits on them whenever they feel like it and continue to investigate transactions until they're satisfied. But it's very difficult for the agency to sue to unwind the transaction once the eggs are scrambled."
Merger reviews traditionally involve some give and take. Companies will often give regulators more time if they think it will increase the odds of winning approval. If that cooperative attitude is being tossed out the window, though, dealmakers are ready to reassess and embrace a more adversarial process.
For M&A lawyers, it's a disturbance to an equilibrium that existed under other administrations, and they fear a reversion to the merger-hostile environment of the 1960s. Of course, folks in Khan's camp would say it wasn't an equilibrium at all, but rather an often overly cozy relationship between regulators and companies that were given too much leeway in recent years.
In any case, businesses are understandably frustrated by what would seem to be an unreasonable ask. Waiting indefinitely to close a deal is costly and full of risks. At least one acquirer isn't having it. Last week, Illumina Inc. finalized an $8 billion purchase of cancer-testing startup Grail even though U.S. and European authorities haven't completed their probes. Even as the FTC began this week its attempt to unwind the deal, other dealmakers may decide they like their chances, too.
The FTC "better be ready to litigate," said David Wales, a partner in the antitrust and competition group at law firm Skadden, Arps, Slate, Meagher & Flom LLP and former acting director of the agency's Bureau of Competition. "I've seen first-hand the resource constraints at the FTC," he said. "They can't sue everybody. They can't block every deal. They will have to be strategic about it."
Already, regulators have two major cases sucking up resources. The FTC last week refiled its monopoly lawsuit against Facebook Inc., alleging its takeovers of Instagram and WhatsApp violated antitrust laws. (Its deal last year for Giphy also employed a sneaky maneuver to avoid showing up on regulators' radars, and now they're looking to close that loophole.) The Justice Department is pursuing its own case against Google. And what was initially seen as a narrow effort to reel in dominant technology companies has since expanded to other industries in light of a sweeping executive order from President Biden. Even more obscure areas such as ocean shipping are facing new scrutiny.
M&A reviews had already become more of a slog in recent years. Dechert LLP's Antitrust Merger Investigation Timing Tracker — aptly nicknamed the DAMITT report — shows how investigations that once took an average of eight months now stretch into a year or longer: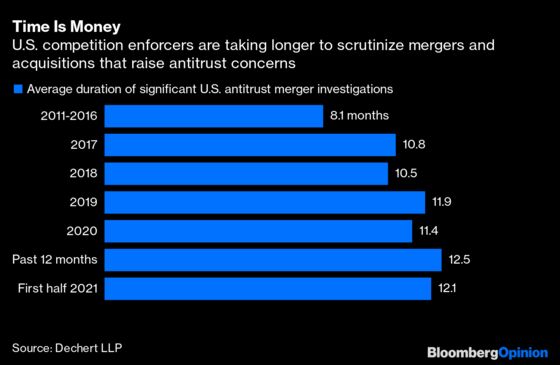 Just because the FTC threatens a drawn-out legal process doesn't mean a court will take its side in the end. Even as some politicians and antitrust officials look to toughen up M&A laws, judges still rely on precedent, which can be favorable to merging companies (it was for AT&T Inc. in its giant takeover of Time Warner, for instance). An ambitious agenda without the financial resources to match it will also be of less service to consumers than if regulators pick their battles.
As it stands now, Khan's FTC looks like it's biting off more than it can chew, and its threats aren't having the intended effect.
This column does not necessarily reflect the opinion of the editorial board or Bloomberg LP and its owners.
Tara Lachapelle is a Bloomberg Opinion columnist covering the business of entertainment and telecommunications, as well as broader deals. She previously wrote an M&A column for Bloomberg News.