(Bloomberg Opinion) -- If you found yourself Googling airfares or swiping through pictures of infinity pools on resort websites in the last year, there is a good chance it was little more than an act of digital escapism. Rather than making deliberate moves to plan a trip, perhaps you were just reminding yourself of the world beyond your living room, fantasizing about a future when the pandemic didn't control so much of everyday life.  
This homebound attitude is starting to change, though, and it appears many Americans are ready to go from voyeur to voyager. UBS has been routinely surveying U.S. consumers about their travel intentions since last April. In its latest installment, leisure industry analyst Robin Farley noted that the proportion of respondents saying they would travel now has reached its highest level yet. Notably, that group was larger for the first time than the group who said they would be comfortable traveling six months from now or more.
Another group, Destination Analysts, has been conducting weekly surveys gauging traveler sentiment. In their early March installment, more people said they felt "very confident" or "confident" that they can currently travel safely than said they feel "not very" or "not at all" confident.  In another sign consumers are getting comfortable with the idea of getting away, Marriott International Inc. said on a recent earnings conference call that occupancy rates over Presidents' Day weekend in mid-February were the best for any long weekend since the public health crisis began.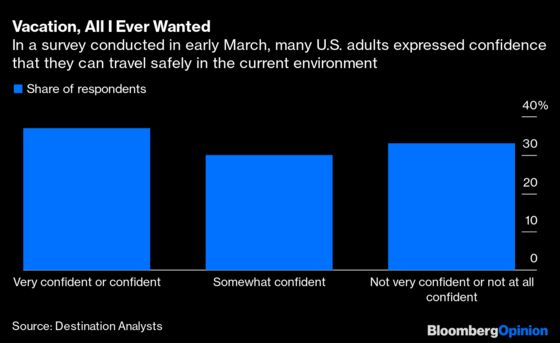 All of this suggests Americans have hit an inflection point in their willingness to travel, a mindset likely influenced by the hastening pace of vaccine distribution. That is not enough to put the lodging industry on a glide path in 2021, with the government still recommending that people avoid travel. But the attitude shift should be a cue to the giants of the hospitality industry that they're about to endure an important test of all the safety procedures and technology features they've spent a year putting in place for a pandemic-conscious consumer.
What Marriott, Hilton Worldwide Holdings Inc. and others are soon to face is much the same as what retail giants dealt with in an earlier phase of the pandemic: An influx of cautious visitors who crave some semblance of normality, but also want clear signals that their safety is taken seriously.
Retailers responded with measures such as mask mandates, installing plexiglass and hand sanitizer at checkout counters, putting down floor markers to make aisle traffic one-way, wiping down shopping carts more frequently, and even intercom reminders to practice social distancing. Hotels have undertaken similarly elaborate protocols; Hilton, for example, is promising visitors their rooms will be treated with "hospital-grade" cleaners, that surfaces such as remote controls and light switches will be disinfected. Guest-room doors have a seal on them upon arrival to reassure visitors the room has been freshly cleaned. Some might scoff that some such measures, are little more than what's been dubbed "hygiene theater" — especially those aimed at cleaning surfaces, which have not proven to be major vectors of virus transmission. 
But whatever actual defense such measures provide, we know from the example of retail that it's important, at least in the short term, to make customers feel safe. Doing so could go a long way toward getting travelers to return – and to provide favorable word-of-mouth accounts of their experiences. In the retail world, there's evidence some chains benefited from the steps they took on safety measures: Macy's Inc. said in February it has recently seen better customer satisfaction scores, with the improvement driven by favorable assessments of their Covid protocols. TJX Cos., the corporate parent of T.J. Maxx and Marshalls, has said it believes safety practices have been key in getting people to keep returning to stores once they had made an initial visit.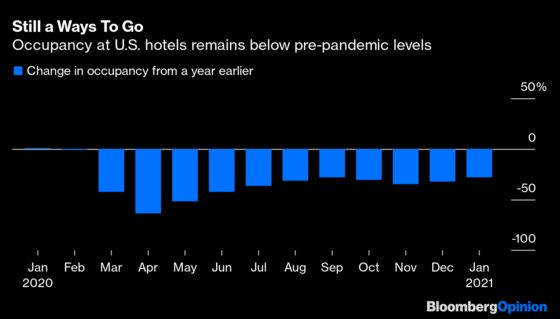 The lodging industry is also likely to see increased interest in options such as smartphone check-in, mobile keys and other contactless ways of carrying out routine hotel business, a change that will mirror the surge in interest the retail industry saw in options such as curbside pickup. Hotel chains should make every effort to ready their apps for increased usage and make them more intuitive for these purposes. Marriott, for instance, recently announced an overhaul of its app to make it easier to check in by phone and order services such as dry cleaning or a shoe shine.
Hotels won't easily bounce back from 2020's devastation; that will require not only a revival in tourism, but also a pickup in business travel, the return of major conventions and more flights criss-crossing the globe again. But the willingness of some Americans to pack their suitcases – and hotels' ability to impress them during their first forays – could be a key early step on the path to recovery.  
This column does not necessarily reflect the opinion of the editorial board or Bloomberg LP and its owners.
Sarah Halzack is a Bloomberg Opinion columnist covering the consumer and retail industries. She was previously a national retail reporter for the Washington Post.