The Most Important Number of the Week Is $34.1 Trillion
(Bloomberg Opinion) -- There's never really a good time for an economy to experience elevated levels of inflation. Low and steady is preferred to high and volatile. But if what we're experiencing is the latter, then the timing is as good as any.
The U.S. Labor Department said Friday that its consumer price index jumped 6.8% in November from a year earlier, the biggest increase in almost 40 years. In the decade before the pandemic, the average increase was a bit less than 2%. The main concern about faster inflation is that it will erode consumers' purchasing power, forcing them to deplete savings as they spend more for the same goods and services. 
Americans, though, appear positioned well to withstand the inflationary fallout until the economy works through the issues — mainly Covid-19 and the resulting supply chain disruptions — that are behind the jump in consumer prices. The Federal Reserve said this week that U.S. household net worth has surged $34.1 trillion since the start of the pandemic to a record $144.7 trillion. That's a whopping 31% increase over the six quarters ended Sept. 30. The all-time high for any calendar year before 2020 was $12.5 trillion in 2019.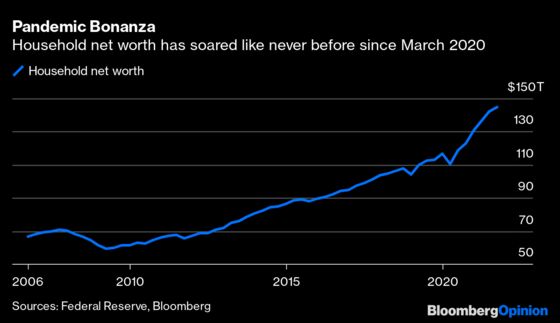 Thanks to unprecedented fiscal and monetary stimulus from the government and Fed, Americans have built up $2.7 trillion in excess savings since the start of the pandemic, according to Bloomberg Economics, about triple the normal level. Tom Porcelli, the chief U.S. Economist for RBC Capital Markets, has calculated that wages for the year are about $400 billion higher than they would have been had the pandemic never happened, using a pre-pandemic baseline. This means that consumers are sitting on almost an extra year of income gains. 
Add to that the tremendous improvement in household balance sheets since the 2008-2009 financial crisis. Consumers are spending a record low percentage of their disposable incomes to service their debt, according to Fed data going back to 1980. Then consider that rising gasoline prices, a poster child for the spike higher in inflation, matter less to consumers these days. As my Bloomberg Opinion colleague Liam Denning pointed out this week, spending on gasoline and other motor fuels as a share of disposable income is about half what it was in the first decade of this century.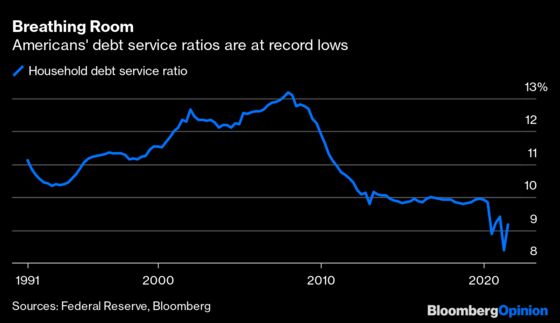 Various surveys suggest inflation is the top concern among consumers. A Gallup poll released Dec. 2 found that 45% of American households say inflation is causing them financial hardship, and a Wall Street Journal poll published Tuesday found that about 60% of Americans think the economy is poor or not good and headed in the wrong direction, according to Bloomberg News.
And yet, other measures suggest their worries aren't translating into action. The Institute for Supply Management said a week ago that its services index — a proxy for the U.S. consumer — advanced to a record 69.1 last month from 66.7 in October. As Bloomberg News explained, "bolstered by rapid wage gains and a stockpile of savings, Americans have the desire and the wherewithal to spend on services." A strong consumer is a big reason the economy has accelerated this quarter after a slowdown in the third quarter. The Federal Reserve Bank of Atlanta's widely followed GDPNow Index, which aims to track the economy in real time, has soared since October, reaching 8.72% this week.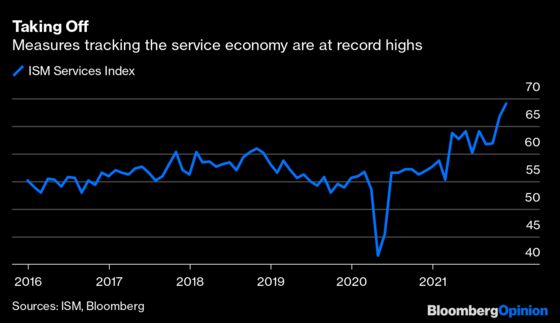 The thing to remember is that faster inflation is not just an issue in the U.S. It's happening around the world. And yet Citigroup Inc.'s economic surprise indexes, which measures the degree to which data is either beating or missing expectations, show that the U.S. is doing far better than the rest of the world.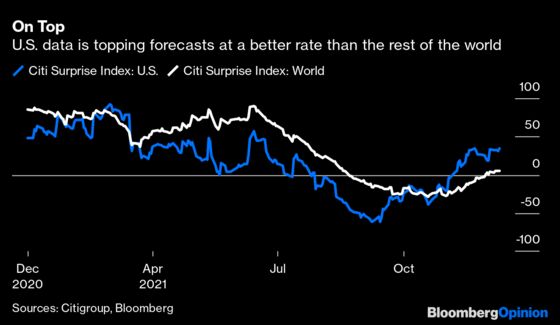 The folks at DataTrek Research Inc. posed a very interesting question this week: If inflation is so bad, why aren't more Americans searching for more affordable options? This is purely anecdotal, but they analyzed Google and found that searches for "cheap" and "coupon" have not risen in 2021 and are even below any recent year. Perhaps even more amazing, they found that search volumes for "discount" are near five-year lows "just when they should be climbing because of holiday shopping and inflation." Here's what they concluded: 
The U.S. labor market is strong, and wages are rising. This may be enough of a macro tailwind to keep consumers from worrying too much about inflation when it comes to actual purchase decisions.
Consumers may have become adept at finding low prices without using common words like "cheap", "coupon" and "discount" in their Google searches.
Perhaps consumers think inflation won't last long and are reluctant to change their buying patterns just to save a few dollars.
Maybe consumers are more interested in finding what they want in an environment of persistent shortages rather than in focusing on the cheapest items, which may well be out of stock anyway.
No one can say with any degree of confidence when these high rates of inflation will reverse. And maybe the real pain will come in the new year, when a temporary extension of monthly child tax credit payments and the government's temporary moratorium on federal student loan payments expire. For now, the best strategy is to ignore the hyperbolic screaming by consumers about inflation and focus on what consumers are doing. Those are often two much different things.    

More from other writers at Bloomberg Opinion:
What 2021 Has Now Taught the World About Inflation: John Authers
If This Is Peak Inflation, What Is Path to 2%?: Brian Chappatta
What 'The Wizard of Oz' Tells Us About Inflation: Daniel Moss
This column does not necessarily reflect the opinion of the editorial board or Bloomberg LP and its owners.
Robert Burgess is the executive editor for Bloomberg Opinion. He is the former global executive editor in charge of financial markets for Bloomberg News. As managing editor, he led the company's news coverage of credit markets during the global financial crisis.