Trump's Mexico Trade Deal Looks Like a Lemon
(Bloomberg Opinion) -- A car can look like a fantastic bargain on the lot, only to reveal itself as a lemon when you drive it away. It's not so different with trade agreements.
Take the deal hammered out Monday between the U.S. and Mexico on automotive imports, which the two countries hope to extend to Canada, the third member of the North American Free Trade Agreement. 
The key elements certainly look dramatic: lifting rules-of-origin requirements to 75 percent to avoid import tariffs, and a separate rule that 40 percent to 45 percent of content come from factories paying more than $16 an hour. The wage rule in particular is about twice what Mexican assembly-line workers make, and four times the average at parts companies there.
When you take a look under the hood, though, there's a lot less than meets the eye.
Take those rules-of-origin requirments. These specify the share of a car's content that must be made within Nafta, and have been at 62.5 percent for 16 years. Usefully, the National Highway Traffic Safety Administration already produces data on rules of origin so that U.S. consumers can buy local, and these show which cars would be affected by the change.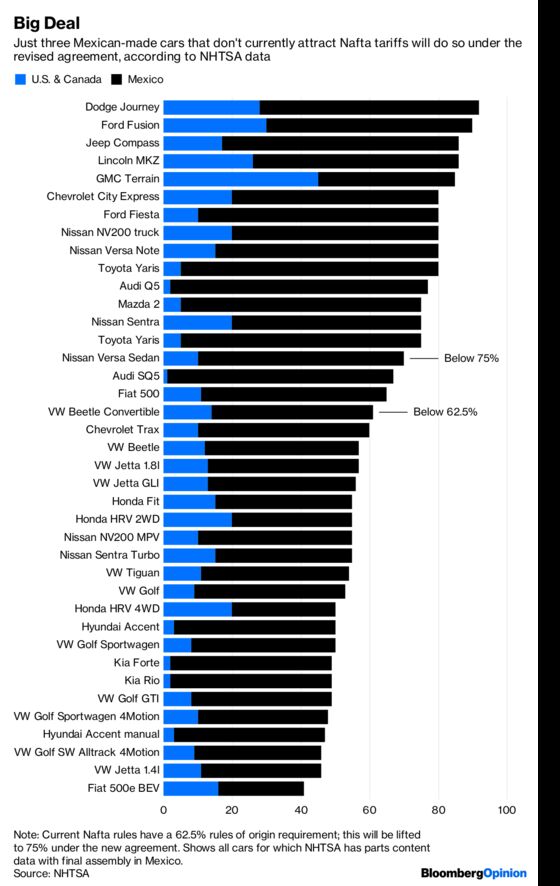 Based on the NHTSA's data, there are just three models made in Mexico that are currently exempt but would attract tariffs under the new regime: Nissan Motor Co.'s Versa Sedan, Audi AG's SQ5, and Fiat Chrysler Automobiles NV's Fiat 500. Of these, only the Versa sells more than a handful of models in the U.S., with 106,772 vehicles shipped in 2017.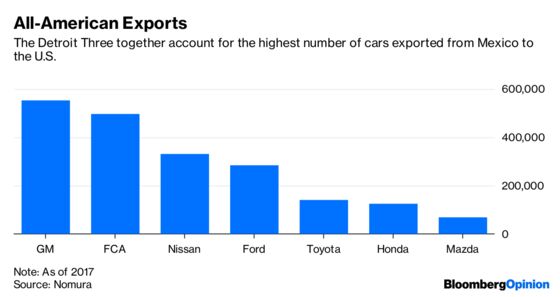 The wage rules are likely to be tougher, though even there the devil is in the detail. Almost all non-Nafta content in Mexican-made cars sold in the U.S. comes from Germany, Japan or South Korea, where total compensation typically takes pay well above $16 an hour. So unless the requirement relates solely to Nafta workers earning at least $16 per hour (full details haven't been released yet), the rules will only really affect vehicles that are at least 55 percent made in Mexico.
That's a similarly small group. Excluding Ford Motor Co.'s Fusion and Fiesta, General Motors Co.'s Chevrolet City Express, and Mazda Motor Corp.'s Mazda2 — which are already off the U.S. market or heading that way — they sold a collective 658,640 units in 2017, according to our calculations. That compares with total imports from Mexico of about 2.44 million cars.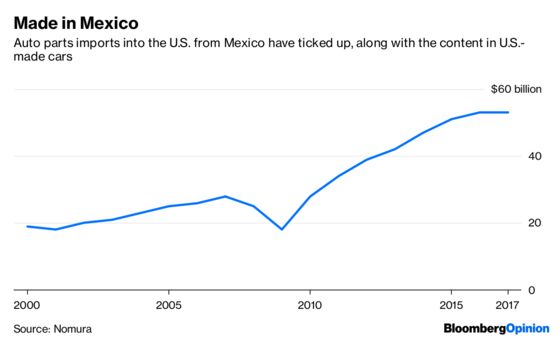 There's still likely to be some pain at the margins. The impact of the rules on parts supply chains could reduce earnings at Mazda and Nissan by 5 billion yen ($45 million) and 15 billion yen, respectively, or 4 percent and 2 percent of operating profits, according to Nomura Holdings Inc.'s estimates. With automakers continuing to battle rising costs from President Donald Trump's other tariffs, any additional pressure won't help.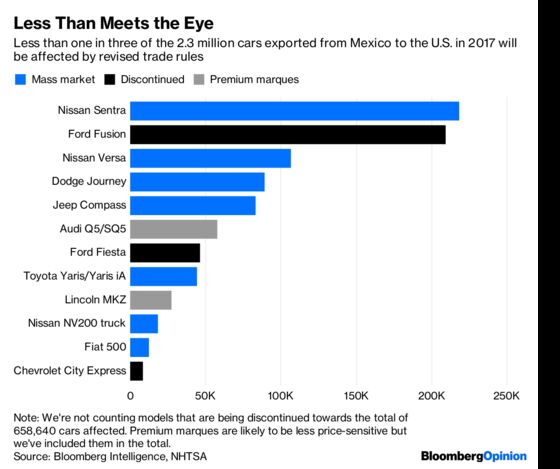 Still, the small list of affected vehicles chimes with the equanimity with which the agreement is being greeted in Mexico.
About 70 percent of the country's light-vehicle exports to the U.S. would be compliant under the new rules, with the remaining 30 percent getting a five-year phase-in period running through 2024, Economy Minister Ildefonso Guajardo told a press conference Monday. Even those that fall short would only receive the usual tariff of 2.5 percent for cars and 25 percent for trucks — levels that Volkswagen AG, Hyundai Motor Co., Kia Motors Corp. and others consider worth paying on swathes of models in return for Mexico's drastically cheaper labor costs.
It's likely to be a similar story with Canada, which shouldn't be affected at all by the wage rules. "Canada should find it relatively simple to join the U.S.-Mexico consensus" and the agreement is a "fundamentally positive development" that should reduce perceptions of risks around Nafta, Brett House, deputy chief economist at Bank of Nova Scotia, wrote in a note after the announcement.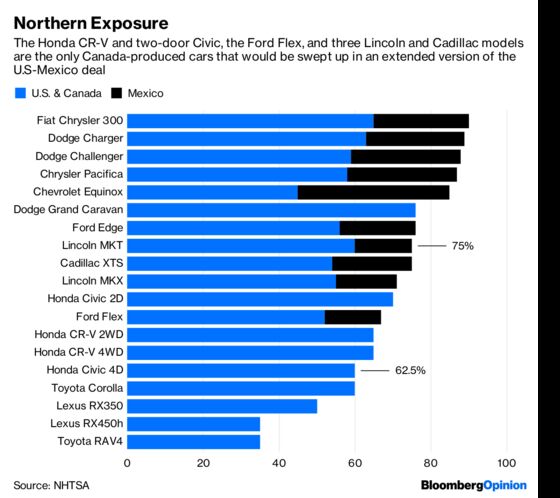 It shouldn't be all that surprising that this deal is more limited than it first appears. Mexico is scarcely going to agree to devastate its domestic industry to please President Trump.
Indeed, its modest nature should be considered a virtue, and global equity markets are quite right to be rallying in relief that this element of uncertainty has been lifted. If Washington can sell tweaks to existing treaties as historic victories that merit a ratcheting-down of global tensions, that's good news for the other seemingly intractable trade disputes rumbling around the world.
To contact the editor responsible for this story: Matthew Brooker at mbrooker1@bloomberg.net
This column does not necessarily reflect the opinion of the editorial board or Bloomberg LP and its owners.
David Fickling is a Bloomberg Opinion columnist covering commodities, as well as industrial and consumer companies. He has been a reporter for Bloomberg News, Dow Jones, the Wall Street Journal, the Financial Times and the Guardian.
Anjani Trivedi is a Bloomberg Opinion columnist covering industrial companies in Asia. She previously worked for the Wall Street Journal.