Tips for Surviving Hong Kong's 21-Day Covid Quarantine
(Bloomberg Opinion) -- I recently had the good fortune to take a five-week work trip to meet colleagues, friends and contacts in London and New York. But the price I had to pay, upon my return to Hong Kong, was the city's mandatory three-week hotel quarantine.  
Coming from London, where few wore masks and pubs were packed, it felt like I'd landed on Mars, barren and austere. It's no exaggeration that Hong Kong has some of the world's strictest travel curbs. My cell was room 7084 at the Regal Airport Hotel. Once you enter, you can't leave — the keycard is for one-time use only. For 21 days, no one can come in, nor can you stroll in the hallway. Surveillance cameras are everywhere. Windows are sealed. Breaching the quarantine order is "a criminal offense," carrying a maximum fine of HK$25,000 ($3204) and six months of jail time.
There's no housekeeping or laundry service. Meals in plastic containers, wrapped in a plastic bag, are placed on a plastic-covered chair outside the door three times a day. A typical meal is white rice, a small vegetable stir fry and meat soaked in sauce. Breakfast is sometimes western — baked beans and scrambled eggs. Wine is available through room service, although I am staying away from the alcohol and the calories. We are given two types of plastic bags, in white and yellow. The white bag is for trash, and the yellow one is for used towels and bedding. We can leave the plastic bags on the floor outside the door.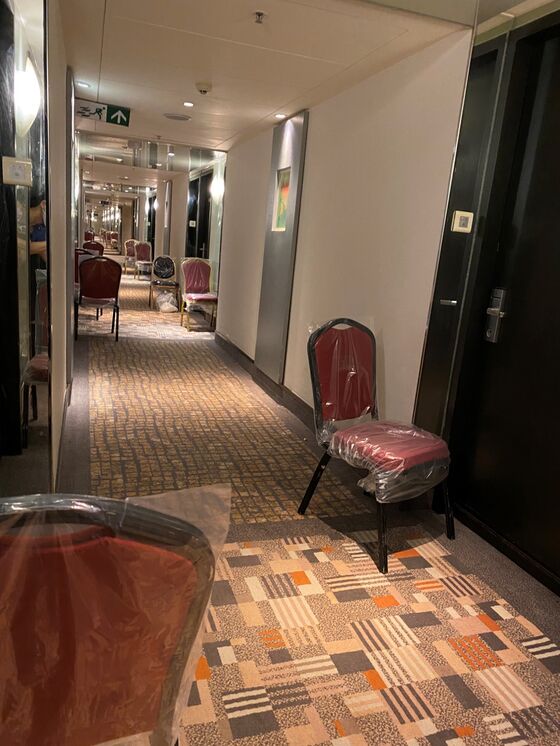 We are tested seven times, on the 3rd, 5th, 9th, 12th and 16th day -- and twice on the 19th. (I've just passed my third test). Fearful of cross infections, the medical staff follows the rule book closely. They get nervous and flustered if you stray ever slightly, say presenting an ID card too slowly or pulling the chair too close to the hallway.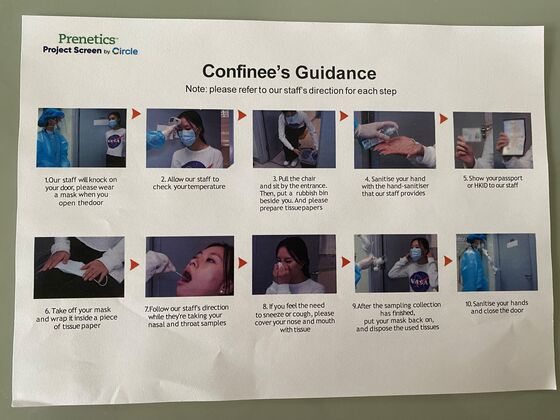 But life must go on. Many of us have to travel, to see our families, business partners and keep our perspectives fresh. Once you bite the bullet and depart the Fragrant Harbor, there are ways to make your quarantine more comfortable upon the return:
Fly into Hong Kong in the evening. Your quarantine clock starts as soon as you land in Hong Kong. Going through the airport takes time. You will be tested and have to wait for results, which takes about two to three hours, before being escorted to a hotel shuttle bus. By the time you enter your hotel room, Day 1 is already over. 
By the same token, you can spend the 21st day packing and pacing with eager anticipation. You can leave — escorted by the hotel staff — as soon as the clock hits midnight. For instance, I landed on December 6. I can get out by December 26. Cinderella can finally go home. 
Hone your survival skills. My airport hotel is not known for its food. The room amenities are minimal. I have a small fridge, a kettle, two coffee cups and plastic utensils from the daily meals. There is no microwave. 
For the first few days, I was hungry and susceptible to stomach aches. The instant Nescafe did not sit well, nor did restaurant orders. By the time hotel staff don their protective gear and bring up the food, the soup is already cold and the salad wilted. Sashimi is definitely a no-no.
It took me about a week to figure out a new diet. Most hotels allow grocery deliveries, which is a tremendous gift. My colleague Anjani Trivedi also dropped off a big bag of fresh produce. I learned to make hard-boiled eggs using the kettle, as well as ginger lemon honey tea. Plastic knives are not strong enough to cut through ginger, but they can shave off the outer skin. The stomach pains went away.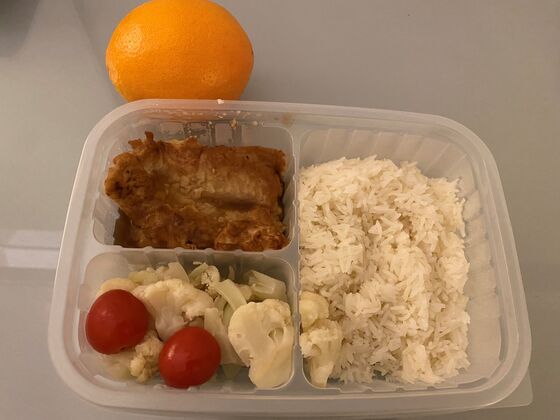 Housekeeping. This is your home for three weeks. No one will come in and tidy up. Make it comfortable. Every day, I scrub and dust and wash clothes. It's also a great excuse to pop your head into the hallway. Remember, we can only open doors when we receive food or deliveries, set out the garbage or get tested. I have a lot of trash. 
The biggest discomfort is perhaps boredom. Improvising to improve living conditions is a form of entertainment. It also burns calories.
Appreciate the isolation. As we get older, the most scarce resource shifts from money to time. We are busy every day, pulled away by various appointments and obligations. We rarely have breathing room. So think of the quarantine as a pause on life. 
"It was fun! I had worked every day for six months. Two weeks of barely any work was superb," said Mark Dawson, senior editor at Bloomberg Live, about his return from an extended business trip to Qatar. Kerry Hotel, where Dawson quarantined, offered a "great view" and he "had a different cake every day, plus some wine tasting." Travelers from Qatar are required to quarantine for two weeks only.  
Others have expressed similar views. One senior banker called her stay at the One-Eight-One Hotel a staycation. I wouldn't go that far. But the one luxury this quarantine offers is some distance from society. Zoom back from Zoom. Find your inner guru. It's easy to be present and meditate, because literally, there's nowhere else you can go. 
Granted, not all quarantined travelers can pretend to be in their own personal monastery. Some come with families and young children. I heard a baby crying one morning. The quarantine also takes a toll on the body. I get breathless easily when I practice yoga. 
Would I move out of Hong Kong or stop traveling because of the quarantine? Unlikely. I will just consolidate all my trips into one mega-tour. On this one, with stops in New York and London, I felt like a bird stepping off Noah's Ark marveling at the new world Covid-19 is shaping — it looked very different from the past — and from China. It was an invaluable experience. I can go back to tell my people how the world has changed. Isn't that our role, to serve as the bridge between nations? In that way, this quarantine is worth it. 
More from other writers at Bloomberg Opinion:
This column does not necessarily reflect the opinion of the editorial board or Bloomberg LP and its owners.
Shuli Ren is a Bloomberg Opinion columnist covering Asian markets. She previously wrote on markets for Barron's, following a career as an investment banker, and is a CFA charterholder.