(Bloomberg Opinion) -- Hedge funds are rediscovering the secret of alpha generation that made them masters of the financial universe in years past. The renaissance of the swashbuckling gang adds welcome color to an asset management industry that's been threatening to fade to gray as passive index trackers charging little to no fees take over the investing world.
Hedge funds are poised to post their best average returns since at least 2014. By mid-year, they were up 9.29%, a very favorable comparison with losses of more than 3% at the same point last year after the pandemic trashed stock markets in March of 2020. Not surprisingly, the stellar performers have been long-only equity funds, delivering more than 19% through June. That outstripped the 12% increase in the MSCI World Index of stocks, suggesting that for once they earned their fees.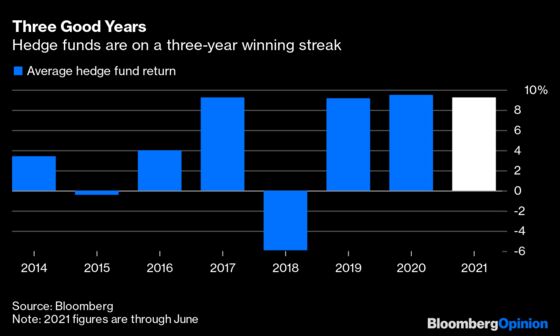 If equities continue to gain — and analysts at Goldman Sachs Group Inc. just raised their year-end forecast for the S&P 500 to 4,700, which would mean a gain of 7% from Wednesday's closing level — the hedge fund industry is poised to deliver a double-digit performance in 2021. 
The three-year winning streak has persuaded investors to resume allocating cash to the asset class after three scarring years of withdrawals worth a total of $192 billion. The hedge fund crowd has attracted net new cash of $28.7 billion in the first half of the year, boosting total assets under management to more than $3.5 trillion, according to data compiled by research firm eVestment. The industry looks on track to at least recoup the $59 billion investors pulled in 2020.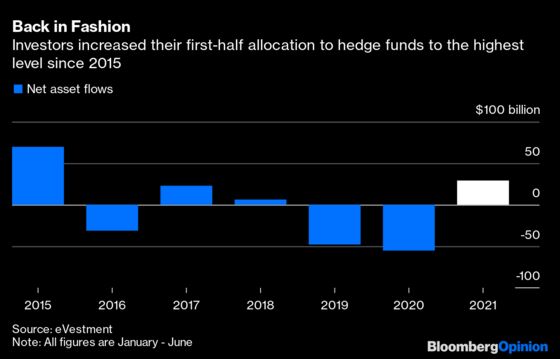 As ever, not every hedge fund is thriving. Alphadyne Asset Management's $12 billion macro strategy saw its flagship fund decline 4.3% in June, extending its losses for the year through July to about 10%. Wrong-way bets on U.S. Treasuries, which have rallied in the past four months, cost it dearly, Bloomberg News reported on Tuesday.
In the winners column, Man Group Plc is riding the recovery hard. Assets at the world's biggest publicly traded hedge fund climbed to $135.3 billion at mid-year, up from $123.6 billion at the end of 2020. Its share price is up by 50% this year, a gain that's at least twice as good as Europe's biggest traditional asset management firms.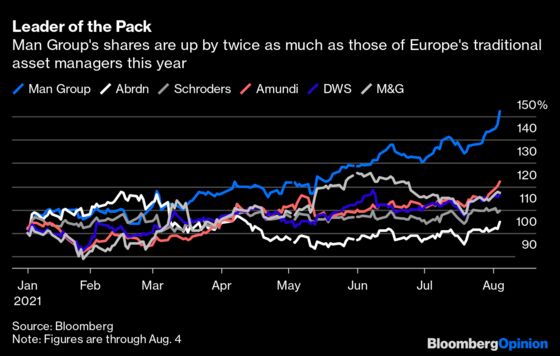 Performance fee revenue — the levies payable on funds after they clear individual return hurdles agreed in advance with investors — soared to $284 million in the first six months of the year, a tenfold increase from the year-earlier period.
And performance above and beyond the beta available from rising equity markets will be the key to whether the hedge fund industry can hang onto this newly regained trust of investors. Average gains of less than 10% still look lackluster compared with the 17% available from both the S&P 500 and the Euro Stoxx 600 indexes. To truly regain their swagger, traders will need to improve their stock picking expertise in the second half of the year, or risk seeing those flows turn negative once again. 
This column does not necessarily reflect the opinion of the editorial board or Bloomberg LP and its owners.
Mark Gilbert is a Bloomberg Opinion columnist covering asset management. He previously was the London bureau chief for Bloomberg News. He is also the author of "Complicit: How Greed and Collusion Made the Credit Crisis Unstoppable."