(Bloomberg Opinion) -- There is $1 trillion stashed away in the U.S., and it just might save the economy. It's enough to either boost consumer spending by at least $78 billion dollars a month over the next year or supercharge growth if confidence soon turns higher.
What is this cash hoard and where did it come from? Quite simply, it's the remnants of the $2.2 trillion CARES Act passed by Congress in March. The hallmarks of that program included $1,200 payments for adults making up to $75,000 and $500 for their children, as well an extra $600 in weekly unemployment benefits.  
The key provisions of the CARES Act have either expired or will soon do so, and Congress has yet to pass a subsequent support measure. Commentators tend to focus on the expiration of the additional unemployment benefits and its potential impact on household incomes. What is lost in the discussion is the overall improvement in household finances since the pandemic began, helping to explain why this cycle has been full of surprises. Retail sales quickly regained lost ground, rebounding to their pre-pandemic levels. Inflation is firmer than might be expected given the magnitude of the negative demand shock. The housing market is solid and optimism among builders is the highest since 1998.
What we know is that personal saving surged from March through June as fiscal support boosted incomes and shutdowns constrained spending. We can get a rough estimate of excess household saving by comparing actual saving to the trend prior to the pandemic. For example, the pre-Covid trend level of saving in March was $1.26 trillion on an annualized basis, but the actual amount was $2.12 trillion, resulting in excess saving of $863 billion.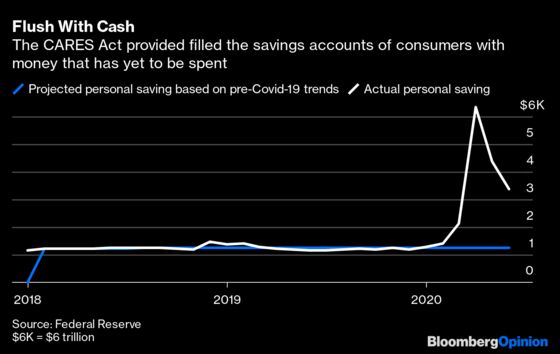 It is important to note that a reduction in saving is not that same as a drawdown of savings. Saving is a flow variable whereas savings is a stock variable. A falling saving rate simply corresponds to a reduced pace in the growth of savings. The sum of the flow of excess saving from March to June is the stock of excess savings that has accumulated over that time. By this estimate, the excess savings held by households stood at $11.2 trillion on an annualized basis at the end of June. This represents the additional resources available to households and it was almost certainly even larger at the end of July.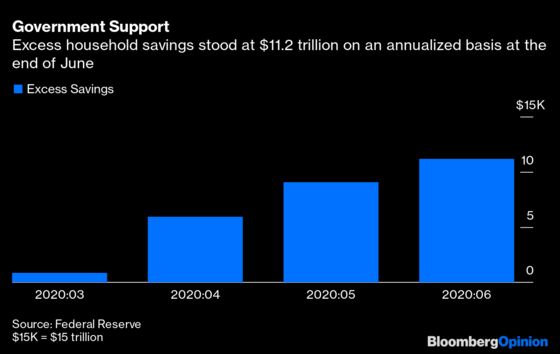 These are annualized numbers, though, so the actual total is $931 billion. That alone is a big cushion. How big? Suppose we spread the stock of excess savings out over 12 months. That provides households an additional $77.6 billon of monthly spending power, equivalent to 10.3% of the June wages and salaries. That's real money. 
But wait, there's more. Consumer credit dropped roughly $100 billion from its peak, leaving room for households to borrow their way into additional spending if needed - or even if just desired.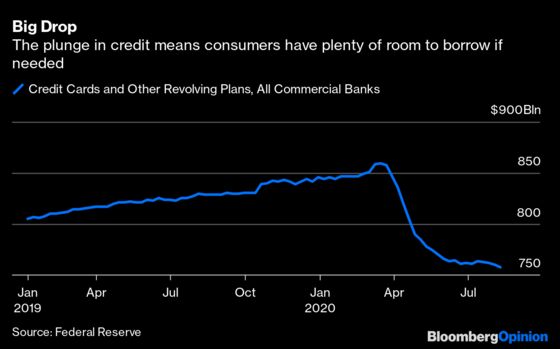 Those two items alone total more than $1 trillion. Where is the money sitting? Total checkable deposits in the economy have surged by about $1.3 trillion dollars. That's a lot of potentially hot money sitting idle. Maybe it shouldn't be a surprise that Bureau of Economic Analysis high frequency data hasn't yet revealed that consumer spending has rolled over as the extra unemployment benefits ended.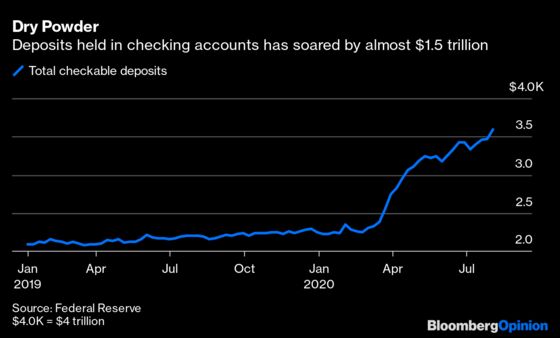 To be sure, fiscal support and the appropriate distribution of that support is important; do those who need to spend the resources have the resources? The accumulated savings don't help the people who lose their jobs now. Unemployed workers in leisure and hospitality might still find jobs unavailable and remain in need of additional aid. This means there are important policy reasons for more support even though the past fiscal support seems likely to have legs.
A break in the current standoff in Congress for another round of relied could break, pushing even more money into an already well-supported macroeconomic environment. Go even further and think about that extra money and the possibility that an effective vaccine against Covid-19 comes next year, let alone relatively easy spit tests that allow a return to normal life. Confidence would soar with the economy sitting on a pile of dry kindling.
One easy explanation for this year's surprise rebound in equities is that we have consistently underestimated the impact of the CARES Act. Analysts focused on the fiscal cliff may still be making the same mistake by missing what the CARES Act did for household balance sheets.
The $1,200 payments phased out for those making up to $99,000, or twice that for a married couple
This column does not necessarily reflect the opinion of the editorial board or Bloomberg LP and its owners.
Tim Duy is a professor of practice and senior director of the Oregon Economic Forum at the University of Oregon and the author of Tim Duy's Fed Watch.
Get Your
Daily Newsletter
Get market moving news, top news & compelling perspectives
---