Will Evergrande and Others Tell Us More About Private Bonds?
(Bloomberg Opinion) -- First, there was China Evergrande Group's liquidity crisis. Then, Fantasia Holdings Group Co. — a small real estate developer that no one cared about till this week — refused to repay $206 million bonds even though it had the money. Sit tight. There are more twists to this drama. How about this: Private bonds that are not on the companies' balance sheets?
Recently, news broke that Evergrande had privately guaranteed a $260 million issue by Jumbo Fortune Enterprises, a joint venture that the developer had participated in. That note was effectively due Monday, and non-payment could trigger a cross-default for Evergrande's other bonds. Meanwhile, Fantasia also had $150 million of private bonds, which Fitch Ratings only heard about "for the first time," it said, "in a recent call." Fantasia has made no comment on the Fitch report.
If anything, Evergrande and Fantasia are the norm. To evade Beijing's scrutiny, developers have routinely used joint ventures and shell companies to issue dollar-denominated bonds. Private issues are impossible to track. The prospectus is not publicly available, and the deal is not listed on exchanges. Only those very much in-the-know know about them and are shown the bond documents.
Often, such debt is on the books every day of the year, except for June 30 and Dec. 31, when companies publicly report their financials. This way, the bonds do not need to show up on their balance sheets. In early February, I got hold of the prospectus of one such bond issued by Agile Group Holdings Ltd. It showed that a $175 million dollar-denominated bond, issued by Canford Mind Ltd., a shell company incorporated in the British Virgin Islands, was guaranteed by Agile. Last November, the developer used another shell company, incorporated in the Cayman Islands, to issue more debt. Agile did not respond to queries in February and has not replied to a request for comment. 
How many private bonds are out there? Which ones might trigger an unexpected cross-default? These private bonds — ranging between $50 million to $300 million — are often issued by shell companies in tax havens. No one recognizes their names.
There is at least $2.7 billion in private bonds maturing in the next 18 months, according to HSBC Holdings Plc. The actual amount is likely higher, said the bank.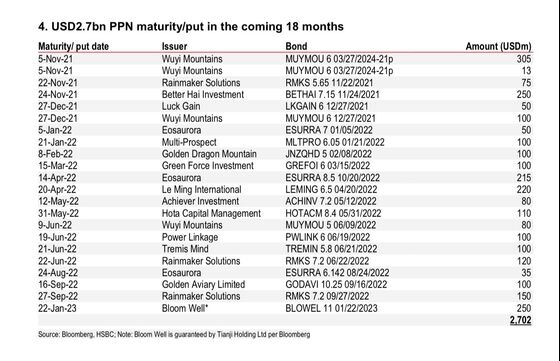 Looking at the HSBC list, I can't help murmuring a line from the Netflix hit show I'm obsessed with, Squid Game: "Who are you?" Who are you, Wuyi Mountains Ltd.? Who are you, Rainmaker Solutions Ltd.? Wuyi Mountains has over $300 million maturing on Nov. 5, and its bonds offer only a 6% coupon rate. As they'd say on the show: Pull down your masks, please.
This column does not necessarily reflect the opinion of the editorial board or Bloomberg LP and its owners.
Shuli Ren is a Bloomberg Opinion columnist covering Asian markets. She previously wrote on markets for Barron's, following a career as an investment banker, and is a CFA charterholder.