Gaming? China's Big Crackdown Is Really on Big Capital
(Bloomberg Opinion) -- Does Big Tech in China have a future? That's the question investors are asking after Beijing launched a series of regulatory crackdowns on the country's consumer technology companies. Where will the axes fall next? Billions of dollars have been lost and more is at stake, almost all in companies listed offshore in Hong Kong or New York. Can a predictable pattern be made out of this whirlwind of new policies? 
In 2018, President Xi Jinping expressed his discomfort with the after-school tutoring industry, commenting in a speech that it should not be "profit-driven." The State Council finally formalized his sentiment last week. TAL Education Group and New Oriental Education & Technology Group, among others in the sector, saw their market value plummet to liquidation levels.
Or consider what just happened: The sudden Tuesday bloodbath suffered by video game publishers like Tencent Holdings Ltd. and NetEase Inc. after an outlet run by the Xinhua News Agency published a piece on how detrimental video gaming is to China's youth. It reflected the latest edict of the State Council that explicitly said schools and parents need to prevent "internet addiction" to reduce students' workload. The "investigative report" by the outlet of the government news agency had decried video games as "spiritual opium." It has since removed its online link but the markets have been put on notice: Tencent dived by around 11% before paring losses. And the lesson was learned. The company immediately announced it was banning in-game purchases for minors under the age of 12 as well as tightening the time limit on play for kids.
That's the clue as to what China's up to. Beijing does not have a problem with Big Tech itself. After all, Didi Global Inc.'s ride-hailing app and Meituan's food delivery network are hugely convenient for Chinese consumers. Rather, it's the amount of money that has been pumped into these enterprises. The latest crackdowns and warnings are aimed at hot portfolio and venture capital flows that keep going into sectors Beijing has been trying to rein in. 
Tencent has weathered all kinds of storms, from antitrust to previous campaigns against video game addiction, as well as a case where employees were suspected of graft. But the liquidity and investment kept flowing, pulled in by its lucrative businesses. Its core video game and WeChat platform underpin a cash cow, averaging 36% operating income growth over the last three years. With all that investor enthusiasm, Tencent had no trouble refinancing and could issue cheap dollar bonds. So it had even more money to invest in its future, locking the video game supply chain up and down as well as expanding into venture capital investing. It was becoming the kingmaker among China's tech startups. And Beijing doesn't like seeing any entity have so much power — excepting itself. 

China may have questioned the ethics of for-profit tutoring companies in the past. But it did not really act until the enterprises were flooded with speculative venture capital money. The government saw that as investors hijacking its state-dominant education sector with huge amounts of capital. And so it put a stop to that liquidity train.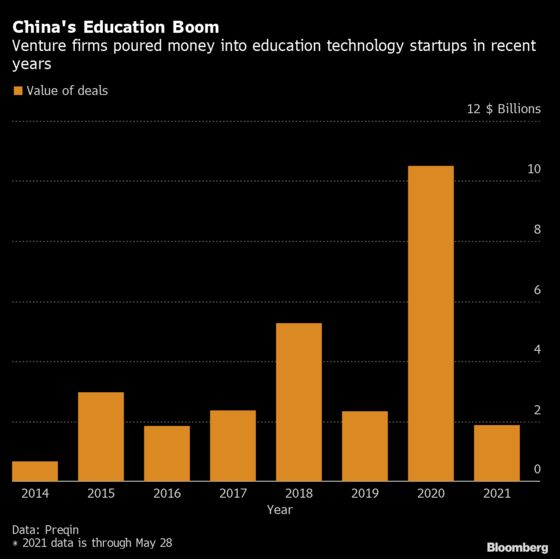 The market-oriented Chicago school of economics acknowledges that a benevolent dictatorship — with the assistance of cumbersome bureaucracy — can be as efficient for social and economic development as a well-ordered competitive marketplace. China — which sees itself as a benevolent authoritarian regime — has tried to maintain efficient capital markets. Now, it's having second thoughts. In Beijing's view, hot money is not heading where officials want it to go. Indeed, it was on the point of creating competing power centers that could rival the central government. 
So what can be read from these tea leaves? Stay away from where the hot money is going. Sooner or later, China will curb that enthusiasm and send the sectors into a crash landing. 
This column does not necessarily reflect the opinion of the editorial board or Bloomberg LP and its owners.
Shuli Ren is a Bloomberg Opinion columnist covering Asian markets. She previously wrote on markets for Barron's, following a career as an investment banker, and is a CFA charterholder.