Remember That Job Promise We Made In Our M&A Bid? We Don't
(Bloomberg Opinion) -- They'll be promising the moon next. Foreign bidders attempting corporate takeovers in the U.K. are falling over themselves with pledges to protect jobs, boost R&D and — where it counts — defend the nation's security. Many of these commitments the government could never extract from British companies in the normal course of business. But this trend could backfire.
The private equity bidders for Wm Morrison Supermarkets Plc have set out in detail how they will broadly support the grocer's existing strategy, including putting a floor on employee pay. The offers for defense contractors Meggitt Plc and Ultra Electronics Holdings Plc will necessarily come with even stronger covenants. The national security implications of the 2.6 billion-pound ($3.5 billion) Ultra acquisition are now subject to a formal probe.
Bidders for both companies say they'll cut legally solid agreements with London to ensure a steady supply of the technology and equipment the U.K. needs. But on top there will also be pledges that have more to do with industrial strategy. Suitor Parker-Hannifin Inc. has said it will lift Meggitt's R&D by 20% over five years, among other non-defense-related proposals.
The zeitgeist demands that bidders do more than simply pay off shareholders. Concerns about security have increased in the last few years, as have worries about the impact of foreign takeovers on jobs and a depletion of the U.K.'s science base.
The trend began with the 2010 takeover of confectioner Cadbury. U.S. rival Kraft Foods Inc. (now Mondelez International Inc.) reneged on a claim it would reverse Cadbury's plans to shut a domestic factory, which reportedly cost about 400 British jobs. Foreign acquirers have been mindful of the sensitivities ever since.
Hence the bosses of Pfizer Inc. went to Downing Street and hammered out pledges on R&D in their ultimately failed attempt to buy drugmaker AstraZeneca Plc in 2014. Tech investor Softbank Group Corp. bought Arm Ltd. in 2016, making hard commitments to double the chip designer's U.K. headcount. Melrose Industries Plc, the industrial turnaround specialist, made legally binding promises not to sell GKN Ltd.'s aerospace unit for five years (subject to certain caveats) after acquiring the engineer in 2018.
There's reason to be skeptical of so much "commitment inflation." Of course, London must take steps to protect critical defense technology. But as acquirers' commitments broaden, the risk of unintended consequences looms large.
How can it be sensible management to impose hard targets for headcount or R&D spending? No boss can foresee the staffing requirements or investment needs of an enterprise five years out. Such constraints distort decision-making and effectively impose an additional cost on the buyer by limiting its freedom of movement. The risk is that targets are met by pointless hiring, or by speciously recategorizing people's jobs to fall under R&D. Much activity can be classified as "development."
The preoccupation with maintaining a British headquarters is understandable, given it's where the big decisions are made and other firms may cluster around it. But a U.K. board and HQ will be a puppet of the parent company unless independent directors have real powers of veto. 
Ultimately, it's impossible to preserve a firm in aspic once it's been acquired. A buyer is unlikely to agree to constraints beyond five years. 
One reason tensions are running so high today is that Ultra's bidder happens to be Cobham Ltd., the one-time U.K.-listed defense contractor snapped up by buyout firm Advent International Corp. in 2020. That deal came with promises on R&D, but Advent was able to quickly sell off a big chunk of the business regardless.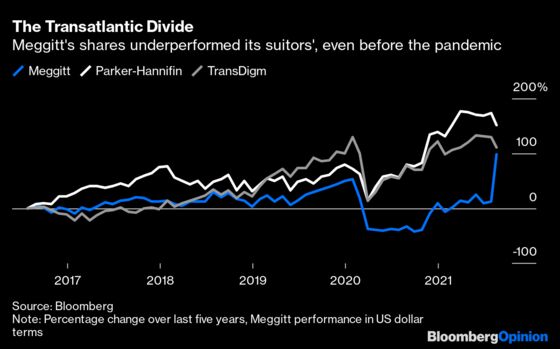 Amid these realities, there must be an increasing temptation for the U.K. to demand ever greater post-deal undertakings or to block takeovers outright. From January, the bar for scrutinizing transactions on national security grounds will be lowered. This could provide an opaque mechanism for killing some unwanted deals.
Unjustified blocks risk triggering tit-for-tat moves by other countries, thwarting the ambitions of U.K. companies to buy overseas. If the U.K. really wants to keep hold of its high-tech firms, it would help if their bosses had more courage — and shareholder support — to go on the offensive and do deals themselves. As Meggitt Chair Nigel Rudd told The Sunday Times newspaper, "The U.K. market doesn't like U.K. companies acquiring things."
The value created from deals is normally shared between the shareholders of the buyer and the target. In theory, making more investment commitments is a way of sharing some of that value with the U.K. more broadly. In practice, this requires the pledges to be formulated with genuine forethought and flexibility. Otherwise, these risk becoming a collusive PR exercise, making the government look tough and the bidder look obliging — but no more.
This column does not necessarily reflect the opinion of the editorial board or Bloomberg LP and its owners.
Chris Hughes is a Bloomberg Opinion columnist covering deals. He previously worked for Reuters Breakingviews, as well as the Financial Times and the Independent newspaper.