Oops, I Accidentally Created a Mini SPAC Meme Stock
(Bloomberg Opinion) -- Earlier this week I wrote about a seafloor mining company, TMC The Metals Company Inc., that was denied almost $500 million in promised funding when investors chose not to back its merger with a special purpose acquisition company.
The cash struggles signaled that the still revenue-less firm hasn't convinced investors its more than $2 billion valuation is justified, I explained. Yet within hours, its stock soared 63%, making me look rather foolish.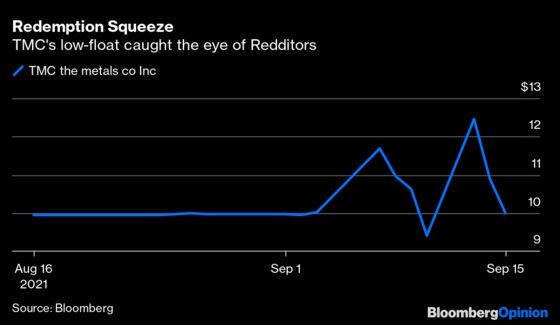 It sounds illogical but price spikes like this have become a bizarre side effect of both the SPAC market's current malaise and the rise of risky trading strategies popularized on sites like Reddit. 
Retail investors are targeting SPACs whose shareholders (often hedge funds) exercise en masse their right to ask for their money back, rather than fund their blank-check mergers. These "redemptions" arise when a SPAC's share price falls below $10, which has been happening a lot recently. In several instances more than 90% of shareholders have cashed out, as happened with TMC's blank-check partner.
While the company receives less money than expected, another result can be there are initially fewer shares available to trade. In financial jargon, this is called having a "low float." The scarcity makes their shares inherently more volatile and neophyte traders are finding it's comparatively easy to force the price higher.
This is helping birth a new cohort of mini-sized meme-stocks: companies whose share price doesn't seem to reflect their financial performance, as we saw with AMC Entertainment Holdings Inc. and GameStop Corp.
Some of this new crop make unlikely allies for the freewheeling Reddit crowd. Cybersecurity firm IronNet Inc., whose shares have trebled since its SPAC merger closed last month, was founded by a former director of the National Security Agency. Some 92% of SPAC shareholders redeemed (i.e. they wanted their money back). Oddly this has led its stock to soar.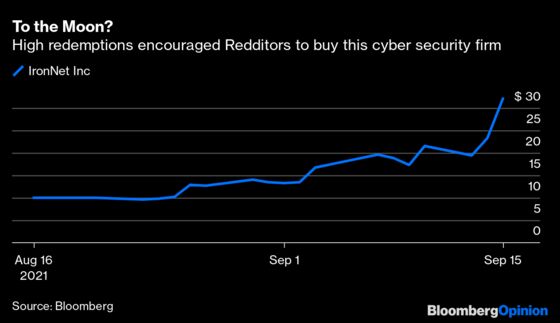 It can't be too cynical to characterize Redditors' new approach as: Let's just buy the most unpopular SPACs and sell them again later before the price falls back to earth. Alice has surely arrived in Wonderland when a company raises much less money than hoped for and fails to attract long-term investors — and these are considered strong reasons to buy its stock.
"Like bees to honey, high redemption rates attract these Reddit speculators like nothing I've ever seen. It makes a mockery of the capital markets," says Julian Klymochko, the chief executive officer of Accelerate Financial Technologies Inc. which manages a SPAC-focused ETF. "This buying has nothing to do with financial fundamentals. It's just the manipulation of low float stocks." 
The chance to profit from this asinine trade will almost certainly be fleeting. When the buying momentum recedes or more stock becomes available, the bag-holders risk large losses. Home insurance specialist Hippo Holdings Inc. experienced high redemptions and has since lost 45 % of its value. And it's not alone.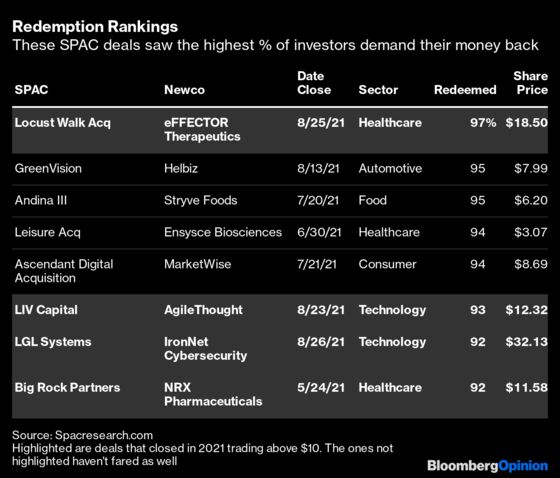 This isn't the first time retail investors have egged each other on to make seemingly irrational SPAC bets. Earlier this year a popular trade was buying a blank-check firm at a premium to its cash holdings in the hope shares would soar even further when it announced a merger. That approach came unstuck when the SPAC market sagged. Now the "de-SPAC redemption" trade has taken over.
The companies in the chart below all suffered redemptions of around 90%, whereupon their shares took off, though in some cases not for very long.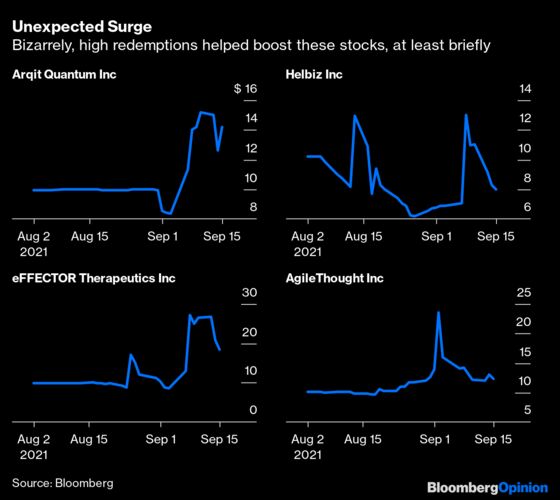 Whatever it is, there's certainly a lot of speculating, as opposed to long-term "investing," going on here. Some 36 million shares of eFFECTOR Therapeutics Inc. shares changed hands on Sept. 8. To put that number in context, only around half a million of its SPAC shares weren't redeemed. Shares of the cancer drug company doubled that day.
AMC and GameStop were both able to take advantage of their surging market value by issuing cheap stock. However, these former SPACs may struggle do similarly because if they do, that changes the "low float," and shares would presumably fall again.
Indeed, most of these unusual price spikes will surely fizzle out relatively quickly as additional stock (such as so-called PIPE shares — a separate pot of institutional cash that usually accompanies a SPAC merger) becomes tradable. In short, low floats won't remain low forever. 
Investors may also scale back bearish bets against former SPACs if they suspect they'll get trampled in a "short squeeze," which happens when short-sellers struggle to find shares to close out their bets. And if SPAC shareholders start to believe their investments will surge once a deal is completed, more of them may decide to retain their shares, instead of redeeming. If redemptions are low, and the float higher, this bizarre trade won't work.
Besides those who dump their stock quickly, the only real winners I see from this depressing spectacle are company insiders. By artificially inflating the share price, Redditors may unwittingly cause executive stock awards to pay out.
Announcing a 24% year-on-year decline in quarterly revenue this week, IronNet revealed it will issue 1.1 million new "earnout" shares (representing around 1% of shares outstanding) to company insiders, because the stock has exceeded $13 for 10 consecutive days. Its market value has soared above $3 billion despite not forecasting profits for at least another four years.  (The company didn't respond to emailed requests for comment.) 
Triggering a sweetener because a company happens to become a meme stock just underscores how daft this "investing" strategy is.
In fairness, some Redditors had cottoned on prior to the column. A press release detailing the high redemptions was published Sept.7.
Another fund manager questioned how much short-covering is really contributing to these squeezes, given that short-sellers may be forced to cover their bearish bets during the redemption process.
IronNet blamed the revenue decline on several large contracts closing in the next quarter. The earnout shares were earlier forfeited by the SPAC sponsor. Market value is calculated on a fully diluted basis with 103 million shares outstanding.
This column does not necessarily reflect the opinion of the editorial board or Bloomberg LP and its owners.
Chris Bryant is a Bloomberg Opinion columnist covering industrial companies. He previously worked for the Financial Times.