Time for Samsung's Most Boring Business to Shine
(Bloomberg Opinion) -- Compared to foldable smartphones and curved ultra-high definition televisions, semiconductors are kind of dull. After all, they don't even have a power button. Taken from the broad menu of chips now in use, memory is the most mundane of all. They're the breadsticks of electronics.
At Samsung Electronics Co., though, memory chips have the potential to make a lot of dough. The South Korean giant is the global leader in the two main types — DRAM and NAND — and the world is about to get very hungry for both. This appetite doesn't come a moment too soon, and management needs to do all it can to leverage the opportunity.
Samsung on Thursday posted an impressive 45% jump in operating profit for the first quarter from an 18% increase in overall revenue. Yet its chip division was a huge laggard. Memory sales climbed a dull 10% and earnings at the semiconductor unit dropped. As a result, the division's contribution to total profit, at 35.9%, was the lowest in almost five years. By comparison, the mobile phone unit accounted for 46.8%.
A confluence of factors explain this weakness, including a power outage in Texas that hit non-memory chip manufacturing and a ramp-up in new technologies that hurt margins on Samsung's memory products. While there's been a shortage in some electronics components, there was a price decline for NAND during the quarter — an indication that supply exceeded demand, though it looks like that situation may soon be reversed.
NAND, short for Not-AND, is used to store data and is a replacement for spinning hard drives in a large array of hardware, including computers and servers. It's also what stores photos and videos on your mobile phone. Installation of more servers to feed streaming music and content, a rollout of 5G phones and base stations, and continued demand for laptops used at home and school should all combine this year to drive NAND demand. Samsung expects both the market and itself to see growth, measured in bits, climbing by a mid-30% level in 2021.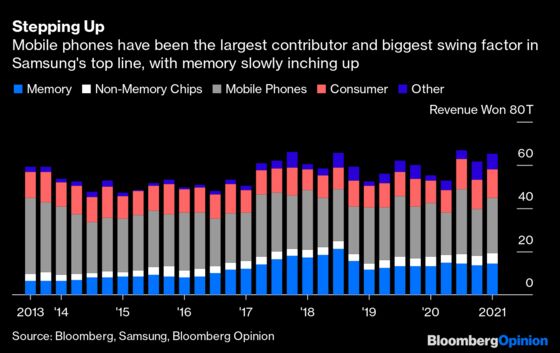 Then there's DRAM, the world's most ubiquitous chip and a huge business for Samsung. Twenty years ago, DRAM — which temporarily stores information to speed up processing — was mostly installed in desktop PCs and servers. Today, those two categories remain chief consumers of DRAM, yet smartphones, games consoles and high-end televisions are adding incremental demand to the market. Samsung sees bit growth this year of around 20%, a fairly modest amount.
Importantly, though, the company joins competitors such as Micron Technology Inc. in predicting demand will exceed supply. That's fabulous news because for commodity products like DRAM, prices are highly sensitive to such imbalances.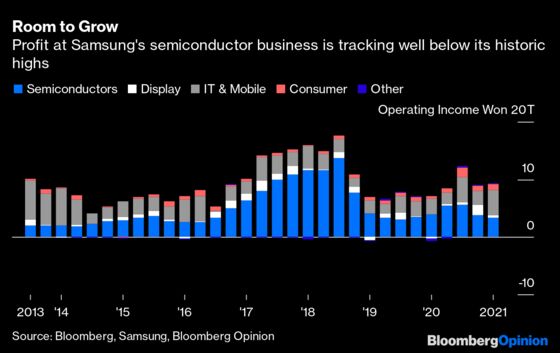 As a result, memory chips have a chance to shine again. But Samsung needs to seize the opportunity.
Major names such as Taiwan Semiconductor Manufacturing Co. and Intel Corp. already foresee a multi-year boom, and the current shortage of non-memory chips is likely to last into next year. This indicates that we're in the early phases of sustained growth driven by 5G uptake and telecommuting. Now is not the time for Samsung to be shy about jumping on the spending bandwagon. 
Earlier this week, we learned that the much-expected inheritance tax bill for the Lee family, which controls Samsung, will come in at around $11 billion. They plan to pay in installments over five years. Such a requirement may inspire management to save funds to distribute bigger dividends, helping the Lee heirs meet their own needs. Such a strategy would put more cash in the pockets of other shareholders, too. In January, the company announced plans to continue paying 50% of free cash flow as dividends. It would be tempting to boost that figure.
Or, instead, Samsung could double down on spending to seize this golden opportunity since such semiconductor super-cycles are rare. That would help extend its lead over rivals in a business driven by size and scale. The current contribution from the chip division is tracking below the unit's potential. 
With a confluence of positive signs, now is the time for Samsung to make lots of beautiful memory.
This column does not necessarily reflect the opinion of the editorial board or Bloomberg LP and its owners.
Tim Culpan is a Bloomberg Opinion columnist covering technology. He previously covered technology for Bloomberg News.