For a PE Firm, Luck Was Knowing When to Start Saying Goodbye
(Bloomberg Opinion) -- Luck is an underestimated source of business and investing success. The trick is to seize full advantage when unexpected opportunity arises while keeping in mind such good fortune tends not to last.
The rise and fall of German software company TeamViewer AG, whose shares collapsed last week following a massive profit warning, is a tale of the extraordinary wealth that can be made from a golden ticket and the dangers of starting to believe your own hype.   
Demand for TeamViewer's remote connectivity software rocketed within months of the group's 2019 initial public offering when the coronavirus suddenly forced millions to look for ways to work from home.
Its valuation ballooned to almost 11 billion euros ($12.7 billion), allowing private-equity owner Permira to
offload more stock
and lock in one of the most lucrative bets in European buyout history. Between the listing and February 2021 Permira sold 5.5 billion euros of TeamViewer shares. By my calculation, it is a stunning return on the roughly 400 million euro equity check it wrote for the acquisition in 2014. (It still holds a 20% stake.)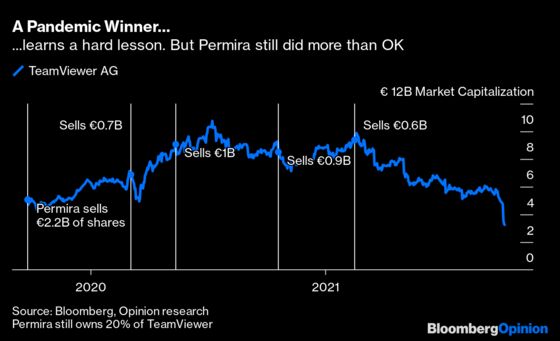 TeamViewer's top management were also richly rewarded: The chief executive and chief financial officer collected equity awards then valued at more than 100 million euros in 2020, a huge figure by Germany's restrained standards. But they got carried away.
In February, management predicted revenues would continue to grow at a rapid clip, and it stuck by those targets even as analysts questioned whether they were realistic and hedge funds AKO capital LLP, Marshall Wace LLP and Gladstone Capital Management LLP bet the shares would fall. The following month, TeamViewer announced high profile sponsorship deals with Manchester United and the Mercedes Formula 1 and Formula E racing units. Together these will cost around 70 million euros annually over the next five years, according to the latest accounts. So Cristiano Ronaldo and Lewis Hamilton now wear the TeamViewer logo but at quite a price (analysts expect the company to generate 160 million euros of operating profit this year.)
Last week came the reality check. Unveiling what it called "very bad" and "very disappointing results, management cut this year's sales and profit guidance and scaled back ambitious medium-term financial goals, warning various headwinds were likely to be "persistent rather than temporary." The shares tumbled, extending a decline since last year's peak of 70%. That leaves the stock almost 40% below the IPO price.
Several factors have combined to puncture TeamViewer's mojo. Fewer customers are converting from free to paid subscriptions and some of subscribers have elected not to renew. The rush to work from home pulled forward some future demand, meaning the year-on-year rate of billings growth slowed to a more modest 18% in the latest quarter. The company added just 5,000 paid subscribers in that period. Competition in work-from-home solutions has increased, including from giants like Microsoft Corp.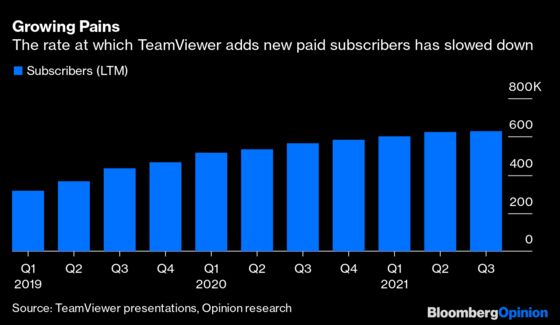 Profit margins have also been hit because TeamViewer costs have swelled. Besides the new sponsorship expenses, it also hired scores of sales staff, yet they've not yet delivered the anticipated topline boost.
During an investor call, management acknowledged it had underestimated potential headwinds and should have been more cautious in setting targets. (The overconfidence has hurt management's own finances as the executive share awards I mentioned are now worth considerably less.)  
TeamViewer is far from the only pandemic winner to receive a comeuppance from slower growth, higher costs or supply-chain difficulties. Investors are redeploying capital towards companies most likely to benefit from economies reopening: Zoom Video Communications Inc. and online fashion retailer Boohoo Group Plc are among those who've been caught in the downdraft.
At least Teamviewer is still comfortably profitable, and the valuation doesn't look extreme following such a big sell-off: the stock is priced at less than 20 times next year's estimated earnings.
Other shareholders may resent Permira's good fortune, yet the bulk of its selling came prior to TeamViewer issuing upbeat financial forecasts in February. They can't be surprised it exited most of its stake after being invested for several years. This is how buyout firms work.
It's not the only example of the firm making astute and well-timed bets. Permira struck gold when it acquired Dr. Martens Plc for 300 million pounds in 2013. The cult bootmaker was valued at more than 12 times that when it listed shares in London in January. The buyout firm is also a big investor in Polish e-commerce platform Allegro.eu SA, which listed in Warsaw last year and is valued at $15 billion. Permira has already taken some money off the table there too.
The smart money make its own luck. And remembers it can run out.
The shares were paid out of Permira's pocket
This column does not necessarily reflect the opinion of the editorial board or Bloomberg LP and its owners.
Chris Bryant is a Bloomberg Opinion columnist covering industrial companies. He previously worked for the Financial Times.