Millennials Say Lab Diamonds Shine Just Like the Real Thing
(Bloomberg Opinion) -- Diamonds are (still) forever.
Pandora AS, which makes more pieces of jewelry than any other company in the world, said this week that it would no longer use mined diamonds and instead turn to lab-grown stones. Known for affordable charms beloved by young shoppers from China to the U.S., Pandora is the ideal candidate to spearhead this type of sparkler.
But when it comes to high-end bling, it's hard to see synthetic diamonds replacing the real thing anytime soon.
It's no surprise that diamonds are getting a makeover. Younger shoppers are driving growth across consumer goods, and they are more concerned about factors such as a brand's purpose and a product's cost to the planet than previous generations were at their age.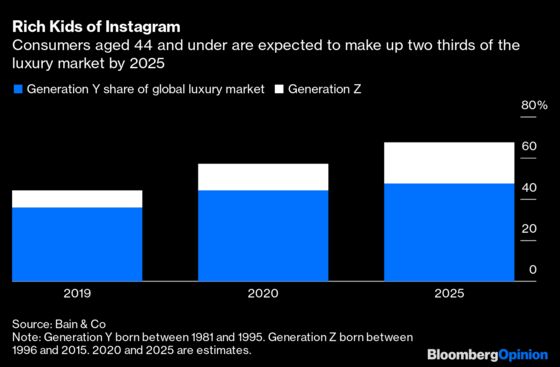 In the luxury industry, the biggest environmental impact comes from the production of raw materials, from natural stones to metal and leather. Lab-grown diamonds are generally perceived to be more environmentally friendly. But the picture is complex: Although making a diamond may use fewer natural resources than extracting one from the ground, it still requires considerable amounts of energy.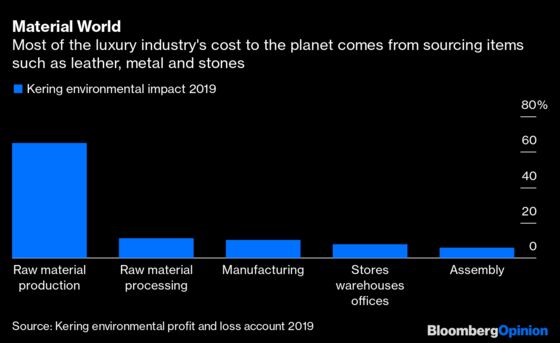 Pandora's collection — known as Brilliance — is certainly playing up its environmental credentials. As well as using more recycled gold and silver, next year it will use stones made entirely from renewable energy. That should enable the manufacturing process to emit less than a tenth of the greenhouse gases of a low-carbon diamond mine. Creating each piece of Brilliance jewelry will produce 400 grams of carbon dioxide — less than a caffe latte, the company says.
Lab-grown diamonds are certainly cheaper, which has appealed to consumers during the pandemic. In the U.S., they accounted for 3.1% of  jewelry sales by value in the final quarter of 2020, according to diamond industry analyst Edahn Golan. That's up from 2% in the final quarter of 2019.
One driver of this increase was earrings. Women were ready to spend on adornments that would be visible on Zoom calls. And because these come with little emotional symbolism — it's not an engagement ring — there's a stronger case to buy cheaper stones. Synthetic diamond earring sales rose 126% in the U.S. in the final quarter of 2020, compared with the year earlier, according to Golan. Sales of natural diamond earrings were broadly flat.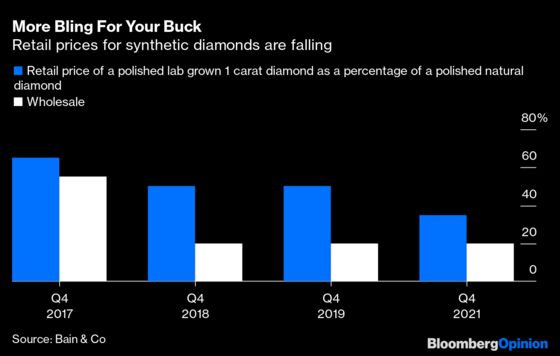 As an affordable brand that wants to democratize diamonds for its customers, Pandora's move is shrewd. After all, 44% of its customers are between the ages of 18 and 34.
But saving money is anathema to top-end luxury, where products signify status. Showing off that big sparkler may not deliver the same delicious feeling if you knew you only had those two or three carats because they cost less than the real thing.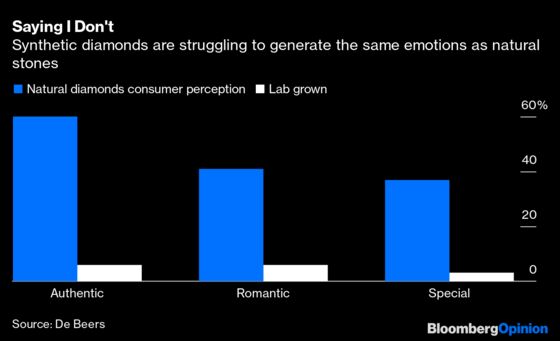 Although De Beers Group, the world's biggest diamond producer by value, launched Lightbox Jewelry, a lab-grown diamond company focused on lower-priced and fashion-oriented pieces, in 2018, other big luxury groups, such as Cartier-owner Cie Financiere Richemont SA and Tiffany-owner LVMH Moet Hennessy Louis Vuitton SE, haven't followed suit.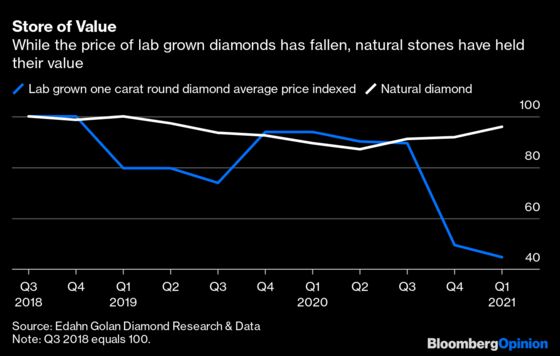 A product being expensive is reassuring to luxury buyers, who have flocked to big name brands associated with quality and heritage, such as Hermes, Louis Vuitton and Rolex, during the pandemic. This may help explain why natural diamond prices haven't fallen in response to the growing supply of lab-grown stones. Some 5.6 million carats of synthetic gem-quality diamonds are expected to be produced this year, compared with 119.4 million carats of natural ones, according to diamond industry analyst Paul Zimnisky.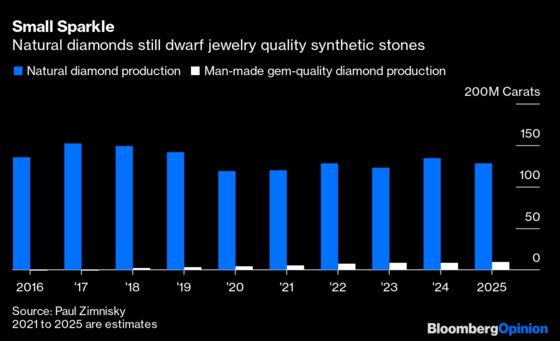 And yet the pressure to be more sustainable will only grow. To ensure young people keep buying diamonds, the industry will have to step up environmental and social efforts. 
One way to do so is through better communication about sourcing. More customers want to know exactly where their diamond has come from and whose hands it has been in; they want proof it's been ethically sourced. The industry has launched a number of initiatives, including Tracr, led by De Beers, which uses blockchain technology to track a diamond's movement from mine to store to the final consumer.
In 2019, Tiffany began disclosing the country or region of origin of its individually registered stones over 0.18 carats. Last October, it added details of the full journey. And just last week, LVMH, Richemont and Gucci-owner Kering SA backed a system that will improve the traceability of colored gemstones.
Natural diamonds may still shine bright for the bling behemoths, but more competition from man-made gems means there's no time to simply sit back and admire the beauty.
This column does not necessarily reflect the opinion of the editorial board or Bloomberg LP and its owners.
Andrea Felsted is a Bloomberg Opinion columnist covering the consumer and retail industries. She previously worked at the Financial Times.