Nike Sneakers' 80-Day Journey Cuts Close for Holiday Delivery
(Bloomberg Opinion) -- Nike Inc., like everyone else, is grappling with a supply problem — that is, getting its products from the factory out to sneakerheads and soccer moms everywhere. But that's still much preferred to having a demand problem. Nike will be just fine.
Even so, shares of Nike were kicked about 4% lower in after-hours trading Thursday after the athletic apparel and footwear giant reported quarterly revenue of $12.25 billion, falling $220 million short of the average analyst estimate compiled by Bloomberg. This is supposed to be the year that Nike's sales eclipse a milestone $50 billion, or so executives had projected back in June as the company was beginning its off-calendar fiscal year. Now executives predict fiscal second-quarter revenue will be flat to down because of factory closures and longer delivery times that will affect the holiday shopping season and may even push into the spring.
By now you've heard about the developed world's dearth of truck drivers, raw-material shortages and all those container ships stuck sitting off the coast of California. This historic congestion has afflicted most industries, with no telling how long it will last. "Transit times in North America deteriorated during the last quarter," Nike Chief Financial Officer Matthew Friend said on the company's earnings call Thursday. It used to take 40 days for a pair of sneakers to make its way from Asia across the world — that travel time has now doubled to 80 days, he said. "We would have an even stronger top-line result if we had more product available to serve that consumer demand," which has "never been higher," Friend said.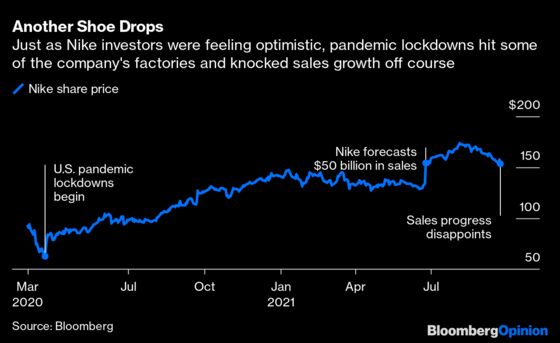 Some of Nike's supply-chain difficulties are a bit easier to call temporary. The key manufacturing zone in Vietnam — a country that produces more than 40% of Nike's products — has been under strict army-enforced Covid-19 lockdowns since July, and they were extended through this month. Already, 10 weeks of production have been lost — goods that were originally slated for delivery in mid-October. Just this week, though, the approval process for reopening some of those manufacturing plants has begun moving along. Nike's also not alone: On Running produces 97% of its footwear in Vietnam, according to Piper Sandler Cos. analysts, and yet shares of the brand's parent company, On Holding AG, are up 56% since their public-market debut last week. 
It's still a bummer for Nike, yes. But not being able to produce some shoes and basketball shorts is a lot better than no one wanting to buy them. Demand looks healthy for Nike, and that isn't by accident. The company has been carefully shifting some of its business away from stodgy wholesalers and curtailing discounts while it tries sell products directly through its own channels. That includes its tech-enhanced stores and the SNKRS app, where fans can get on the waitlist for upcoming releases. Demand on the app increased 130% in the quarter, the company said. Nike's going "direct to consumer," a buzz phrase used by an increasing number of companies — from streaming-TV services like Walt Disney Co.'s Disney+ to subscription upstarts such as Dollar Shave Club and Warby Parker Inc. It's why shoppers may start to notice fewer Nike shoes at Macy's and DSW, for example. 
This is a smart strategy that can only work for brands that have achieved a certain level of consumer affection and utility. Cutting out the middle man can lead to higher profit margins. It also gives Nike greater control over how its products are presented — half-hanging off a messy shelf can hurt the appeal. Plus, the ability to customize sneakers online is a big draw for some shoppers that comes with handsome price tags for Nike.
Investors may be disappointed that, once again, the pandemic is stalling growth. But the real disappointment should probably be reserved for parents shopping for Christmas. After the PlayStation 5 became last year's most elusive gift, now Nike's hottest kicks could be one of this year's tough finds. 
This column does not necessarily reflect the opinion of the editorial board or Bloomberg LP and its owners.
Tara Lachapelle is a Bloomberg Opinion columnist covering the business of entertainment and telecommunications, as well as broader deals. She previously wrote an M&A column for Bloomberg News.