What Steve Cohen Should Have Tweeted About the Mets
(Bloomberg Opinion) -- I have no idea why New York Mets owner and billionaire hedge fund manager Steve Cohen tweeted that "it's hard to understand how professional hitters can be this unproductive. The best teams have a more disciplined approach. The slugging and OPS numbers don't lie."
If I were trading for Cohen and had five big losing trades in a row (the Mets had just lost five games in a row at the time of the tweet) bringing me to a net loss for the year (the losses pushed the Mets to one game below .500), I would know what it means if he walked to my desk and said, "Aaron, it's hard to understand how a professional trader could be so unproductive. The best traders have a more disciplined approach. Your P&L numbers don't lie." It means my capital and risk limits get cut, he and his risk manager are watching every trade I make, and if I don't show a rapid improvement, I'm fired.
But Cohen can't fire every member of the Mets en masse. He can fire the manager and coaches, and trade or release hitters at the end of the season, but everyone always knows owners can do that. Every Met not named Jacob deGrom or Marcus Stroman – both very good pitchers -- knows an involuntary address change could be in the near future.
The tweet might be calculated to unite the team against the owner, as in the plot of the screwball comedy Major League. Then again, criticizing the discipline of the team as a whole spreads responsibility equally among hitters, manager and coaches, and deflects blame on individuals. Perhaps Cohen is afraid a run of bad luck will lead to dissention and players playing for themselves rather than thinking first of the team.
Does OPS lie? As the old saying goes, figures don't lie, but liars figure. OPS is the sum of slugging average and on-base percentage. It's a better metric than the more familiar batting average, because it gives credit for plate outcomes — walks, singles, doubles, triples and home runs — in rough proportion to their value in creating runs. Batting average ignores walks and gives the same value to a single as a home run.
But OPS is neither perfect nor the Mets biggest issue. The chart below shows average team runs per game in the 2021 season versus team OPS. The Mets are the red diamond. Orange dots are American League teams (where the designated hitter increases OPS and runs), and blue are National League teams, like the Mets. The black regression line shows the average relation.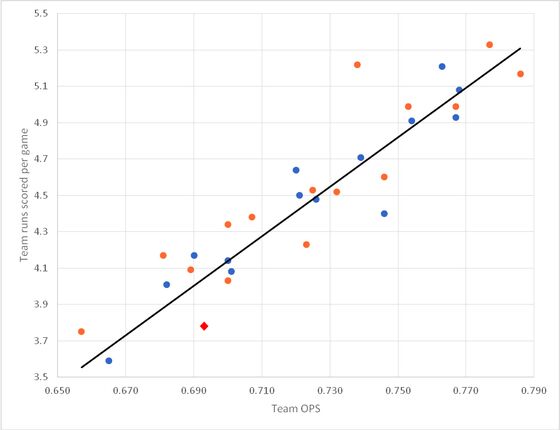 You can see a strong correlation between OPS and average runs scored, but also a lot of variation around the line. Only runs win games, not batting statistics. The Mets have a below average OPS, 23 of the 30 major league teams are better (but 12 of them have designated hitters). But what really stands out is that the Mets score more than 0.2 runs per game fewer than their OPS would predict, giving them the third worst offense in baseball. If the Mets scored runs in line with their OPS, they'd likely be leading their division. I've only seen the Mets on television this year, but to my eye their weak offensive link is on the base paths, not at the plate.
Another reason figures can mislead without lying is any measurement is influenced by statistical noise. Given the number of plate appearance the Mets have had in 2021, the standard error of OPS is 0.02. That means it's quite plausible that the Mets have better than the National League average OPS in ability, but are low solely due to the luck of the draw. If so, the Mets have an excellent chance of winning their division, a chance that could be sacrificed by trying to fix what isn't broke.
Steve Cohen should not find it hard to understand how professional hitters can produce a 0.693 OPS over 119 games. The franchise he bought had lower OPS in 27 of its 60 seasons. Over the last 10 years, 27% of National League teams have done worse. No doubt, 0.693 is a mediocre OPS, but not one that strains credulity.
OPS adds on-base percentage and slugging percentage to get one number that unites the two. It's meant to combine how well a hitter can reach base, with how well he can hit for average and for power.
This column does not necessarily reflect the opinion of the editorial board or Bloomberg LP and its owners.
Aaron Brown is a former managing director and head of financial market research at AQR Capital Management. He is the author of "The Poker Face of Wall Street." He may have a stake in the areas he writes about.