Streaming Services Face an Economic Reckoning After Covid-19
(Bloomberg Opinion) -- As the coronavirus pandemic continues, Bloomberg Opinion will be running a series of features by our columnists that consider the long-term consequences of the crisis. This column is part of a package envisioning a new consumer economy. 

As Hollywood sets sit empty because of the Covid-19 pandemic, streaming-video apps that were just getting off the ground are now running out of fresh movies and TV episodes. But this is only a hiccup compared to the vexing problem that awaits the industry when it finally emerges from the crisis. Is it possible to make money in the business of streaming?
The meteoric rise of Netflix Inc. has warped the U.S. media industry, forcing companies such as Walt Disney Co. and AT&T Inc. that have long enjoyed fat profits to embrace a business model that is fundamentally broken: Spend billions of dollars to create an endless supply of content, then sell monthly access to this deluxe all-you-can-eat buffet for little more than the cost of dinner at McDonald's. Oh, and subscribers can basically cancel whenever they want: Analysts from Cowen & Co. have estimated that while Netflix's annual rate of churn, or customer turnover, is 10% to 20%, it may be as high as 50% for other streaming services.
Having so many options might sound like a treat for consumers, but it hasn't worked out that way. The downside of the proliferation of streaming apps is that some of the most sought-after TV content now lives behind a chaotic jumble of paywalls. You need different accounts for CBS All Access, Disney+, HBO Max, WWE Network and so on. Their low prices would be great if you could get away with having just one service, but most families may require more. 
The race to attract and retain subscribers — and turn a profit — was challenging enough before the coronavirus shut down entire swathes of our economy. Now, the U.S. is in a recession and consumers are rethinking how much content they need and what's a worthwhile household expense. When all a country can do is sit home and gorge on movies and TV, a free trial to stream Netflix or any other services is worth its hours of content in gold. (Look no further than Netflix's recent spike in subscriptions.) The question is, will users just ditch once those free trials are up?
"If and when we return to some type of normal, the economic realities are going to hit these services," Steve Nason, a research director at Parks Associates, a consultancy for consumer-technology products, said over the phone.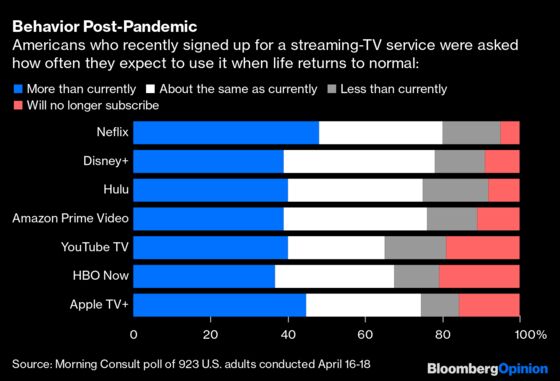 To make streaming viable in a post-Covid-19 world, it has to become less frustrating for users and less painful for media's chief financial officers. After observing what's worked for some streaming companies and other types of entertainment services, such as social media and video games, there are three ideas the industry should explore: 
Incorporate ads to keep subscription fees low — but do so in new, inventive ways that are less intrusive than long stretches of commercial time; 
Reintroduce content and internet bundles to alleviate some of the cost and inconvenience of managing multiple subscriptions, which would discourage customers from canceling; 
Make streaming-video apps more of a social community akin to Instagram and TikTok in order to promote more usage.
Let's start with the most controversial of these suggestions: ads. Because of Netflix, viewers have become accustomed to not having to sit through ads, and they like it. But that approach probably can't work long-term if consumers want an affordable service with a constant flow of fresh content that is written and produced at the level of "Game of Thrones" or "Narcos." At the end of the day, streaming companies need to make money — and not in the debt-fueled, cash-flow-burning manner of Netflix.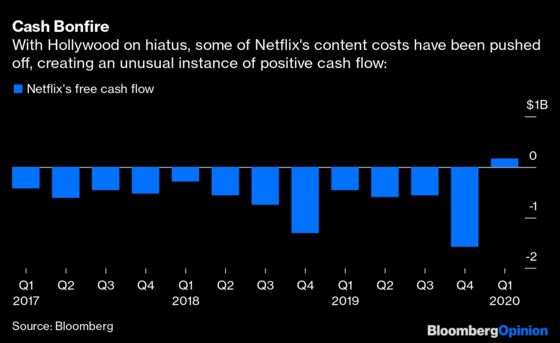 The TV business may just work better for everyone when the consumer is the product, able to be sized up by advertisers hoping to activate our shopping reflexes. Not all consumers hate ads as much as they profess to, or at least not to the extent that they hate overpriced subscriptions. Surveys by consumer-research firms have repeatedly shown that the biggest gripe among cable-TV subscribers is how much they pay. Already, tens of millions of people have embraced free, ad-supported streaming services, such as Pluto TV and Tubi. No wonder both have been acquired by media giants — ViacomCBS Inc. and Fox Corp., respectively — in deals that went for upward of $300 million.
So far, Netflix hasn't changed its tune on ads: Co-founder and CEO Reed Hastings has said that the company doesn't want to try to compete with Google and Facebook Inc. in the controversial business of tracking a user's whereabouts and other highly personal data sought by advertisers. That may be true, but it may also be that Netflix doesn't want to alienate customers while it's still in growth mode and enjoying such a wide lead over rivals. 
Either way, Netflix is starting to look like it's in the minority on this. In April, Comcast Corp.'s NBC Universal held a soft launch for a streaming service called Peacock that gives viewers the option of watching with or without interruptions. There's a free version with a condensed library to get viewers interested. A step up from there is a $5-a-month premium subscription that unlocks much more content but keeps the ads. Then, for $10 a month, subscribers can remove the ads entirely. This is what's known as a "freemium" model: The basic plan is enticing, until a user realizes that paying a small price could dramatically improve the experience. It's a sneaky, delicate tinkering with how the brain perceives value.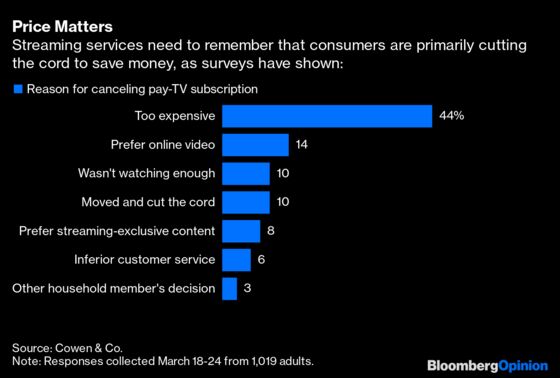 But if you think Comcast is hoping everyone opts for the $10 version, think again. Hulu has shown that the Goldilocks choice is right in the middle: a low subscription price coupled with ad revenue. Most Hulu subscribers are on its basic $6-a-month plan that includes ads, and Hulu is said to make more money off those customers than the ones who pay $12 for ad-free streaming. 
Regional stay-at-home orders have, of course, changed things. Some of the biggest advertisers — auto manufacturers and insurers, travel websites, resorts, toilet paper brands and so on — now have little reason to spend on air time. And with the Tokyo Olympics being postponed, sports off the air and U.S. presidential campaigning largely on hold, TV ad budgets have evaporated. Market-research company EMarketer predicts this spending will drop as much as 29% in just the first half of 2020 — a $12 billion cut to its original forecast.
Even so, as the world eventually resumes some semblance of normalcy, plenty of advertisers will still be eyeing streaming audiences, and streaming apps may happily welcome their dollars — even if they weren't planning on it before. Consider the situation at Disney, which, before the pandemic hit, had been leaning on its more-stable film, theme-park and cruise divisions, as it invested heavily in streaming. It's possible that Disney+ may now have to weigh price hikes or incorporating ads. John Stankey, who will become AT&T's CEO on July 1, has also called ads and high-quality streaming content "a winning combination."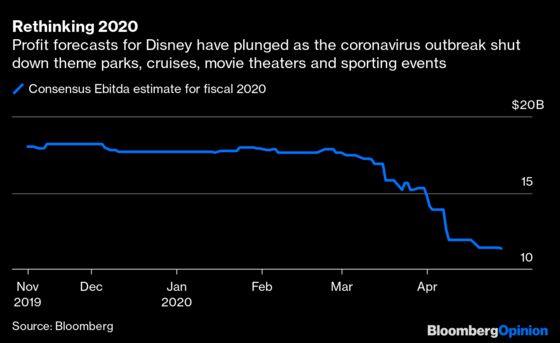 Making ads a fixture of premium TV apps will require some creativity, though. For streamers, gone are the days of sitting through several 30-second commercials in a row. Comcast has promised to limit Peacock's own ad load to 5 minutes per hour. But the best solution may be in changing what form a promotional spot takes. Hulu has notably experimented with new ways to present ads, such as displaying them when a user pauses a video. The industry should follow Hulu's lead — and improve on it.
Bundles may seem like another annoying remnant of the cable-TV era, but if done right they could improve the streaming experience. Disney is an example of how it can work: Even though Disney+ already has more than 50 million subscribers, the app — which charges $7 a month or $70 a year — will eventually suffer for not having enough variety beyond children's animated features and Marvel and "Star Wars" content. This is why its $13-a-month bundle with Hulu — which is the same rate as a standard Netflix subscription — is proving to be Disney's secret weapon and a more practical Netflix substitute. AT&T is pursuing its own bundle, too, with plans to use the forthcoming HBO Max as a freebie for some wireless customers to keep them loyal. Likewise, Peacock premium (with ads) doesn't cost anything extra for subscribers to Comcast cable or internet packages. 
Oftentimes, when a customer says a service costs too much, what they really mean is that they want more for the price, or the ability to skip a month. That's why offering savings through a bundle or allowing users to pause their subscriptions can go a long way in reducing churn, according to Guy Marion, who advises on customer retention for subscription services as CEO of Brightback in San Francisco. "Many companies haven't figured out yet how to accommodate pause revenue, and billing systems were hard-wired without that concept," he said. Structuring bundles, while investing in more dynamic billing and cancellation processes, could be the difference between keeping a customer and losing one. 
But perhaps the biggest lesson the entertainment industry should take away from this pandemic is that there's value in being able to provide human connection. TV services are certainly making life on lockdown more bearable, but it's the video conferencing tools like Zoom and social-media apps like Instagram and TikTok that are uniting us and creating a sense of community. A study published this month in the International Journal of Information Management found that, with free-to-play video games at least, social features not only helped to keep users interested, but also encouraged more in-app spending.
Netflix, Disney, HBO and others would be smart to introduce their own social features, ones that would allow, say, viewers to see what friends are watching and to make recommendations. Netflix's "Tiger King" docuseries took social media by storm in recent weeks, as memes about the show went next-level viral, and yet there was no way to experience that collective fascination on Netflix itself. There is clearly demand for it: During quarantine, families and friends have been jury-rigging ways to watch their favorite shows "together" via video chat. There's now a Netflix Party extension for the Google Chrome browser that does this more seamlessly. 
Even before the coronavirus hit, the business model of streaming was beckoning for a change. Soon it will be begging for it. The industry should use this bizarre moment in history to rethink how to thrive in a new normal — one defined by all of us spending more time with a remote control or device in hand. Even with productions shut down, Hollywood can still tap its creative wellspring.
This column does not necessarily reflect the opinion of the editorial board or Bloomberg LP and its owners.
Tara Lachapelle is a Bloomberg Opinion columnist covering the business of entertainment and telecommunications, as well as broader deals. She previously wrote an M&A column for Bloomberg News.