Mining Chose This Toxic Culture. It's Time for a Change
(Bloomberg Opinion) -- Life in a mining camp in 2022 can often seem little different to conditions that prevailed a century ago. 
"[I have a] fear of violence. [There are] catcalls, advances made in camp when you are alone," one Rio Tinto Group employee at a remote mine site told an internal commission into workplace culture which reported on Feb. 1. "The men would sit on the stools and watch every single female that walked past. Some made comments. Some just stared ... I ended up feeling so uncomfortable that I started making sure I had a buddy to walk to dinner and back with every single night — even when it wasn't dark."
Almost half of people who spoke to the inquiry reported bullying in the workplace. More than a quarter of women endured sexual harassment, and 21 actual or attempted rapes or sexual assaults were reported. About 12% had experienced racism, including around a third of Indigenous people at the company's Australian sites. 
If that litany of vile behavior seems familiar, it's because similar incidents seem to have played out in mining towns throughout history. 
"Can't ye imagine what it's like — bein' a woman in a place like this? And a woman they think good-lookin'!" lamented Mary Burke, one of the protagonists of Upton Sinclair's 1917 novel King Coal. "Some one's always troublin' us women! Always! Never a day but we hear it. Winks and nudges — everywhere ye turn."
That continuity over continents and centuries can make the association of mining and toxic behavior seem like a force of nature. By that thinking, remote mineral deposits in tough locations will inevitably attract a workforce that's overwhelmingly male, young and testosterone-fueled. Those who don't fit the stereotyped picture — whether on grounds of their gender, their ethnicity, their sexuality, or their willingness to go along with a bullying culture — will get driven out.
If there is such a thing as a "culture of mining," it's inextricably bound up with such mythology. Kalgoorlie, a town in Australia's western deserts which has been digging one vast deposit since a late 19th-century gold rush, hosts one of the world's leading mining conferences, Diggers and Dealers. The event draws hordes of junior miners who seem attracted as much by the bachelor party atmosphere — where in the evenings drunken geologists, engineers and accountants ogle underwear-clad barmaids in the town's so-called "skimpy bars" — as the opportunity to do real business. Senior executives from major mining companies have mostly shunned the forum for years.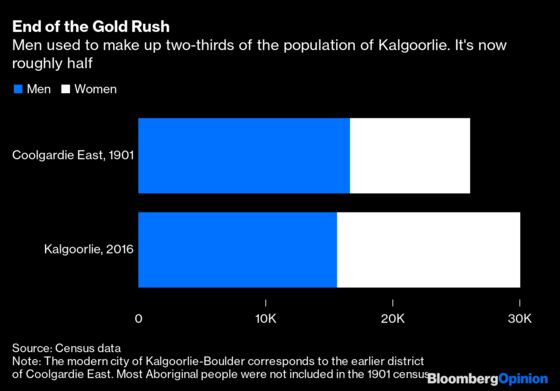 What's notable about Kalgoorlie is that on paper it's little different than any other part of Australia. In contrast to the late 19th century, when the population of gold rush districts was often 90% male, modern Kalgoorlie is a humdrum suburb of family homes with roughly equal numbers of men and women, where nearly one in four residents are children.
Its legal brothels, described to sociologists Robyn Mayes, Barbara Pini, and Kate Boyer during a 2011 visit as an "age-old tradition" intrinsic to Kalgoorlie's culture, shouldn't on the face of it create an atmosphere any different from most other Australian towns, where sex work and brothels are also legalized. And yet they're seen as central to a unique — and unpleasant — local way of life. "Men in a town like this one are very aggressive, very violent," one local woman told the researchers. "Prostitution helps deal with it and this means it takes the fear out of women."
That assessment fails to place the blame where it belongs. Towns, and companies don't have their culture foisted on them by inanimate forces. Instead they choose the culture they want to have. If a spirit of toxic masculinity often prevails in Kalgoorlie, it's because such behavior is too frequently excused. And indeed, far from being confined to the pit face, instances mentioned in Rio Tinto's report often seem to be as common in head office: Male employees in the legal and external affairs department were more likely to experience racism than their blue-collar colleagues in iron ore, for instance.
Rio Tinto can look to its own past to learn how to fix this. Once upon a time, all mines were as dangerous as the pits that Upton Sinclair wrote about. A 1926 article by a Montana mine safety manager spoke with wonderment that recent advances had reduced hazards to the point that "a man may now reasonably expect to follow mining as a life calling."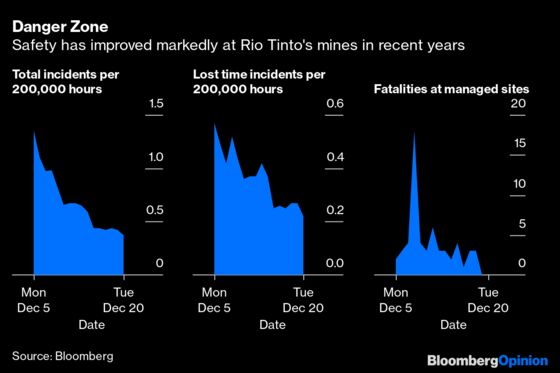 That's changed beyond recognition. After a run of serious incidents in the 1990s and 2000s, a report on safety is now presented alongside operational and business performance at every Rio Tinto board meeting. Hitting safety targets accounts for one-fifth of Chief Executive Officer Jakob Stausholm's short-term bonus, worth 167,092 pounds ($227,379) in 2020.
The results have been measurable. The frequency of injuries has declined by more than two-thirds since the mid-2000s. Even the grim annual drumbeat of workplace fatalities has been halted. To date, no one has died at Rio Tinto's mine sites since an August 2018 truck accident at its Paraburdoo iron ore pit.
There's heartening signs of movement in that direction. Some 5% of executives' short-term bonuses is now linked to increasing the share of women in the workforce, and an internal taskforce established last year to tackle workplace culture will gather metrics and report them quarterly to internal committees, making sure the problem is front-of-mind for senior management. 
Still, as Rio Tinto's experience in destroying an Aboriginal heritage site at Juukan Gorge in northwest Australia showed, it's easy to take stakeholders for granted while going through the motions of listening to them. A company whose operations are spread across multiple sites and continents needs to ensure that incentives to improve culture are spread beyond executive levels to middle management and beyond — for instance, by making them a measurable component of the short-term bonuses available to nearly half the workforce. Monitoring progress on culture change must be the explicit responsibility of a board committee, too.
Mining isn't the small and desperate industry it was 100 years ago. Rio Tinto brought in more free cash over the past 12 months than Walmart Inc. or Coca-Cola Co. It can afford to do better. If it doesn't, don't blame the culture — blame the leaders who failed to change it.
More From Bloomberg Opinion:
This column does not necessarily reflect the opinion of the editorial board or Bloomberg LP and its owners.
David Fickling is a Bloomberg Opinion columnist covering commodities, as well as industrial and consumer companies. He has been a reporter for Bloomberg News, Dow Jones, the Wall Street Journal, the Financial Times and the Guardian.