(Bloomberg Opinion) -- In recent years, the hedge fund industry has lost its luster. The rise of low-cost passive products has laid bare the inability of active managers to outpace benchmarks, leaving them without justification for their higher fees. Clients have voted with their pocketbooks, leaving in droves. But the world's biggest publicly traded hedge fund is signaling that life may be about to get a bit brighter for its industry.
Man Group Plc grew its funds under management to a record $123.6 billion last year, with net inflows of $1.8 billion — more than making up for the $1.3 billion clients withdrew in 2019. With a favorable market backdrop adding another $3.3 billion, the firm has reversed a decline in its assets.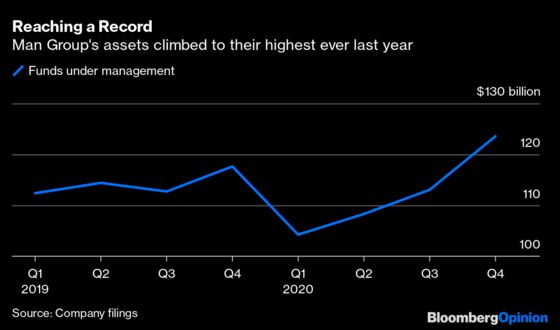 For the industry as a whole, investors allocated $6.4 billion of fresh cash to hedge funds globally in January, leaving the industry's total assets at a bit more than $3.3 trillion, according to research firm eVestment. Those inflows come after three years of withdrawals worth more than $192 billion. Outflows last year, though, slowed to less than $53 billion, about half of 2019's total.  
For the past several years, the hedge fund industry has had to adjust to its straitened circumstances by reducing the amount it charges for managing money, and Man Group is no exception. It's able to command less than half what it could charge in 2013.
But the relentless downward pressure on fees seems to have abated, with the firm actually improving its net management margin last year, albeit by a single basis point to 66 basis points.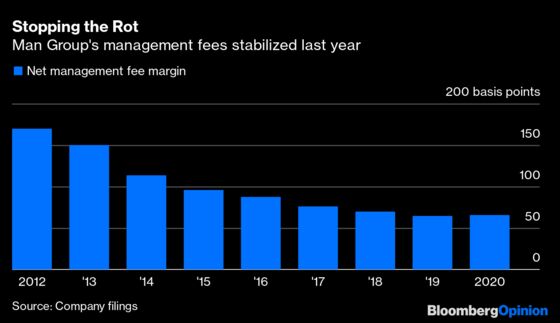 The distinctly mixed performance of its quant products, which rely on algorithms to make investment choices, highlights the difficulties investors face when choosing how to allocate money to hedge funds. AHL Alpha and AHL Diversified, both trend-following funds, gained 7.9% and 11% respectively in the year. AHL Dimension, which has a multi-strategy approach including technical, fundamental and momentum analysis, lost 8.5%.
Superior market performance is what will drive money back into hedge funds. The industry failed to distinguish itself as the pandemic roiled equity markets in the first quarter of last year. It remains to be seen whether active managers can make the most of the so-called reflation trade that's causing turmoil in the bond markets. Man Group's results suggest the industry is on the mend, if not yet fully fixed.
This column does not necessarily reflect the opinion of the editorial board or Bloomberg LP and its owners.
Mark Gilbert is a Bloomberg Opinion columnist covering asset management. He previously was the London bureau chief for Bloomberg News. He is also the author of "Complicit: How Greed and Collusion Made the Credit Crisis Unstoppable."