Macron's Green-Energy Transition Has Deep Cracks
(Bloomberg Opinion) -- With only a few months to go before France votes, President Emmanuel Macron has taken out his check book to counter anger over post-Covid inflation. The negative ripple effects on financial markets suggest more than just one-off pain, though.
Macron's government will force utility Electricite de France SA to sell more power at a steep discount, capping price increases for households and very small businesses at 4% this year. The potential bill — about 7.7 billion euros ($8.8 billion), or several years of earnings — wiped around 5 billion euros from EDF's market capitalization. Considering the company is part-owned by the French state, it's a mixed blessing for the taxpayer, but a political no-brainer given the recent spike in prices. Without intervening, prices would rise by 35% starting Feb. 1, as Bloomberg News reports.
And yet such populist maneuvers are only part of the costly challenge of France's energy transition.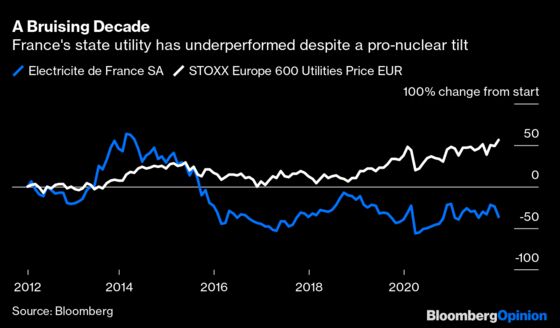 A country that should be a poster child for moving away from fossil fuels — France has long been attached to nuclear power, with EDF's portfolio the biggest in the world — is instead becoming a symbol of everything that can go wrong with state-owned energy giants. EDF's aging nuclear fleet has been plagued with defects and outages, and is exacerbating rather than alleviating a spike in power prices. The utility expects its nuclear output to fall 8% this year, to 300-330 terawatt-hours. That's down 30% from the early 2000s.
The meddling of politicians during election season is one thing, but long-term shifts in policy and strategic planning have also failed to deliver. A flagship state plan to restructure EDF and channel nuclear profits into renewables has dragged in the face of resistance from regulators in Brussels, who fear the distorting effects on market competition. The Macron administration has also blown hot and cold when it comes to nuclear, shutting down some reactors and pledging to reduce France's exposure to 50% from 75%, even as it announces new atomic plants.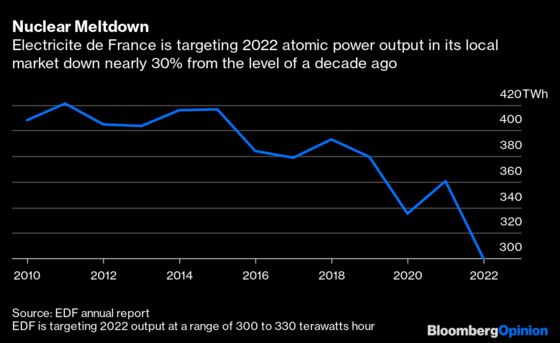 The result is a company that has underperformed the sector by quite a distance over the past decade, laden with rising debts and falling profits, and which now faces the threat of a capital increase. Shares of EDF have fallen 47.1% since 2012, while large European utilities have gained 52.1%.
One might hope that the litany of problems facing the company is fully "priced in," given the outlook for higher energy prices. And, after all, presidential elections only happen once every five years. Optimism over the future had been building recently, with long-suffering minority shareholders assuming a reorganization of EDF in the midst of a huge shift to green energy would eventually deliver a payday. Currently, 15 analysts have a "buy" rating on the stock, according to Bloomberg data, versus three "holds" and one "sell."
But the market pain inflicted on Friday reflects rising, not falling, uncertainty. UBS analysts flagged the risk of yet more power outages, as well as the risk of a rights issue to bolster the company's balance sheet, as reasons behind the severe selloff. They haven't gone away yet.
The challenge of the energy transition is global, and not unique to France. Yet the Macron administration is paying the price both of market forces and the legacy of top-down state management. The banker-turned-president's dreams of revolutionizing French state capitalism have hit reality — and if the next five years don't live up to the promise of the green transition, the government check-book will remain very tempting.
More From This Writer and Others at Bloomberg Opinion:
France's Merkel or Thatcher Moment? Not Quite: Lionel Laurent
Europe Should Keep Nuclear Power to Save Climate: Jonathan Ford
The U.K. Should Let Inflation Rip for a Bit: Ashworth & Gilbert
This column does not necessarily reflect the opinion of the editorial board or Bloomberg LP and its owners.
Lionel Laurent is a Bloomberg Opinion columnist covering the European Union and France. He worked previously at Reuters and Forbes.
Javier Blas is a Bloomberg Opinion columnist covering energy and commodities. He previously was commodities editor at the Financial Times and is the coauthor of "The World for Sale: Money, Power, and the Traders Who Barter the Earth's Resources."