(Bloomberg Opinion) -- A year ago, Hertz Global Holdings Inc. entered into bankruptcy, its car rental business fallen victim to Covid-related lockdowns. Now, in a dramatic resurrection, it has not only emerged from protection but institutional investors have bid up the stock to take control of the venerable company. So much so that Hertz was able to cover its debt in full and supply a handsome payout to shareholders who stuck with it through the bad times. Indeed, it was one of the first meme stocks, with loyalists buying it even as its fortunes tanked. Usually, stockholders are wiped out with a bankruptcy and restructuring. With Hertz, they've been rewarded.
Can the good fortune of the American company be repeated in a distressed, indeed infamous, Chinese brand? 
Luckin Coffee Inc. also has true believers, unperturbed by the company's U.S. bankruptcy filings. Now trading over-the-counter on pink sheets, its shares soared in recent days with brisk trading volume. Investors pushed its market cap to about $3.3 billion, giving the disgraced Chinese coffee chain operator more equity value than newly listed Membership Collective Group Inc., the owner of the trendy Soho House clubs.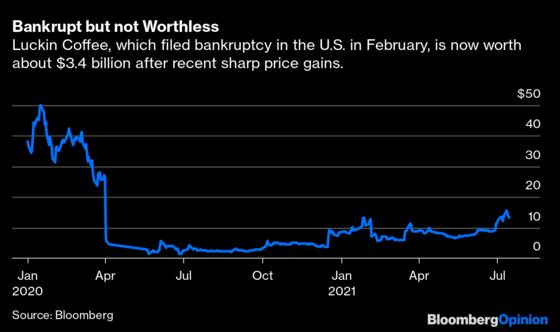 Despite its legal woes, Luckin kept its shops open in China. And the economics have finally begun to work. According to the liquidators' report to a court in the Cayman Islands — where Luckin is incorporated — the company achieved store-level profitability for the first time in August. Its 2020 sales are expected to reach between 3.8 billion yuan and 4.2 billion yuan ($587 million and $649 million), or 26% year-on-year growth at the low-end. 
Luckin clearly wants to move on from its troubles. On June 30, it filed restated financial results for 2019 with the SEC. These did not show additional inflated sales beyond what it confessed to a year ago. It also promised to release its 2020 results "as soon as possible" and to maintain an active English-language website to cater to U.S.-based investors. Coupled with paying the steep SEC fine, Luckin appears to be trying to make itself eligible for New York's deep pools of money again. 
How distressed is Luckin? Some of its early investors have stuck around, willing to go the extra mile to keep it alive. In April, the company received about $250 million in investments from Chinese private equity firms Centurium Capital and Joy Capital, enough to pay its SEC fine and the first cash outlay for its offshore debt restructuring. Luckin said it had already received approval from the Chinese government to transfer the funds abroad. As of last November, the latest financial report available, it held only $32.4 million in cash offshore.
In March, Luckin restructured 59% of a $460 million convertible bond that had gone into default. It had originally been issued in January 2020 when its shares were riding high. The company is promising a respectable 91% to 96% recovery rate, with 32% of par paid in cash upfront. Debt restructuring is an essential step to help Luckin get out of the U.S. bankruptcy, which it entered into in February 2021.
Just like Hertz in the U.S., Luckin in China has not lost its brand appeal despite the accounting scandal. According to a local survey of consumer preferences — from flavor to environment to service — Luckin ranked competitively against Starbucks Corp., and better than McDonald's Corp.'s McCafe, which is a close price competitor. Starbucks, Luckin and McCafe are the top three chain operators in China by number of stores. Luckin is not slowing down, either: It has set an ambitious target of 4,800 to 6,900 self-operated stores by 2023. It had 3,898 shops as of November. 
In other words, Chinese consumers don't care who owns Luckin, or what its quarterly financials look like. As long as the coffee is decent and doesn't burn a hole in their wallets, they will buy the Little Blue Cup. This in turn gives Luckin some enterprise value as it works to exit bankruptcy protection. 
Venture capital money has been flooding into China's coffee shop operators. VCs see them as lucrative draws for young professionals. Shanghai-based Manner Coffee, which sells cheap coffee in small store fronts near big office buildings, has become a unicorn, attracting investments from food delivery giant Meituan and TikTok owner ByteDance Ltd. With just over 130 shops, Manner Coffee is already valued at $2.5 billion. 
Seen in this light, Luckin is almost a bargain — and perhaps a reason why its early private equity backers refused to let it go under. The brand is valuable. 
There's one key difference with Hertz. It re-emerged from bankruptcy with new management and a new board. Luckin isn't likely to be similarly transformed, even though Centurium Capital had 43.5% of the voting power as of the end of May. It is run by a staunch ally of Luckin's co-founder Charles Lu. Are potential new investors willing to look beyond the past and accept a semi-new Luckin? American culture is all about redemption. But the Chinese coffee chain still needs a lot of luck. 
This column does not necessarily reflect the opinion of the editorial board or Bloomberg LP and its owners.
Shuli Ren is a Bloomberg Opinion columnist covering Asian markets. She previously wrote on markets for Barron's, following a career as an investment banker, and is a CFA charterholder.