Kominers's Conundrums: True or False? That's Just the Start
(Bloomberg Opinion) -- Last week we solved a series of trivia clues in the style of "Jeopardy!" This week, we're adding a logical dimension with the help of our puzzle-loving friends Don Laackman & Dan Zaharopol of BEAM — "Bridge to Enter Advanced Mathematics."
This Conundrum is a remix of an incredibly fun puzzle that their students faced in 2018. It starts with a series of true/false questions. But when you take a look, you'll see some of them reference each other, which means you'll have to use logic to find a way to mark them "true" or "false" in a way that's consistent across all the different questions.
After that, there's a trivia section, but some of the clues are a bit under-specified, in the sense that they might have multiple answers. That sounds like it should make coming up with answers easier until you realize the trivia seems to have spilled over into the true/false section a bit.
You'll have to find answers to the trivia questions that are consistent with the true/false answers, meaning you'll have to switch back and forth between the two sections as you solve them.
And as you'll then see in a third section, sorting out the true/false questions and trivia also offers hints as to the final answer to this Conundrum, which is an appropriately chosen English phrase. (But be careful: some of the statements that look like hints are, well, false.)
True/False Section

A. The number of false statements in this section is even.

B. There are more than four false statements in this section.

C. There are three single-word trivia answers which, when pronounced, sound like pairs of common English words put together.

D. Every trivia answer contains the letter "E."

E. One of the trivia answers produces a different English word if its letters are reversed.

F. In one of the trivia answers, the only vowel is a "U."

G. One of the trivia answers results in a common English word when you append "sis" to it.

H. One of the trivia answers is closely associated with Santa.

I. Exactly four trivia answers are the names of planets.

J. Statement K is false.

K. Either statements B and J are both true, or they are both false.

L. Either statements G and I are both true, or they are both false.

M. Statement H is true.

N. Exactly one of statements E, G, and J is true.

O. Statement N is true.

Trivia Section

1. This team won at least one NBA championship in the last ten years. (Don't include "the" or the city name.)

2. Well-known company that makes chocolate and candy.

3. A discontinued brand of car, marketed as "a new kind of car company."

4. A metallic element that is liquid at room temperature and pressure.

5. During World War II, the crew of the British submarine the HMS Trident received an improbable gift from their Russian allies. This fully-grown animal lived on the submarine for six weeks. She slept under the captain's bunk and ate one of the submarine's navigation charts! What type of animal was it?

6. First name of a famous tennis star.

7. This Alfred Hitchcock movie was the first American film to show a toilet being flushed on screen.

8. A Netflix/Marvel superhero show.

Conundrum Answer Section

The below statements give hints as to the answer to the full Conundrum. However, each hint statement is true if and only if the equivalently-lettered statement in the true/false section is true. So for example, if statement A in the true/false section is true, then statement A below is also true — but if statement A in the true/false section is false, then statement A below is false.

A.  The Conundrum answer's third letter is "A."

B. The Conundrum answer contains exactly the same number of letters as trivia answer 3.

D. The Conundrum answer does not contain the letter "E."

E. When you add a certain name to the end of the Conundrum answer, you obtain a well-known opening line from a classic novel.

G. The second-to-last letter in the Conundrum answer is the same as the third letter of trivia answer 1.

H. The Conundrum answer starts with a "B."

I. When you add a certain name to the end of the Conundrum answer, you obtain a well-known Science Fiction television catchphrase.

J. The Conundrum answer's second letter is the same as the second letter in trivia answer 3.

K. The Conundrum answer contains two "M"s and two "E"s.

M. The Conundrum answer contains exactly the same number of letters as trivia answer 5.

O. The last letter of the Conundrum answer is the same as the first letter of trivia answer 7.
If you find the stamina of a STEM student and solve this challenge — or if you even make partial progress — please let us know at skpuzzles@bloomberg.net before midnight New York time on Thursday, November 4.
If you get stuck, there'll be hints announced next week, on Twitter, and in Bloomberg Opinion Today. To be counted in the solver list, please include your name with your answer. And don't forget to sign up for our Conundrums email list!
Last Week's Conundrum: There's Still Time to Solve!
And remember, last week's Conundrum gives you an opportunity to prove yourself a "Jeopardy!" master in a tribute to recent record-setter Matt Amodio. Apply your knowledge of everything from "WORLD HERITAGE SITES" to "SHAKESPEARE" and "EURO-PUNNING." Just don't forget to take note of the point value for each question!
Previously in Kominers's Conundrums…
Our Fat Bear Week Conundrum tasked solvers with balancing three sets of rather rotund creatures on three quarters of a wobbly triangular pier.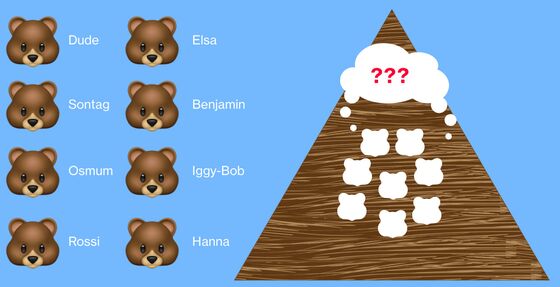 The bears' weights were as follows: 
HANNA: 1200
IGGY-BOB: 642
BENJAMIN: 401
ELSA: 331
ROSSI: 327
OSMUM: 295
SONTAG: 231
DUDE: 173
To divide the bears into three groups of equal weight, a good first step was to add up all the weights — the total divided by 3 would be the target weight for each group.
We have 1,200+642+327+231+401+331+295+173 = 3,600, which means that each group would have to have a total weight of 1,200. That immediately implied that Hanna would be in a group of her own.
Next you might note that all but one of the remaining weights is odd. Since 1,200 is even, the remaining bear with an even weight — Iggy-Bob, weighing in at 642 — must be in a group with an even number of other bears. (Otherwise, the sum of all the weights in his group would be odd.)
If we put Iggy-Bob together with the four lightest bears, we would get a total weight above 1,200 — which means he must be paired with just two of his compatriots. Moreover, the ones place digits of those bears' weights must add up to a number with an 8 in the ones place, to pair with Iggy-Bob's 2. That quickly pares down the options to either Osmum (295) and Dude (173) or Rossi (327) and Sontag (231); the latter pairing produces the correct total sum.
That leaves Benjamin (401), Elsa (331), Osmum (295), and Dude (173) as the final group — and indeed, their weights also add up to the target, 1,200.
To get to the puzzle answer from there, we instructed solvers as follows:
Single out the first letter in the name of each bear and shift it forward in the alphabet by the number of bears in its team. Then, and only then, you should be able to spell out an eight-letter phrase that tells us what's running through all these adowable [sic] bears' heads while working on this math problem.
And indeed, as promised, you could sort the bears in each group by descending weight and shift the first letters in their names as instructed, to obtain the answer "I LUV FISH," with the cutesy spelling corresponding to the confirmatory clue "adowable" in the instructions.
HANNA (H + 1 = I)

IGGY-BOB (I + 3 = L)
ROSSI (R + 3 = U)
SONTAG (S + 3 = V)

BENJAMIN (B + 4 = F)
ELSA (E + 4 = I)
OSMUM (O + 4 = S)
DUDE (D + 4 = H)
There was a bonus Easter egg "at the end," too — looking at the last letter in each bear's name in the order given above spelled "what the winner of Fat Bear Week becomes:" "A BIG NAME."
Lazar Ilic* solved first, followed by Zarin Pathan*; Eric Wepsic*; Noam D. Elkies; Zoz*; Ross Rheingans-Yoo; Ellen Dickstein Kominers; Julie, Kevin, & Michael Perusse; Anna L.*; Rostyslav Zatserkovnyi*; Michael Thaler; Sanandan Swaminathan*; Luke Harney*; Nancy & Murray Stern*; Robbie Stern; Maya Kaczorowski; Scott Wu*; Alexandru Nichifor; and Kiers. Thaler submitted an emoji solution. (Asterisks denote those who also solved the bonus puzzle.) And thanks especially to Paul Kominers* for test-solving, and to Lara Williams for collaborating on the Conundrum itself!
Not every statement in the true/false section has a corresponding statement in the Conundrum answer section.
This column does not necessarily reflect the opinion of the editorial board or Bloomberg LP and its owners.
Scott Duke Kominers is the MBA Class of 1960 Associate Professor of Business Administration at Harvard Business School, and a faculty affiliate of the Harvard Department of Economics. Previously, he was a junior fellow at the Harvard Society of Fellows and the inaugural research scholar at the Becker Friedman Institute for Research in Economics at the University of Chicago.