(Bloomberg Opinion) -- Single-family housing in the U.S. has been exuberant, but it's vulnerable and the bubble is starting to leak.
Robust demand has come first and foremost from the massive monetary and fiscal stimulus that has pumped trillions of dollars directly into the pockets of consumers. Americans have used this money along with cheap and readily-available mortgages to finance houses in suburband and rural locations as they fled cramped and expensive big-city apartments, and also to avoid long commutes. Millennials are helping to drive demand since many are in their 30s, prime ages for first-time homebuyers. On top of that, publicly-traded real estate investment trusts, big investment firms and pension funds are buying houses to rent out. In March, homes up for resale market spent a record-low 18 days on the market on average, according to the National Association of Realtors.
Although demand for single-family houses has surged, supply has not kept up. The market is 3.8 million units short of what is needed to meet demand, according to Freddie Mac, an increase of 50% since 2018. After the collapse of housing with the demise of subprime mortgages in 2008, the builders that survived have become more disciplined. Also, new construction has been restrained by temporary shortages of materials and surging prices of key building materials such as lumber.
The supply of existing houses for sale has been curtailed as more homeowners decide to stay put. Many aren't sure where they'd live next in these uncertain times. Also, the availability of cash-out refinancing opportunities has encouraged homeowners to hold on to their abodes instead of moving. Freddie Mac reports that in the first quarter, $49.6 billion in home equity was cashed out, up 80% from a year earlier and the most since 2007. Another limit on the supply of existing houses for sale has been the pandemic-induced moratorium on foreclosures.
This has spawned feeding frenzies for available homes as eager buyers, some with all-cash offers, engage in bidding wars. Prices of existing home soared 16.2% in the first quarter from a year earlier, and in March, 39% of houses under contract sold for more than their list price, up from 24% a year earlier. The bonanza conjures up memories of the mid-2000s when the subprime mortgage bubble pushed up prices to levels that were followed by a 35% plunge. Speculation is certainly part of today's activity, but unlike then, lenders require high credit scores and sizable downpayments.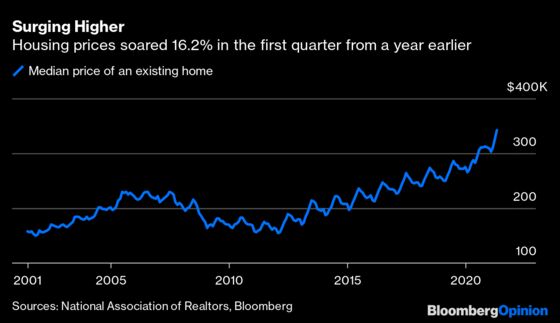 Still, housing is a highly leveraged asset, so a rise in financing costs can be lethal. But I don't foresee a big leap in U.S. Treasury yields and, therefore, 30-year fixed mortgage rates even though supply-chain disruptions and inefficiencies in restarting the economy are causing a temporary spurt in inflation. Even so, the gap between 10-year Treasury yields and 30-year fixed-rate mortgages is so narrow that home-loan rates could rise a full percentage point or more and still be within the historic range.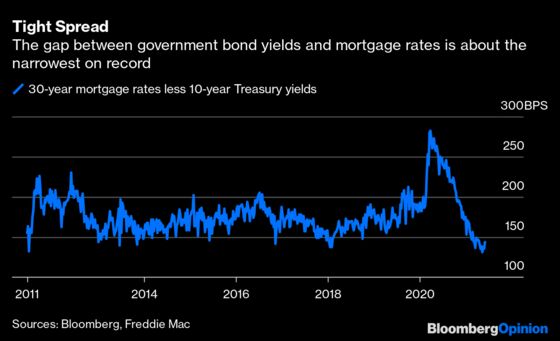 Even without a rise in financing costs, affordability is becoming an issue. In December, before the big run-up in prices, the median price for single-family houses and condos was less affordable than historic averages in 55% of U.S. counties, up from 43% a year earlier and 33% three years earlier, according to ATTOM Data Solutions. And unless households get further rounds of federal stimulus money, that earlier source of funding for housing will no longer be present. With some 7 million fewer Americans employed now than before the pandemic, household income growth in future quarters probably won't be sufficient to replace stimulus checks. Plus, much of the excess homeowner equity that can be withdrawn may already be gone.
As the pandemic eases, many Americans will probably continue to prefer single-family houses away from major cities, but some will return, reducing the demand for suburban houses. Meanwhile, high prices will spur supply in the form of new construction. Furthermore, demand for single-family houses may continue to be curtailed by "doubling up." Pew Research Center found that 52% of Americans ages 18 to 29 were living with at least one of their parents last year, up from 47% in 2019.
Numerous signs of a slowdown are already apparent. The number of months to exhaust the supply of existing homes on the market at current sales rates rose in each of the first four months of 2021. Lenders' willingness to issue mortgages is at its lowest level since 2014, according to the Mortgage Bankers Association, and those with less than pristine credit scores and without sizeable downpayments are finding it harder to obtain financing.  In 2020, 70% of new mortgages were issued to borrowers with credit scores of at least 760, up from 61% in 2019, according to the Federal Reserve Bank of New York.
Building permits, a harbinger of future housing starts, are nowhere near where they need to be to slake demand. A Conference Board survey finds that plans to purchase houses over the next six months fell from 7.1% in April to 4.3% in May, the biggest drop since monthly numbers began in 1977. Mortgage applications for new purchases are down 18% year-to-date, according to the Mortgage Bankers Association.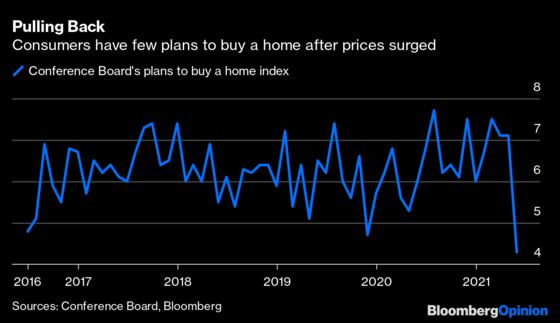 History suggests that when bubbles begin to leak, small tears usually enlarge as more and more weakness in their fabric is revealed, ultimately leading to collapse. The current enthusiasm for single-family housing has reached such extremes that a deflation of the bubble seems likely—and may be commencing.
This column does not necessarily reflect the opinion of the editorial board or Bloomberg LP and its owners.
A. Gary Shilling is president of A. Gary Shilling & Co., a New Jersey consultancy, a Registered Investment Advisor and author of "The Age of Deleveraging: Investment Strategies for a Decade of Slow Growth and Deflation." Some portfolios he manages invest in currencies and commodities.