(Bloomberg Opinion) -- There's a simple rule when trading European banks in a bull market: Buy the riskiest debt available to get the most bang for your buck. If you think cash is trash then why not look at a CoCo bond from a Greek Bank (the riskiest type of paper from the riskiest country in the euro area)? 
With Europe emerging quickly from the pandemic recession as its vaccine rollout picks up pace, exposure to Greece is becoming a compelling investment story, especially for yield-starved hedge funds. This was evident on Wednesday with the successful launch of a 600 million-euro ($730 million) additional tier 1 bond deal for Greek lender Piraeus Financial Holdings SA. The bank was able to double the size of the sale and lower the coupon. 
AT1s — often known as contingent convertibles, or CoCos for short — are the most subordinated type of bank debt, with the investor on the hook for the full amount if the lender ends up failing. That's why the yields are much higher than what's available on plain-vanilla bonds.
Piraeus is the first Greek bank to issue this category of debt and it will probably have just a Ca rating from Moody's Investors Service, 10 grades deep into junk, according to Bloomberg's credit reporter Alice Gledhill. So it was extraordinary to see an order book of more than 2.25 billion euros, with more than 200 institutional investors participating. The queue went around the block.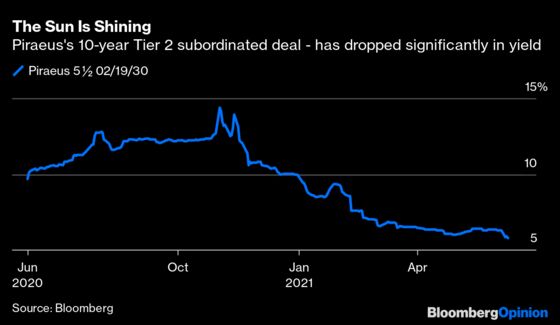 The 8.75% coupon explains the queue, as such a yield is unheard of in Europe. Even though it was reduced from initial price talk of 9%-9.25%, it's massive when you consider the context of the European Central Bank's negative deposit rate environment. It's the highest euro bank AT1 coupon since January 2019, when Portuguese lender Banco Comercial Portugues SA offered a 9.25% perpetual. That deal now yields 7.75%, so Piraeus is comfortably the highest yielder available in AT1s.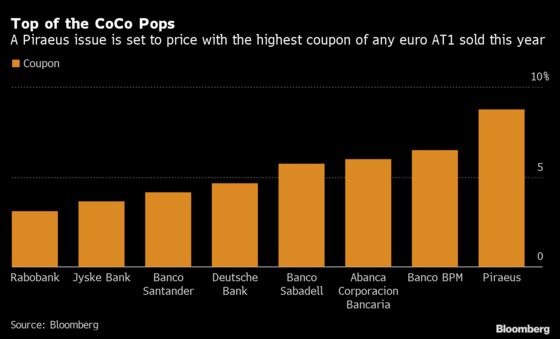 It's a vote of confidence not just for Piraeus's plans to reduce its bad loan pile to 9% this year, but also for Greece's and the European Union's recovery hopes. The EU's 750 billion-euro pandemic recovery fund will start issuing debt over the summer and then start distributing grants to the economies most in need of support. Greece is near the top of that list and will likely receive 7.5 billion euros this year from Brussels, a boost equivalent to 4% of its gross domestic product. And there's plenty more to come with more than 30 billion euros earmarked overall for the country.
The nation's economy has suffered a terrible decade since Europe's sovereign debt crisis, but things may be looking up. The Greek government also sold debt on Wednesday, tapping its benchmark 10-year bond for a further 2.5 billion euros. The order book was nearly 30 billion euros.
Piraeus's CoCo is the second leg in the bank's balance sheet cleanup, with a 1.4 billion euro capital raise completed in April. The aim is to bring down its bad debt ratio down from 45% to just 3% by the middle of this decade. One of its domestic rivals, Alpha Services and Holdings SA, is also conducting an 800 million-euro capital raise.
Risk is back on in the European debt markets. But with the prospect of a second pandemic-ravaged summer tourist season, the Greek economy is no surefire bet. Hedge funds will hope the EU's newfound munificence will cover any darker days.
This column does not necessarily reflect the opinion of the editorial board or Bloomberg LP and its owners.
Marcus Ashworth is a Bloomberg Opinion columnist covering European markets. He spent three decades in the banking industry, most recently as chief markets strategist at Haitong Securities in London.