GameStop's Latest Amazon Hires Prove It's More Than a Meme Stock
(Bloomberg Opinion) -- GameStop Inc. has been best known lately for the excitement it has generated with the Reddit crowd, and as one of the first of the big meme-stock winners. But for those willing to take a deeper look, there is something more going on: Its promised transformation is taking shape and making significant progress.
On Wednesday, the video-game retailer filled out the remaining key openings for its senior-management team by hiring a new chief executive officer and chief financial officer — both from Amazon.com Inc. GameStop also reported strong earnings and revealed a plan to raise more capital. Most of the hard work is still ahead, but these are all big positives.
The biographies of the new leaders give more credibility to GameStop's turnaround strategy. The company appointed Matt Furlong as CEO and Mike Recupero as CFO, both of whom supervised growth operations for Amazon. Most recently, Furlong led the e-commerce giant's Australia business, while Recupero served as CFO of Amazon's North American consumer business. Their backgrounds are in stark contrast to GameStop's current CEO, whose prior stint entailed running a retail business for that sold Verizon Wireless products and services, and its former CFO — who previously was an executive at a Chinese restaurant chain.
The pedigrees of the latest hires shouldn't come as a surprise. Since joining the retailer's board in early January, internet entrepreneur and Chewy Inc. co-founder Ryan Cohen has aggressively overhauled GameStop's management, adding about a dozen senior executives with similar digital-focused backgrounds. They include a new chief technology officer who came from Amazon Web Services, a customer-care executive from Chewy and a chief operating officer, also from Amazon. The quality of their backgrounds has played a key role in rising investor optimism for the retailer's pivot to e-commerce. And now instead of recruiting, Cohen  — who was elected board chairman at the company's annual meeting on Wednesday — can fully focus on the company's business strategy and operations.
So what about the numbers? GameStop reported better-than-expected results, and posted its first quarterly sales growth in three years. It had revenue in the quarter ending May 1 of $1.28 billion, up 25% from the prior year and higher than the $1.17 billion Bloomberg consensus. And while the company declined to give future guidance, GameStop said sales in May rose about 27% from a year earlier.
Not everything was positive. In a securities filing, GameStop revealed the company received a request from the U.S. Securities and Exchange Commission for information regarding trading activity surrounding its securities as part of a government probe — though it added the inquiry was not expected to negatively impact the company. Investors reacted by sending GameStop shares down 6% in after-hours trading, which isn't so bad given that the stock had rallied about 35% this month alone, and more than 1,500% year to date.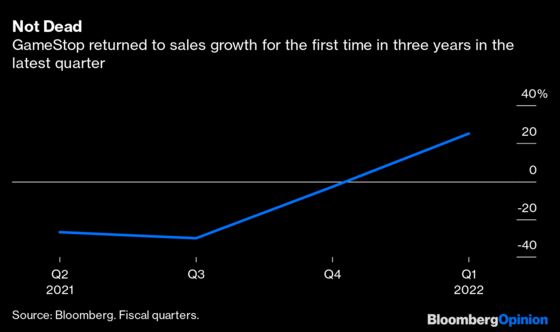 In truth, the latest earnings do not mean much for the current investor base. That's because these results reflect decisions made by GameStop's prior management team. The company's story now is all about its digital transformation and the moves the new executive team will make. The fruit of those efforts won't be seen for several quarters at the earliest.
But there were some insights to glean from April's quarterly results. The strong sales growth proves GameStop had a viable business all along and its balance sheet is now debt-free with $771 million in cash. That means the investment firms that placed wagers against the company and its stock over the past year, providing fuel for the unprecedented short squeeze in January, were wrong in their analysis. Remember, roughly a year ago, when GameStop had a market value of a few hundred million dollars, the skeptics predicted it would continue to generate losses as it sagged under the weight of its physical store footprint and lost market share to gaming streaming services. Their verdict was that the company would eventually die off like video retailer Blockbuster. At one point the short interest, or total hedge-fund bets against GameStop stock, rose to the unprecedented level of exceeding the retailer's shares outstanding.
Now it is obvious the negative thesis was incorrect in all respects. GameStop turned out to be solvent, the streaming threat was overblown and the lease obligations for its retail stores were manageable. What the naysayers missed last year was that the video-game industry was at the tail end of an extended seven-year console cycle. GameStop's fortunes were poised to rebound as soon as the new gaming consoles launched in November, which is exactly what happened.
That is not to say the meme-stock phenomenon hasn't benefited GameStop. The retailer was able to take advantage of its rising stock price by completing an equity offering in April that generated $551 million in proceeds. And late Wednesday, the company announced it may offer to sell as many as 5 million shares  in "at-the-market" offerings in the future, which it can use to further accelerate and invest in its business.
Cohen acknowledged the support of the Reddit crowd at the company's annual meeting earlier on Wednesday. They should all cheer the day's developments. GameStop now has everything lined up in its favor — a good plan, a solid accomplished team and all the capital it needs to implement it.
This column does not necessarily reflect the opinion of the editorial board or Bloomberg LP and its owners.
Tae Kim is a Bloomberg Opinion columnist covering technology. He previously covered technology for Barron's, following an earlier career as an equity analyst.