GameStop Has Big Advantages Technology Startups Would Die For
(Bloomberg Opinion) -- GameStop Inc. announced its latest quarterly earnings late Wednesday and investors responded the way they have after every release going back a year: They sold the stock. Each of the prior reactions proved to be short-sighted. It's likely this one will as well.
Here's how I think about GameStop: It is no longer a retailer of video games but a well-financed technology startup with powerful advantages. I know some on Wall Street disagree. They would rather closely parse the company's latest earnings to evaluate its progress. And on that front, the company posted better-than-expected sales results with revenue of $1.18 billion in the quarter ended in July, up 26% compared to the prior year, and above the $1.12 billion Bloomberg consensus. GameStop also reported an adjusted loss of 76 cents a share for the period, which was modestly wider than the average estimate.  The shares, which initially traded flat on the news, then proceeded to slump about 7% in after-market trading when management said it wouldn't provide guidance on its investor call.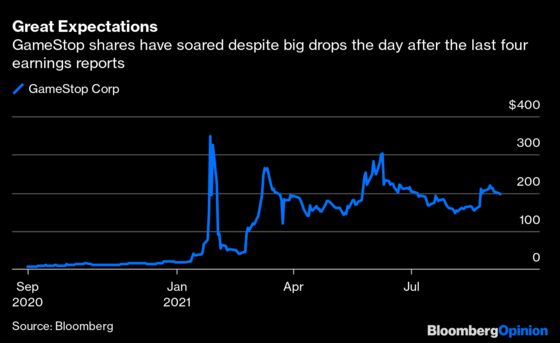 I wouldn't read too much into the reaction or the numbers. GameStop has been a quirky stock and hasn't given official forecasts for some time. Since last September, its shares have fallen by an average of 24% the day after reporting quarterly earnings, but the declines never ended up meaning much: Even with those drops, the stock has soared by a factor of more than 25 times over the period as a whole.
The reality is, GameStop's share price has been surging on optimism over its board chairman and Chewy Inc. co-founder Ryan Cohen's transformation plans. So how the company does in this quarter or the next with its current antiquated website and dated in-store experience is of little consequence. It's more important to look at how far GameStop's prospects have improved. Let's do a recap. In January, Cohen joined the company's board and quickly went on an aggressive recruiting spree. In the subsequent months, he hired a dozen senior executives with strong technology backgrounds,  including a new chief executive, a new chief operating officer and a new chief financial officer — all from Amazon.com Inc. The flurry of activity also helped spark meme-stock excitement for the company, which it was able to capitalize upon with two large equity offerings.
I would now frame GameStop as an emerging technology company than a brick-and-mortar retailer. Given the biographies of the revamped management team, it's clear a big pivot toward e-commerce is underway. It also has several assets most upstarts would die for — including a well-known brand, a loyalty program with about 47 million consumers, executives with a track record of success, and a robust balance sheet of roughly $1.7 billion in net cash. 
While Cohen has not revealed the intricate details of his vision, there are clues on how GameStop is looking to improve its business. Already, the company has announced fulfillment capacity additions in Nevada and Pennsylvania, which will allow it to offer more products and deliver items faster. The company has also been experimenting with exclusive benefits for its paying loyalty members such as getting early access to purchase PlayStation 5 gaming consoles and graphics cards. GameStop could add perks the way Amazon Prime's subscription service does. And of course, it has aggressively expanded into additional categories such as PC gaming and hardware. I expect to see further inroads into consumer electronics and toy markets.
For a company undergoing such dramatic change, it pays to take a longer-term view. While guidance might be helpful, at the end of the day being an investor in GameStop now means giving management the benefit of the doubt. 
This column does not necessarily reflect the opinion of the editorial board or Bloomberg LP and its owners.
Tae Kim is a Bloomberg Opinion columnist covering technology. He previously covered technology for Barron's, following an earlier career as an equity analyst.