Holiday Shoppers Might Give GameStop a Blue Christmas
(Bloomberg Opinion) -- Even the most promising meme stocks can hit an air pocket. That may soon be the case for GameStop Corp. Lately, there are signs the video-game retailer, which operates thousands of stores mainly in North America and Europe, will spook Wall Street with weaker-than-expected holiday sales.

If that happens, it would be prudent not to overreact. That's because the primary cause of any disappointment would be delays in game releases, rather than a sustained slowdown in demand. And a soft holiday period should lead to better results next year.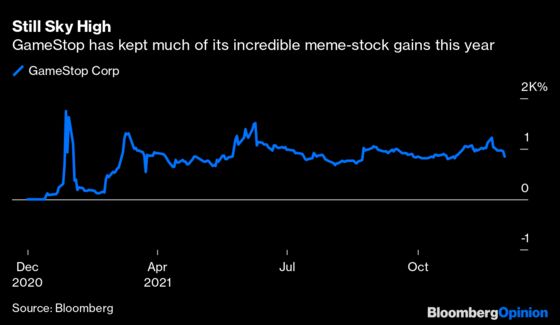 First, a quick recap. The company's stock price has soared this year on rising enthusiasm over GameStop Chairman Ryan Cohen's reputation and his efforts to orient the company toward e-commerce. In January, the internet entrepreneur and co-founder of pet food retailer Chewy Inc. joined the company's board and then aggressively replaced most of its management team with executives with strong technology backgrounds — including from Amazon.com Inc. The hiring moves and the retailer's return to healthy revenue growth has defied the skeptics.

But now it appears this holiday will be more challenging. Growth will be harder a year after the industry saw huge sales tied to console launches from Sony Corp. and Microsoft Corp. Normally at this stage in the product cycle, a flurry of next-generation software tied to the new gear would be hitting the market. In recent months, however, development disruptions during the pandemic have forced leading publishers to postpone a number of major titles — including Gran Turismo 7, Gotham Knights, God of War Ragnarök, and Horizon Forbidden West — from this year to 2022.
The delays have made two other big first-person shooter games — Activision Blizzard Inc.'s Call of Duty: Vanguard and Electronic Arts Inc.'s Battlefield 2024 — critically important for the holiday selling period. 
But the initial sales figures show the two franchises are faltering. According to  data from a European industry group, Call of Duty: Vanguard sales during its launch week were down about 40% in the U.K. compared with last year's version. The U.K. data for Battlefield 2042's physical game sales aren't better. Traditionally, U.K. numbers have been consistent with other major markets including the U.S., so it suggests sales will end up significantly lower than analysts' estimates.
Both games are also suffering from the surprising mid-November release of Microsoft's free-to-play Halo Infinite multiplayer game, which came out a few weeks earlier than anticipated. Although it is technically a "beta" version, for all intents and purposes the title is a full game release. Halo has been extremely well-received, capturing a large portion of the first-person shooter community that otherwise might be playing Call of Duty or Battlefield. And since it doesn't require an upfront purchase, the successful arrival is becoming a double-whammy for retailers hoping to move other titles. 

There are other indications GameStop is feeling the heat. I've been noticing a series of aggressive promotions on its website. It seems likely that the retailer will signal anemic fourth-quarter sales, either when it reports third-quarter earnings next week or when it discloses holiday figures early next year.

While some may be unsettled by a disappointing outlook, long-term-oriented investors shouldn't panic. It's a similar situation to 2020, when Wall Street extrapolated the recent past without looking ahead. Back then, the skeptics failed to see the wave of demand from the new consoles around the corner. This time, with many blockbuster games slated to come out next year, 2022 is likely to be robust for the industry and for GameStop. 

A bad holiday doesn't affect the trajectory of GameStop's turnaround, either. After raising two large equity offerings thanks to meme-stock mania, the company has a $1.7 billion net cash war chest to execute Cohen's business plan. Eventually, the retailer is likely to launch a better website, improve delivery times, expand product selection and launch other digital initiatives.
But GameStop loyalists may face some short-term bumps on the way there. 
This column does not necessarily reflect the opinion of the editorial board or Bloomberg LP and its owners.
Tae Kim is a Bloomberg Opinion columnist covering technology. He previously covered technology for Barron's, following an earlier career as an equity analyst.