Raskin Is a Great Choice for a Tough Job at the Fed
(Bloomberg Opinion) -- At long last, President Joe Biden has settled on a candidate for one of the biggest jobs in global finance: the vice chair for bank supervision at the Federal Reserve. The nominee — Duke University law professor Sarah Bloom Raskin — is a good choice for what will be an immensely challenging assignment.
First, it's worth noting that everyone on Biden's slate of nominations to the Fed's Board of Governors is widely accomplished and well qualified. Philip Jefferson is a professor at Davidson College whose research has spanned topics ranging from monetary policy to understanding hate groups. Lisa Cook is a Michigan State University economist who has done groundbreaking work on innovation and the cost of racial violence.
Raskin herself was Maryland's state commissioner for financial regulation before joining the Fed, where from 2010 to 2014 she helped draft rules to implement the Dodd-Frank reform legislation. She then worked from 2014 to 2017 as deputy secretary of the Treasury, where she concentrated on issues including financial infrastructure and cybersecurity — relevant experience in an age of cryptocurrency and state-sponsored hacks.
An added benefit is that these candidates represent a potential victory for diversity. Raskin would be one of only 10 women to have served on the Fed board since its inception in 1914, Jefferson would be the fourth Black governor, and Cook would be the first Black woman to serve in such a role. If confirmed by the Senate, all these estimable candidates promise to bring much-needed perspective to the world's most powerful central bank.
As vice chair, though, Raskin will face a particularly daunting task: rebuilding financial safeguards that deteriorated under the previous head of supervision, Randal Quarles, whose four-year term ended in October. Among other things, the Fed gutted the Volcker rule, intended to curb speculation at federally backed institutions, and weakened stress tests designed to ensure that banks maintain ample loss-absorbing equity capital. One result has been a sharp decline in the already meager level of equity as a share of total assets at the largest U.S. banks.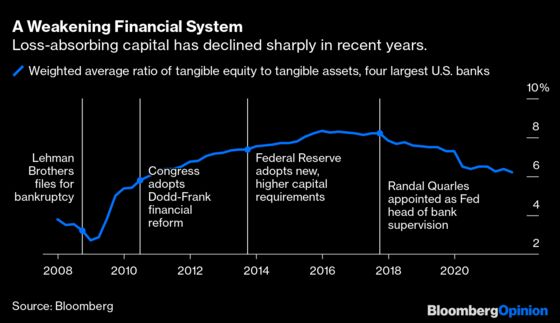 Raskin — who insisted on a tougher version of the Volcker rule during her previous stint at the Fed — should be prepared to reverse this troubling trend. In restoring safeguards, strength and simplicity should be guiding principles. If the Fed required much higher capital levels and placed effective limits on the activities that it backstops, banks would be forced to take more responsibility for their risks, and reams of regulations — including regular stress tests — could be rendered unnecessary. The added loss-absorbing capacity would help to insulate millions of Americans from the ups and downs of the financial sector — a benefit that Raskin has emphasized.
Of course, progressive Democrats will be expecting the Fed to do much more, for better and worse. Ideally, this will facilitate progress in areas such as financial inclusion, containing risks in the crypto realm, updating fair-lending rules, and preparing for the potential repercussions of climate change. Raskin is already well versed on some of these issues. The danger is that the Fed will get bogged down in partisan battles and overly prescriptive rulemaking, while failing to address the system's broader fragility.
Navigating these challenges will require an unusual combination of ambition and restraint. Raskin's record suggests she's well qualified. The Senate should allow her to get to work without delay.
More From Other Writers at Bloomberg Opinion:
Editorials are written by the Bloomberg Opinion editorial board.