The Day the World Changed for Big Oil
(Bloomberg Opinion) -- Wednesday was a bad day for Big Oil, or a good one, depending on your point of view. They're going to have to clean up their acts a lot faster than they were planning.
Three of the world's biggest publicly traded oil and gas companies — Exxon Mobil Corp., Royal Dutch Shell Plc, and Chevron Corp. — were dealt stinging blows on May 26 by shareholders and a Dutch court demanding that they act more quickly to reduce their greenhouse gas emissions.
Exxon shareholders voted to appoint at least two climate-conscious members to the company's board in the face of stiff opposition from management (a third vote is still too close to call at the time of writing). Their counterparts at Chevron supported a motion to include emissions from burning fuels sold by the company in future reduction targets, also against the wishes of the board. Meanwhile, in Europe, Shell was ordered to cut greenhouse gas emissions by 45% by 2030 — a much stiffer target than what the firm initially proposed. 
Oil companies have adopted climate consciences at very different rates, with those in the U.S. generally lagging behind their European counterparts. But they tend to focus on the same thing: emissions from their own operations (drilling, pumping, shipping and processing oil and gas) and those of their suppliers. These are known as Scope 1 and Scope 2 emissions respectively. Yet the companies face a much larger, and more complex, challenge of reducing Scope 3 emissions — those generated by burning the products they produce.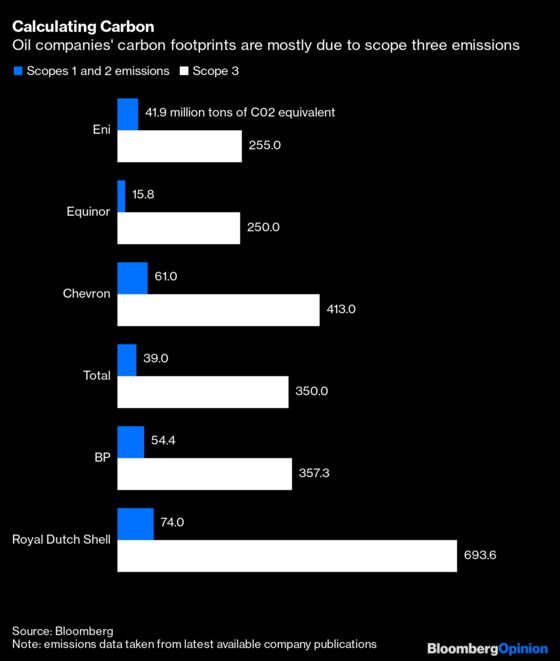 That's about to change. The Dutch court ruling, which Shell is expected to appeal, says that it must take account of the carbon dioxide emitted from the fuels it produces. Environmental group MilieuDefensie, or Friends of the Earth Netherlands, which brought the case against Shell, is already helping other groups to mount similar cases under human rights laws in other countries.
Exxon Chief Executive Officer Darren Woods has argued that customers will still need lots of oil even as the world moves away from fossil fuels and that Exxon could profit from meeting that demand. It will. And so will Shell and Chevron, as well as other big oil companies like BP Plc and Total SE (whose shareholders endorsed the company's sustainability plans on Friday and voted to rename the company TotalEnergies).
And even as the world is changing for Big Oil, there's still a long way to reaching net zero.
Reducing emissions is technically challenging, costly, or both. One of the quickest and cheapest options for oil companies is to dispose of their most polluting assets. But while that may make them look better, it often does little for reducing global emissions. That's because these assets simply get transferred from one company's accounts to another — and likely to one that is less concerned about its environmental record and less susceptible to shareholder pressure for change.
Exxon, Shell and Chevron might not sell as much oil as they had previously planned, and they will have to produce it more cleanly than they have in the past while offsetting the unavoidable emissions. Even though this is undoubtedly a step in the right direction, the world's goal of net zero isn't going to be reached by forcing a small group of companies to change the way they operate.
The real change will have to come from the demand side. Offering consumers affordable, reliable and convenient alternatives to fossil fuels is what will drive a big transformation in energy use and, ultimately, in the activities of the world's oil producers. 
This column does not necessarily reflect the opinion of the editorial board or Bloomberg LP and its owners.
Julian Lee is an oil strategist for Bloomberg. Previously he worked as a senior analyst at the Centre for Global Energy Studies.