Disney Shares Netflix's Pain on Fickle User Sign-Ups
(Bloomberg Opinion) -- Walt Disney Co. keeps trying to tell investors that its growth in streaming-TV subscribers realistically isn't going to be a perpetual straight shot upward but more like a zig-zagging line quarter to quarter. They won't listen. Netflix Inc. knows how Disney feels. 
Shares of Disney dipped Tuesday after Chief Executive Officer Bob Chapek said that various challenges — not least the continuing Covid-19 crisis — will lead to fewer new Disney+ users than analysts have been expecting. "The quarter-to-quarter business is not linear," Chapek said, speaking at a Goldman Sachs Group Inc. virtual conference. "We're very bullish and confident about our long-term subscriber growth, but we're going to see a little bit more noise than I think maybe the Street expects." But Disney isn't known for noise. Its traditional lines of business — the theme parks, consumer products, film studios and television networks — were all fairly predictable profit centers before Covid. As investors are learning, the streaming wars are a different ball game. The stock fell as much as 5.4%, the most on an intraday basis since May, before ending the day down 4%.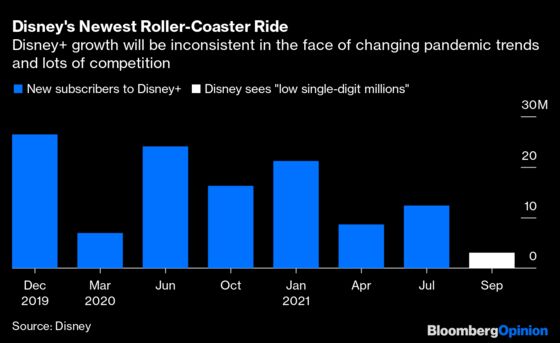 While analysts, on average, were calling for about 10 million new Disney+ subscribers for the soon-to-close fiscal period, Chapek projected the final result will be in the "low single-digit millions." Some of this tempered growth is an aftereffect of changes to the Indian Premier League cricket season and "a slower ramp up" for Disney+ in Latin America, he said. On top of that, the resurgence of Covid cases because of the delta variant is creating production delays again, which are temporarily affecting the number of new programs that are available. Without new stuff to watch, viewers lose interest. Initially, delta curbed travel to Disney's theme parks as well, but demand has recovered since the U.S. Labor Day weekend, he said.
But because of both Covid and the nature of competition in the streaming-TV industry, subscriber metrics are going to fluctuate for a long time. The world is in flux, consumers' lives are in flux and the value proposition of the streaming apps themselves is in flux. Investors punished Netflix in July for signing up just 1.5 million new users that period, and yet that number means so little for Netflix in the long run. The same goes for Disney ahead of what Chapek seems to be signaling will be a somewhat disappointing next earnings report. Reactions like Disney shareholders had Tuesday — and will probably have again when that report comes out — are just a bit shortsighted. 
Apple Inc.'s Apple TV+ and AT&T Inc.'s HBO Max went from zero to hero in no time thanks to two hit series — "Ted Lasso" and "The White Lotus," respectively. Apple even won the Emmy for best comedy for the series on Sunday. That means it's too soon to count out Paramount+ and Discovery+, whose parent company Discovery Inc. is the soon-to-be owner of HBO Max. And in all likelihood, Disney will eventually consolidate its content prowess around Disney+ by putting it together with Hulu in a much more powerful streaming offering.
Because the competitive landscape continues to change rapidly, consumers aren't ready to fully commit to their favorites and are stomaching fees that they were expected to balk at. According to Parks Associates, 82% of U.S. households with broadband internet subscribe to an over-the-top streaming service, and cord-cutters who paid $117 a month on traditional pay TV are now spending $85 for streaming. Eventually, they'll cancel the services that aren't doing it for them, but for now the idea is to try them all. Knowing Disney, it will keep giving consumers a reason to log back into Disney+.
This column does not necessarily reflect the opinion of the editorial board or Bloomberg LP and its owners.
Tara Lachapelle is a Bloomberg Opinion columnist covering the business of entertainment and telecommunications, as well as broader deals. She previously wrote an M&A column for Bloomberg News.