Disney's 'Black Widow' Is AMC's Most Dangerous Supervillain
(Bloomberg Opinion) -- Just as live sports were seen as the last bastion of cable TV, Marvel's superhero blockbusters were expected to keep movie theaters viable in the era of streaming. In the last few days, though, cracks have formed in both lines of thinking. 
Walt Disney Co., in a reshuffling of its movie release schedule because of the Covid-19 pandemic, said Tuesday that Marvel's "Black Widow" will be available on the Disney+ streaming app the same day it arrives in theaters, which is now set for July 9. (Those wishing to stream will incur a fee on top of the regular $8-a-month Disney+ membership price.) The news sent shares of AMC Entertainment Holdings Inc., the largest cinema operator, plunging 15%.
Disney's shocker came days after the National Football League gave Amazon.com Inc.'s Prime Video the exclusive rights to "Thursday Night Football" from 2023 to 2033 for a reported $1 billion a year. Concurrent contract renewals with Disney's ESPN, Comcast Corp.'s NBCUniversal, Fox Corp. and ViacomCBS Inc. also all involved some form of streaming permissions, including the right for NBC to simulcast "Sunday Night Football" on the Peacock service.
Cable providers suffering the loss of traditional TV customers are at least benefiting from the surge in demand for high-speed internet for streaming and working from home. For movie-theater chains such as AMC, which had 98% of its U.S. locations back open as of last weekend, the shift in consumer behavior comes with no silver lining; streaming now threatens their very existence. It hurt when Universal Studios shattered the longstanding theater-exclusivity window last year for "Trolls World Tour," and again when AT&T Inc.'s Warner Bros. made the decision to simultaneously debut each 2021 film on HBO Max and in cinemas. But nothing compares to the weight of Disney's latest move.
Leading up to the pandemic, box-office attendance was already slipping, with more movie fans saving theater trips for Marvel, Star Wars or Pixar hits — franchises Disney acquired throughout the last decade and a half. By 2019, Disney had a 33% share of the North American box office, more than twice the level of its next-closest rival, Warner Bros.: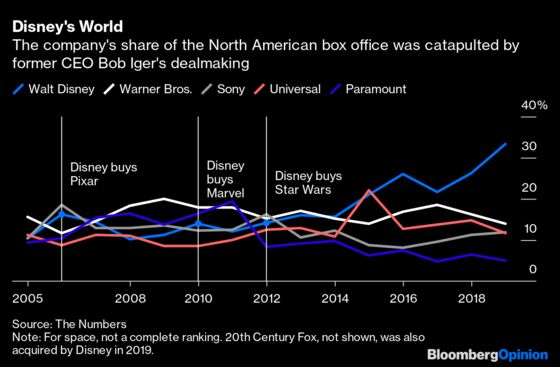 "Black Widow" was originally set for release last May and has been repeatedly pushed back — much like other features — as studios try to gauge the best time to put out big-budget films so that ticket sales aren't too severely impacted by virus fears. But Marvel movies are in a league of their own in that they were the reason for going to the movies in pre-Covid times. If fans no longer have to leave the house to see them, will they still go? My sense continues to be that vaccines will bring an initial resurgence in U.S. moviegoing but that it will dwindle in time to financially unsustainable levels for many theaters. 
The bundle is broken, and so is the box office.
Earlier on Tuesday, Warner Bros. also shortened the window for Cineworld Group Plc's cinemas in the U.K.
This column does not necessarily reflect the opinion of the editorial board or Bloomberg LP and its owners.
Tara Lachapelle is a Bloomberg Opinion columnist covering the business of entertainment and telecommunications, as well as broader deals. She previously wrote an M&A column for Bloomberg News.