Crispr Is Still Promising, Even If Editas's Experiment Falls Short
(Bloomberg Opinion) -- Crispr technology, which can precisely edit DNA, is one of the most celebrated scientific advances in recent years. Its inventors have won a Nobel Prize, and billions of dollars have been invested in its potential to transform medicine. Now a pioneering Crispr biotech company has stumbled. But it only means the revolution may take a little longer than hoped.
Editas Medicine Inc. has released data from a small clinical trial that was the first to try using Crispr to directly edit DNA in a human patient — in this case, to treat a rare eye condition. Unfortunately, the early results didn't live up to expectations. A low dose given to two patients didn't appear to be effective. And among four who got a larger dose, only one saw a substantial improvement in vision across multiple measurements. As a result, shares in the company fell more than 19%.
Investors may have been comparing potentially better data from a competing RNA-based treatment from ProQR Therapeutics NV for the same eye disease. In any case, Editas's results do not derail the promise of gene editing.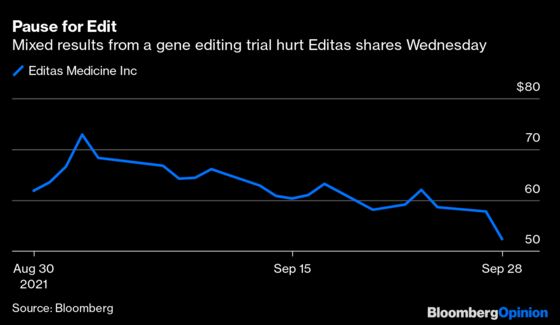 Crispr has attracted interest and investment because it makes DNA editing cheaper, simpler and more flexible. It has enormous potential to correct damaging mutations that cause disease. The Editas treatment, for example, is meant to snip out a mutation that prevents a gene from correctly making an essential protein in light-detecting eye cells. 
This explains why five prominent public Crispr companies are collectively worth nearly $30 billion, even though none yet has an approved product.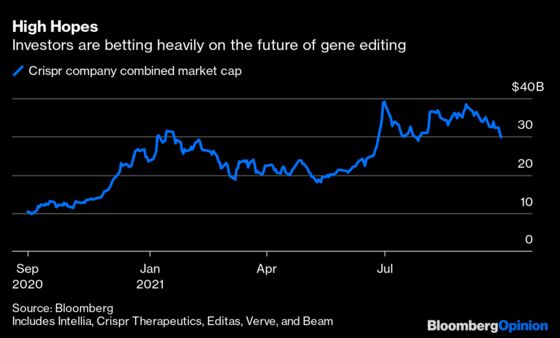 The technology was validated this past June, when a small study from Intellia Therapeutics Inc. showed success using a different Crispr application to deactivate a faulty gene in patients with a deadly inherited disease. The technique significantly reduced the presence of a harmful liver protein. And the company's shares jumped more than 50%. 
Intellia's good results probably contributed to market disappointment with Editas's poor ones. To be sure, investors may be legitimately unhappy that this particular treatment may have less commercial potential than expected, or that it may take longer to prove out. But there were also positive signs in the Editas data. The treatment at least reached eye cells and had an effect on them, which is no easy feat. What's more, the data come from an early point in the trial, so there's still time for improvement. And most crucially, the medicine appears to be safe. That should allow Editas to increase dosages to potentially boost effectiveness.
Ultimately, the differing outcomes for the two Crispr companies reflect the real challenges of translating science into treatment. The human body is enormously complex; differing applications of one technology will be more or less effective in different organs and in treating different diseases. And there's still much for medical scientists to learn about manipulating DNA.
Success in medical technology tends to come after years of research and trials — as we've just witnessed with the mRNA vaccines against Covid-19. Editas's setback should be seen as only a step toward future success in using Crispr tools to fix faulty human genes.
This column does not necessarily reflect the opinion of the editorial board or Bloomberg LP and its owners.
Max Nisen is a Bloomberg Opinion columnist covering biotech, pharma and health care. He previously wrote about management and corporate strategy for Quartz and Business Insider.