(Bloomberg Opinion) -- The last time Ryan Lance laid out a 10-year plan for ConocoPhillips, he kicked off by noting that, after a decade of the shale miracle, the energy sector had slumped from 12% of the S&P 500 to just 4%. Some nineteen months later, it's less than 3%. On the other hand, Conoco is actually worth more than it was when the CEO delivered that brutal message, which is more than can be said for the sector.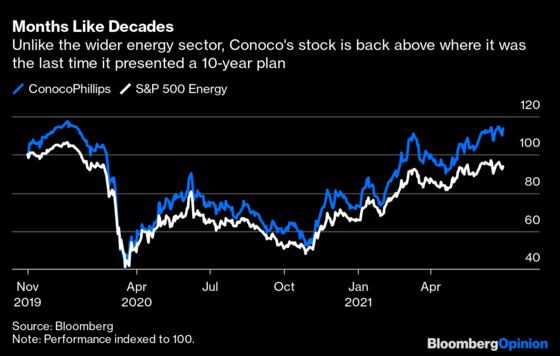 Despite all that has transpired since, Conoco's latest strategic update, delivered Wednesday, doesn't depart from the basic approach of November 2019. And why should it?
Conoco took to heart the financial destruction wrought by the shale boom (the company was forced to cut its own dividend in 2016). It also knows the energy transition is now part of the landscape, an extra source of volatility alongside oil prices. Conoco's strategy for dealing with this was to deemphasize the option value of oil prices and growth — which investors no longer paid for anyway — and commit to dependable payouts rooted in tight spending. That way, if oil demand peaked soon, then investors would be paid out within roughly a decade anyway. And if oil demand didn't peak, then they would also be paid out and still have an option when 2030 rolled around. 
The latest update raises the stakes. Based on a $50 real oil price, Conoco aims to generate $145 billion of cash flow from operations in the next 10 years. Only half of that will be reinvested, and almost half will be paid out via dividends and buybacks. The latter equates to roughly 80% of the current market cap. It implies an average annual return of about 10% a year and modest production growth of 3% a year, or almost 4.5% a year on a per-share basis .
Oil isn't currently at $50; it closed Wednesday at $73 and change. So even if Conoco's strategy isn't fixated on the oil-price option, it's still there. At $60 oil, Conoco expects another $30 billion of cash flow, which would, if all dedicated to buybacks, lift the implied annual return to 16% — beating the S&P 500's for the past decade — and production growth per share to 5%.
With oil rallying, underpinned by rare twin discipline from OPEC+ and U.S. shale, the obvious rejoinder is that Conoco should use at least some excess cash to invest in new oil or raise its dividend rather than buying its own stock. But this is obvious only if you ignore the industry's past decade and an oil-price cycle becoming more, rather than less, volatile. Responding to a question on buybacks, Lance emphasized the importance of committing to pay out a percentage of cash from operations, not just free cash flow, or after the company's already spent as much as it likes.
If excessive spending broke the trust of investors, then erring on the side of restraint is what's needed to restore it. As Exxon Mobil Corp.'s recent humbling at the hands of activists demonstrated, not even the most respected majors can count on the benefit of the doubt when it comes to spending money.
That's why the embrace of ESG principles, far from being poison for this industry, represents a positive development, by expanding the pool of potential investors and indirectly addressing past excesses. Conoco's limited emissions targets and overall body language suggest it's no peak-oiler. Indeed, when questioned about the recent shareholder vote calling for more ambitious targets, it fell back on the stock answer of engaging stakeholders.
Nonetheless, the financial framework means that even if oil demand peaks sooner rather than later, Conoco's lower breakeven costs and higher payouts should keep it in good standing compared to its peers. After all, it came through one unforeseen disaster in 2020 relatively unscathed, maintaining its dividend and announcing a well-timed acquisition of Concho Resources Inc. just before oil began rallying.
Poised between the mistakes of the past and the growing uncertainty of the future, the oil business would be well served by a little humility. Not in some pious sense, but in terms of conceding it's mortal after all and maybe hasn't always had the best idea of how to spend every dollar — especially when there's a lot coming in the door. Conoco's plan represented the future of the exploration and production business even before the world changed. More so now.
Assumes a constant 7% distribution yield, in line with current valuation. Conoco's proposed Willow and North Field Expansion projects are excluded from these base case projections.
This column does not necessarily reflect the opinion of the editorial board or Bloomberg LP and its owners.
Liam Denning is a Bloomberg Opinion columnist covering energy, mining and commodities. He previously was editor of the Wall Street Journal's Heard on the Street column and wrote for the Financial Times' Lex column. He was also an investment banker.