Boris Johnson's Housing Headaches Aren't Over Yet
(Bloomberg Opinion) -- For a week that ended with a crowd-pleasing speech from the Conservative Party leader but little new policy substance, there was one notable exception. U.K. Prime Minister Boris Johnson's government seems to have done a U-turn on its controversial "once in a generation" reforms to Britain's house-building plan announced in August 2020. Whatever comes from the policy rethink will have implications both for Britain's housing market and possibly the Tories' political fortunes.
For years, successive British governments have pledged to address the housing problem principally by building more homes. The implicit assumption was that a crisis in affordability that leaves so many priced out of the housing market — one of Europe's most expensive — stems largely from a shortage of supply. Johnson too promised to build more.
Driving up the housing stock, however, proved to be like running on sand. Communities in desirable areas didn't want green spaces developed, transport crowded or their doctor's offices stretched by newcomers. Builders blamed planners for blocking progress, though an oligopoly of big builders are themselves criticized for buying up land and sitting on permissions without completing development.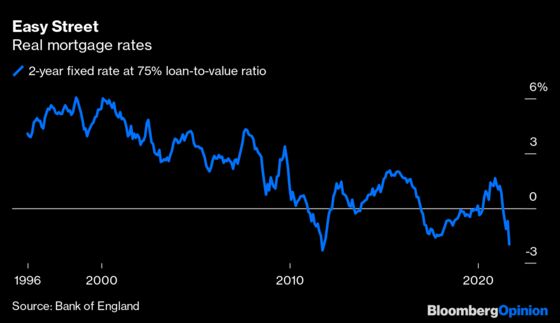 There's no separating housing from politics in Britain. It's the single biggest component of most household expenditure. Some 65% of Britons own their homes, but the percentage is higher among Conservative seats. In the 2019 election, 57% of owner-occupiers voted for the Conservatives (and only 22% for Labour). Yet owning a home has become unaffordable for many.  That's especially true for young workers and those on low incomes.
Housing prices were roughly eight times median household income in 2020 compared to 4.5 times in 1996. No wonder there are over a third more Britons  under-35s living with their parents than there were a decade ago.
The Office for National Statistics recently warned that rising prices for homes and private-sector rental charges are driving low-paid workers away from certain areas of the country. They aren't going to vote for a prime minister who doesn't give them an opportunity to build a life where they want to live. If Johnson can't build and attract a cohort of young home owners to the Tory ranks, the party will be stuck with an aging base of supporters.
The government promised to build 300,000 new homes a year — they managed 244,000 in 2019-20 — and bypass reticent planners with an algorithm that removes a lot of their discretion. But Robert Jenrick, the housing secretary who announced that expansion, was shunted aside in the recent cabinet reshuffle. His replacement, Michael Gove, is responsible for the whole of Johnson's "levelling up" agenda — which remains ill-defined but is largely about rebalancing Britain's lopsided economy so there is more opportunity in the poorer north of England.  Gove's party conference speech didn't mention the Jenrick plan; and Johnson himself reassured the traditional, home-owning Tory voters in the south that their open spaces will remain pristine.
There is a political justification for dropping the original plan. In June, the Tories lost a by-election in the well-heeled commuter towns of Chesham and Amersham, where opposition to what was referred to as the "mutant algorithm" reached a fever pitch and helped drive voters to the Liberal Democrats. Some Conservative lawmakers were already fidgety about the idea. What if Labour voters moved into Tory strongholds and weakened the party's grip? What if the Lib Dems drove up the middle as they did in that election?
Another reason (or at least an excuse) for ditching the building policy is economic: It doesn't get at the core reasons for low affordability.
Ian Mulheirn, executive director at the Tony Blair Institute and a former Treasury advisor, has argued that supply issues are overstated relative to other factors driving up prices. In fact, he says that between the mid-1990s and 2020, the housing stock has increased ahead of the number of households while incomes grew ahead of daily housing costs.
So why have prices exploded?
Mulheirn distinguishes between the costs of market rents and imputed rents on owner-occupied homes from the price of housing. A shortage of housing stock should drive up these rents and imputed rents, but that's not what's happened. On the contrary, rents rose slower than median household income.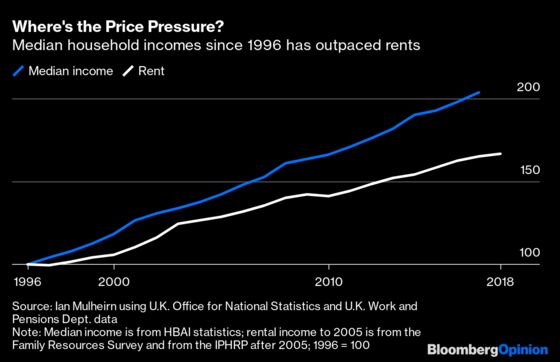 His conclusion, and others, is that it hasn't been a dramatic supply shortfall that's made homes so unaffordable. A combination of other factors has done more to fuel price growth. Cheap credit, thanks to years of easy central bank policy, is a big part of it. That plus the expectation of future price growth and international buyers chasing yield and relative liquidity in London and major cities.
But that doesn't mean that building fewer homes is the solution. Populations grow and young people need their own digs. Greater supply would put downward pressure on prices, and also rents, particularly in areas where housing stock really is too thin. More homes may nudge more young people to leave the parental nest and attract other social goods, from schools to retail.
Still, Johnson needs to do more than just build if he is going to create more affordable housing and add to the numbers of young homeowners. "If the government wants to raise home ownership rates, boosting supply won't move the needle," says Mulheirn in an email exchange. He notes that lenders have steered clear of prospective buyers with only small deposits; meanwhile, a swathe of regulation to improve financial stability has made them more cautious too. If Britain is to recover home ownership rates of the mid-2000s without jeopardizing financial stability, Mulheirn says the government will have to offset lenders' risk, most likely through some form of insurance.
There are other reforms that could help to protect renters, nudge developers to act on planning permissions and rebalance property taxes; but all will encounter fierce opposition from entrenched interests.
"There is no happiness like taking a set of keys and knowing the place is yours, and you can paint the front door any color you like," Johnson enthused in his Tory conference speech. As so often with this prime minister, there is an appealing future, vividly described. All that's missing is the roadmap.
This column does not necessarily reflect the opinion of the editorial board or Bloomberg LP and its owners.
Therese Raphael is a columnist for Bloomberg Opinion. She was editorial page editor of the Wall Street Journal Europe.