(Bloomberg Opinion) -- Banking in the Western world has a problem: Traditional lending just doesn't pay anymore. Even with interest rates set to start rising in the U.S. and Europe in the next couple of years, prospects for old-school banking don't look to get much better.
That's why BNP Paribas SA's sale of U.S. lender Bank of the West to Canada's Bank of Montreal makes sense for both sides. The French bank still has more work to do to become more attractive to investors, however.
The poor returns from lending aren't going to improve much. Net interest margins are the worst on record, according to official U.S. data, while benchmark interest rates in the country are only expected to rise to about 2.5% before topping out. Then there is the constant snipping away at revenue by start-up payments companies and new consumer-lending businesses. That's why banks must become more efficient and develop more fee-based income. 
This requires scale and technology investments. In the U.S., second-tier banks like BMO, PNC Financial Services Group and U.S. Bancorp are all buying smaller rivals to keep ahead. More consolidation is likely.
The long-rumored sale of BancWest, as it is known, was clinched Monday at a $16.3 billion price tag, slightly more than had been expected. That price is about 1.7-times tangible book value at the end of the third quarter, in BNP's release (or 1.5-times expected when the deal closes, according to BMO).
Whichever way you cut it, this shows the first obvious reason for BNP's sale: U.S. banks are more highly valued by investors than European ones. BNP itself is priced at only about 0.7 times tangible book value forecast for the end of this year. The French bank is selling about 5% of its annual earnings for about 20% of its market capitalization.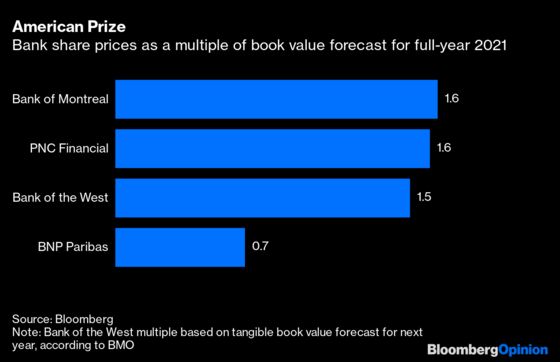 And this valuation discrepancy exists despite BancWest producing a lower return on equity for BNP than the French bank makes overall.
BMO as an existing U.S. retail and commercial bank can do more with BancWest than can BNP, which gets no benefit elsewhere in its business from owning a U.S. regional bank.
BMO will increase U.S. assets by about one-third and U.S. net income by 36%, based on expected results for 2021. Total U.S. assets of $424 billion after the deal will mean more than half its assets will be in the U.S., which will generate about 44% of its revenue.
The deal helps it keep pace with PNC, which bought the U.S. arm of Spanish bank BBVA last year, and U.S. Bancorp, which agreed to buy MUFG Union Bank from its Japanese owner in September.
The key for BMO is that it expects to cut more than one-third of BancWest's operating costs within a year in part by converting customers to its existing digital services. That seems to be a target investors believe can be met: BMO has a history of successfully integrating previous acquisitions of smaller banks. Its management appears confident of completing the task within a year. 
For its part, BNP gets funds to spend on its own long-term investments in technology and acquisitions. It will use about 4 billion euros ($4.5 billion) to buy back enough shares to counteract the loss of earnings from the sale of BancWest. That will leave it with about 7 billion euros to invest, according to estimates by Bloomberg Intelligence.
This was an important deal for BNP. Regulators at the Basel Committee of the Bank for International Settlements just decided it poses a greater risk as a global systemically important bank than last year. That means it will be required to hold more capital.
On top of this, BNP also requires more capital to grow its hedge-fund related business after its deal to buy Deutsche Bank's prime brokerage and pursue hedge fund clients from Credit Suisse.
Beyond this, BNP will invest the funds from this deal in further improving its own digital infrastructure, both to save costs and make it more attractive and easier to use. This takes time and the bank will give more detail on exactly where it intends to invest in its updated strategy next year.
BMO will see the benefits of this deal quickly: The efficiencies it can generate will likely show it's the better owner for Bancwest. For BNP, the deal is a slower burn but just as crucial.
More from other writers at Bloomberg Opinion:
The Fed's Pivot Is Anything But Hawkish: Narayana Kocherlakota
If This Is Peak Inflation, What Is Path to 2%?: Brian Chappatta
World's Banks Are at Risk of Becoming 'Dumb Pipes': Ben Ashby
This column does not necessarily reflect the opinion of the editorial board or Bloomberg LP and its owners.
Paul J. Davies is a Bloomberg Opinion columnist covering banking and finance. He previously worked for the Wall Street Journal and the Financial Times.