Wall Street Is Betting You'll Be Packing Your Bags Soon
(Bloomberg Opinion) -- The smart money is betting that the yearlong chill in travel is about to thaw.  
Blackstone Group Inc. and Starwood Capital Group announced a deal on Monday to buy Extended Stay America Inc. for $6 billion, following a spate of recent investment activities that suggest confidence in a recovery of the leisure and hospitality industry as vaccine rollouts hold out hope for an end to pandemic restrictions. Last week, Hilton Grand Vacations Inc. agreed to buy Diamond Resorts International Inc., combining two big players in the time-share category while earlier this month, Apollo Global Management Inc. and Vici Properties Inc. said they were buying The Venetian Resort and Sands Expo and Convention Center in Las Vegas in a deal valued at $6.25 billion. Meanwhile, Bloomberg News reported recently that Dreamscape Cos. has $1 billion to put toward snapping up hotels, with its chief executive officer seeking ways to wager on the potential for a pickup in business travel. 
The latest travel trends suggest there is reason for optimism. JetBlue Airways Corp. and Southwest Airlines Co. indicated in Monday regulatory filings that they were seeing improvements in bookings by leisure travelers. Shares of Tripadvisor Inc. surged Monday, likely reflecting optimism about how strategic initiatives such as its new subscription service might fare against a more favorable tourism backdrop. Surveys suggest U.S. consumer sentiment about the safety and desirability of travel seems to have turned a corner recently, with vaccine distribution ramping up significantly and the Biden administration offering a more upbeat timeline about when the country might have enough supply for all adults. 
Of all the investments that could be made in the hospitality business right now, Extended Stay America — which serves the midpriced market of business travelers and those seeking temporary housing — is a relatively safe one. Even though the company's revenue per available room sank 15% in 2020 from the previous year, that drop compares favorably with the damage on this measure on the wider lodging industry. CEO Bruce Haase has noted that the workers who stay at its hotels often do the kinds of jobs that can't be done by phone or a Zoom video conference; during the pandemic, many of its rooms were occupied by medical and logistics workers.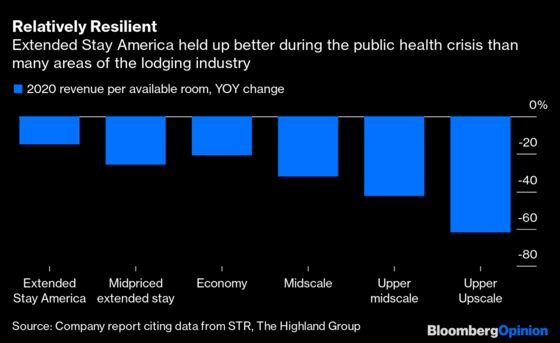 The chain has clear growth opportunities as the public health crisis wanes, too, including that other types of business travelers will hit the road again, as will more tourists. Plans for a "step-up brand" will allow it to serve a wider range of customers. Blackstone should be a help in its growth efforts, given its extensive experience in the industry – most notably, its investment in Hilton Worldwide Holdings Inc., which it exited in 2018 with $14 billion in profit. It also previously owned Extended Stay for a time so has familiarity with the specifics of its model. 
Of course, business travel faces obstacles to a return to its 2019 rhythms. Many companies discovered during the pandemic that some in-person confabs could be replaced by teleconference forever, a choice that offers appealing cost savings. But there are enough signs pointing toward America getting moving again that I can see why investors would want to act quickly. As confidence in the sector grows, it will only get more expensive to snatch up companies and properties in this space.    
This column does not necessarily reflect the opinion of the editorial board or Bloomberg LP and its owners.
Sarah Halzack is a Bloomberg Opinion columnist covering the consumer and retail industries. She was previously a national retail reporter for the Washington Post.