Billionaire Drahi Takes On Bruised British Icon
(Bloomberg Opinion) -- The telecoms billionaire Patrick Drahi may soon need to add a new role to his resume: activist investor.
Drahi announced on Thursday that he's acquired a 2.2 billion-pound ($3.1 billion) stake in BT Group Plc., the former U.K. national carrier. He seems to have spotted a bargain, as BT trades at a discount to its major European peers. But the British firm is also a different kind of shareholding for the seasoned dealmaker.
Drahi usually acquires control of any company that he targets, whether that be Altice USA Inc., Altice N.V. and its French subsidiary SFR, or the auction house Sotheby's Inc. With BT, he's only buying a minority stake, for now, and he's pledged not to launch a takeover bid within six months, with some exceptions.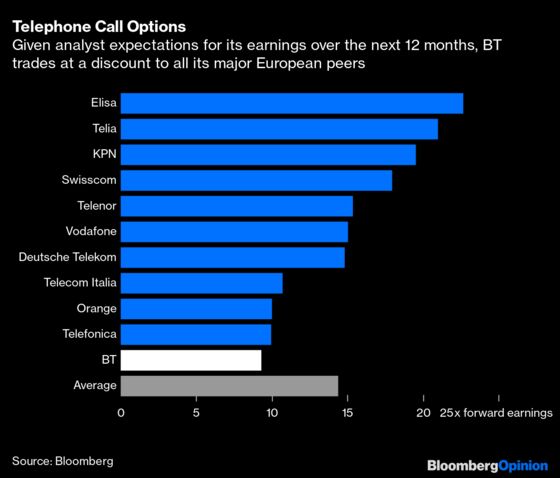 Given BT's control of critical parts of the U.K.'s communications infrastructure, an acquisition by an overseas investor would have to overcome significant, if not insurmountable, regulatory hurdles. If those concerns can be allayed, Drahi may sense an opportunity in BT's capacity for more debt to launch a takeover. Although the carrier has an 8 billion-pound pension deficit, Drahi is never one to leave a gearing opportunity unexploited.
But even without such a bid, Drahi can still exert meaningful influence over the company. While he declared his support for BT's management and its strategy, he is sure to be active, if not yet an activist.
His 12.1% stake in the London-based company makes him the biggest investor, just ahead of Deutsche Telekom AG, which has a seat on BT's board. On this basis, Drahi could reasonably expect to appoint a board member too. If management is unresponsive to whatever he has in mind, graduating to become a full-blown activist, and openly calling for changes at the company, would not be a big step.
That begs the question: What exactly does Drahi have in mind? What does he spy in BT that other investors do not, and what changes does he think the carrier needs to make in order to boost the share price?
There may be ways to help operationally, not just by accelerating the rollout of high-speed fiber, but by encouraging customers to pay for it. Altice has enjoyed some success with that in France. More significant will be his plans for BT's valuable infrastructure, such as its cell towers and fiber network. BT trades at a discount to the value of its assets, not least Openreach, the division that operates the company's fixed networks. Investors have long called for Chief Executive Officer Philip Jansen to sell a stake in the unit, which some analysts value at more than 20 billion pounds. BT as a whole has an enterprise value of 37 billion pounds.
Altice's recent history suggests Drahi might be open to such a deal. He has raised some 7.5 billion euros ($9.1 billion) over the past three years by selling network assets in France and Portugal. Some of the proceeds of any divestment would have to go to BT's pension fund, but there may still be enough upside to make such a push worth Drahi's while.
His timing is characteristically opportune. In March, the U.K.'s telecoms regulator laid out how it will regulate broadband prices for the next five years, giving BT clarity on the returns it can make on its network investments, benefiting the stock. The company's leadership is also in flux following Chairman Jan du Plessis's announcement the same month that he plans to resign this year.
This all makes the job of the next chair more challenging. She or he will have to provide the usual balance of support and oversight for CEO Jansen, with whom du Plessis reportedly clashed, while also ensuring that the company works in the interests of all shareholders, not just Drahi. The specter of a takeover bid from the billionaire may also loom — BT has already hired bankers at Goldman Sachs Group Inc. to prepare for any unwanted approach, Bloomberg News reported last year.
Drahi built his $14 billion fortune with debt-funded deals for undervalued businesses. In that sense, BT is unlikely to be any different.
This column does not necessarily reflect the opinion of the editorial board or Bloomberg LP and its owners.
Alex Webb is a Bloomberg Opinion columnist covering Europe's technology, media and communications industries. He previously covered Apple and other technology companies for Bloomberg News in San Francisco.