Biden's Summit For Democracy Mustn't Just Be Blah Blah Blah
(Bloomberg Opinion) -- Blah, blah, blah. That's how Swedish activist Greta Thunberg castigated world leaders at the recent United Nations climate summit in Glasgow for yapping without acting. If her cause were freedom instead of the environment, she might hurl the same taunt at leaders virtually attending the first "summit for democracy" in Washington, DC, on Dec. 9-10.
The host is Joe Biden, president of the U.S. and putative leader of the free world. The guests will log in from about 110 countries Biden considers sufficiently democratic to qualify. His criteria have caused quite some controversy. China, which is obviously not invited, is furious about the participation of Taiwan, which the U.S. doesn't even recognize as a country. 
But at least it's a vibrant democracy. That's hardly the consensus about other countries on the guest list, such as the Democratic Republic of Congo, Zambia and Pakistan. Yet other attendees — including Brazil, India and the Philippines — have in recent years become poster children for democratic "backsliding," as their populist strongmen borrow tactics from the textbooks of authoritarians and subvert liberal norms. 
And then there's the host nation. Even during the Cold War, the American superpower often had to endure accusations of hypocrisy as it led the free world against the communist bloc. But overall, it deserved the mantle of the planet's leading liberal democracy. In recent years, however, it has at times resembled a tragic soap opera that the whole world is binge-watching.
In its new and very pessimistic "Global State of Democracy Report 2021," the International Institute for Democracy and Electoral Assistance, based in Sweden, worries that the U.S., "the bastion of global democracy, fell victim to authoritarian tendencies itself." It's become a hyper-polarized society in which the loser of a fair election refuses to concede and spreads lies about a "steal." Americans used to lecture other countries about such evils as voter suppression and political violence. Nowadays, they're the ones having to answer questions.
Democratic backsliding is far from an American phenomenon, of course. It's happening almost everywhere, from steep descents into tyranny — as in Myanmar, Afghanistan or Belarus — to more incremental slides  — as in Hungary or Turkey, say, neither of which Biden invited to his summit. About two in three humans nowadays live in autocracies or failing democracies.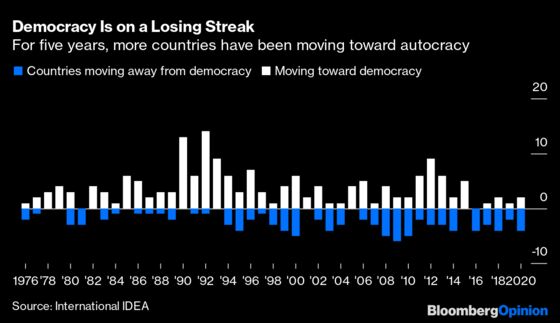 Sometimes, the problem is rampant corruption and the distrust and apathy it spreads in the population. Other times, it's the piecemeal dismantling of checks and balances such as judicial independence, as in Poland (which Biden nonetheless invited). The pandemic has made the trend worse, by providing plenty of excuses for autocrats to impose arbitrary restrictions.
Almost everywhere, disinformation and conspiracy theories, traveling faster in the internet era than ever before, are feeding polarization, division and cynicism. And the masterminds of these campaigns are often the self-avowed enemies of liberal democracy, led by Russian President Vladimir Putin and his Chinese counterpart Xi Jinping.
Which brings us to the real purpose of Biden's summit. Yes, it's meant to be a giant pep talk for the world's remaining democrats, from activists to civic leaders and well-intentioned politicians. But even more than that, it's intended as a rallying cry for the world's more-or-less liberal countries to enter an American-led alliance against the authoritarian powers. Biden himself has framed this contest as a "global struggle between democracy and autocracy." 
The danger in Biden's summit is the one expressed in Thunberg's jeers in Glasgow. At worst, it could become blah, blah, blah. Biden could gather democrats, from the real McCoys to the impostors, for some sanctimonious blather and a photo op. And then everybody carries on as before. Nobody will be freer anywhere, and cynicism will spread even wider.
At best, however, the assembled democracies — including the host nation —  will come to realize that they all share two kinds of enemies. The obvious one is external, in the form of autocracies like Russia and China. The more insidious one is internal, in the form of liberty's domestic traitors and defeatists. 
In 1987, a time when democracy was advancing rather than retreating, then-president Ronald Reagan put it best: "Freedom is never more than one generation away from extinction. It has to be fought for and defended by each generation." Biden should renew that exhortation — to his guests, and to Americans.
This column does not necessarily reflect the opinion of the editorial board or Bloomberg LP and its owners.
Andreas Kluth is a columnist for Bloomberg Opinion. He was previously editor in chief of Handelsblatt Global and a writer for the Economist. He's the author of "Hannibal and Me."