Unproven Covid Pills Could Be Biden's Secret Weapon
(Bloomberg Opinion) -- President Joe Biden unveiled big plans earlier this month for the U.S. fight against Covid-19, anchored by expansive vaccine mandates and a planned rollout of booster shots. On Wednesday, he turned his focus abroad, hosting a virtual vaccine summit with global leaders aimed at protecting the world. But there's more he can do.
Three pharmaceutical giants — Merck & Co., Pfizer Inc. and Roche Holding AG — are in the late stages of testing oral antiviral drugs (Merck in partnership with Ridgeback Biotherapeutics LP and Roche with Atea Pharmaceuticals Inc.) that aim to block the Covid-19 virus from replicating. If given early in the course of infection, these medicines have the potential to keep people from getting severely ill or ending up in the hospital. Because pills are relatively cheap to manufacture in large amounts and easy to distribute, expanded funding could make them a pandemic game changer. The U.S. has already promised to buy a limited supply of Merck's treatment and announced $3.2 billion in general antiviral investment in June. But investing more in all three programs ahead of authorization could ensure ample supply of what may be very useful medicines to deploy as soon as regulators give the go-ahead.
It's a strategy the country used earlier in the pandemic under the Trump administration, with deals that gave companies cash up front to build up inventories of vaccines and antibodies. With these new oral treatments, Biden can follow the same playbook, only at a larger scale and with faster results. Data is due from key clinical trials of all three leading candidates in the next few months, and while failure could see money wasted, the potential rewards are worth the risk.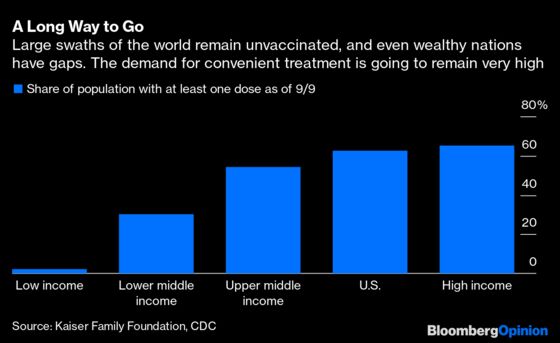 Compared to antibodies and vaccines, which are biologic products that are expensive to manufacture and can have burdensome storage or delivery requirements, these antivirals are refreshingly straightforward. Pills can be stamped out in large volumes using widely available equipment and dispensed through local pharmacies or clinics with no needles or freezers required. A course of Merck's pill will cost the U.S. a third of what it has paid for Regeneron Pharmaceuticals Inc.'s antibody therapy, if it proves successful. That's even before accounting for the much higher cost of administering antibodies.
On the subject of antibodies, supplies remain inadequate in the U.S. and absent in many countries. As for vaccinations, as of Sept. 9, only 2% of people in low-income countries had received one dose. Fixing this is crucial, but supply chains are stretched, and additional capacity will take time to come on line. In that context, it's crucial to also leverage the potential advantages of oral treatments. The continuing popularity of ivermectin, a drug for parasitic diseases that hasn't shown firm evidence of efficacy, makes it clear that there's substantial demand for a convenient option that really works.
The relative ease, speed, and economy of pill production could result — with sufficient investment and trial success — in enough timely doses for the entire world. The biggest benefit of expansive supply would come in low-income nations otherwise left behind. Millions will remain vulnerable for months to come as they wait for vaccines, making treatments a crucial protective bridge. And the value of an easily dispensed treatment that keeps people from getting severely ill is higher in places with weaker infrastructure. The key is to spend early, be ambitious, and focus on direct financing of global manufacturing capacity. 
"This is a global tragedy," Biden said at the vaccine summit. "And we're not going to solve this crisis with half-measures and middle-of-the-road ambitions. We need to go big and do our part."
He's right. But he needs to think beyond the shot.
This column does not necessarily reflect the opinion of the editorial board or Bloomberg LP and its owners.
Max Nisen is a Bloomberg Opinion columnist covering biotech, pharma and health care. He previously wrote about management and corporate strategy for Quartz and Business Insider.