Bank of America and Morgan Stanley Buck the Cost Trend
(Bloomberg Opinion) -- Higher interest rates might be good for bank profits, but inflation has still been a shock for bank investors in recent days.
Bank of America and Morgan Stanley offered some respite from the story of rising pay and other costs on Wednesday, however, reporting less of a jump in the fourth quarter than that of most big rivals.
Beyond the simple tale of costs, the moves in bank stocks through this earnings season have also underscored investor preference for banks with a promise of reliable revenue from traditional lending and wealth management over those exposed to the volatility of trading in financial markets and advising on deals.
Loan growth is finally beginning to return and should benefit from rising interest rates and yields — as long as the Federal Reserve doesn't move too quickly. This ought to help offset inflation in expenses, too.
Bank of America reported lower cost growth in 2021 than most other chief rivals aside from JPMorgan Chase and Wells Fargo. But BofA expects to keep expenses flat this year, which sounds bullish compared with many rivals that expect to see further inflation and higher spending on areas such as technology.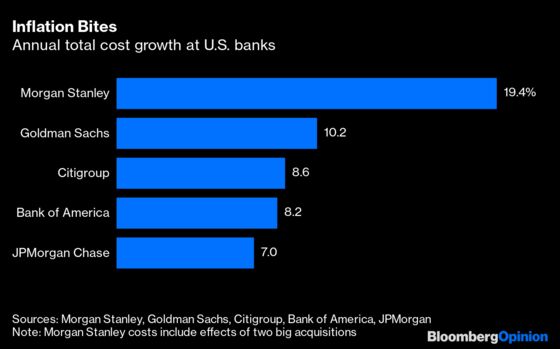 The difference at BofA is that Chief Financial Officer Alastair Borthwick said inflationary pressures should be offset in part by cuts to some of the extra costs related to operating through the Covid pandemic, such as paying for child care for some employees so they could keep working or paying some staff members to stay at home when bank branches weren't open.
The disruption caused by Covid is expected to wane, but the virus has hardly been predictable, so this forecast could be a hostage to fortune.  
Morgan Stanley, meanwhile, reported low cost growth in the fourth quarter compared with the period a year earlier, and pay growth was essentially flat. For the full year, its cost increases were greater than those for all its rivals, but that includes the acquisitions of E*Trade Financial and Eaton Vance, which bought additional revenue, too. Its costs per dollar of revenue fell marginally over the year. 
Those deals have helped lift the revenue share that the bank gets from wealth and asset management to more than half last year from about one-third in 2009, just before James Gorman took over as CEO.
In its investment bank, pay was up about 10%, similar to most rivals though significantly less than at Goldman Sachs, where the growth in pay per banker was likely more than double what bankers elsewhere received, according to Kian Abouhossein, analyst at JPMorgan.
Almost all banks finally saw a pickup in loan growth in the last quarter of 2021, and at BofA, JPMorgan and Wells Fargo, that growth was better than forecast. This helped them turn in better net interest income as well.
It has still been a rough week or so for bank stocks. BofA and Morgan Stanley were both higher after results on Wednesday but still down from where they closed at the end of last week before the long weekend.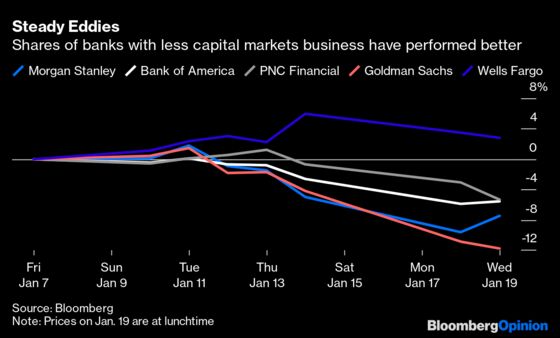 All the big banks suffered a sell-off on Tuesday, led by Goldman after its record earnings were undermined in investors' minds by its sharp jump in banker pay. But the split has opened up between those banks that are more biased toward commercial and retail banking and those more exposed to investment banking and markets.
Since the start of last week, the biggest decliners are still Goldman, JPMorgan and Morgan Stanley. BofA and smaller banks like PNC Financial have experienced much smaller declines, while Wells Fargo is up. Citigroup's stock hasn't fallen much at all, but unlike rivals it trades at significant discount to book value already so has less to lose.
There's still plenty of uncertainty over how far interest rates will rise and what the Fed's moves will do to the economy and markets. But what is clear is that the banks that can best get their own control over inflation will do best in protecting returns this year.
This column does not necessarily reflect the opinion of the editorial board or Bloomberg LP and its owners.
Paul J. Davies is a Bloomberg Opinion columnist covering banking and finance. He previously worked for the Wall Street Journal and the Financial Times.