AT&T Looks Better, Except for Its Stock Price
(Bloomberg Opinion) -- General Electric Co. and Johnson & Johnson spent generations building two of the world's most recognizable conglomerates, until a stock market disenchanted with complex companies helped send them on a plodding path toward epochal breakups, announced within days of each other in November. Indeed, 2021 has been the year for giant companies to burst into fragments — a trend kicked off by AT&T Inc., a company known for its historic cycles of getting bigger and smaller.
Compared with GE and J&J, though, AT&T's latest building and undoing was so staggeringly swift and extreme, it took investors' breath away. This time, they hope, will be the last.
AT&T has parted with DirecTV and has an agreement to divest WarnerMedia, which together made up a collection of entertainment assets that were purchased only within the past six years for $170 billion. The company's shares are still heaving. AT&T has fallen 18% this year, a weaker performance than most telecommunications and media stocks. One of the few companies faring worse is the one buying its WarnerMedia assets: Discovery Inc. 
The sell-off has left AT&T — a member of the S&P 500 Dividend Aristocrats club for companies that have increased dividends for at least 25 consecutive years — with a disconcertingly high dividend yield of almost 9%. That tops the entire S&P 500. This isn't the first worrisome superlative for AT&T in recent years: Buying WarnerMedia also made it the biggest borrower in the world that isn't a bank, which is why investors have worried that its aristocrat status might give way to the debt. While a high dividend yield can imply that a stock is cheap, a very high yield can signal an impending dividend cut.
Lo and behold, AT&T does plan to reduce its payout to 40% to 43% of an estimated $20 billion in annual free cash flow post-breakup, compared with last year's payout ratio of 55% on $27.5 billion of free cash flow. Still, it's hard to imagine the company's financial position not improving from there, in which case the stock price has probably fallen too far.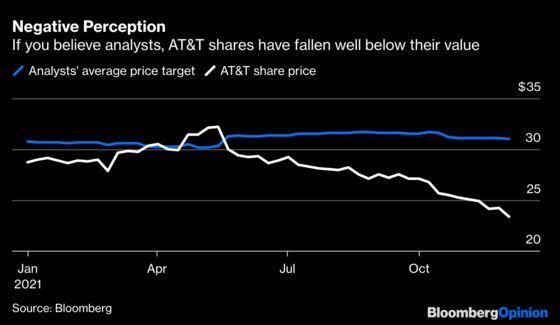 Under AT&T's new plan — to focus on wireless and fiber internet — the debt is slowly being reduced to a level that's less burdensome. And already there are signs that the company is benefiting from fewer assets competing for resources. Part of the WarnerMedia separation is the content-hungry HBO Max streaming app.
AT&T executives used to speak eagerly of its "pivot" to conglomerate status. Now the word you'll hear them use most often is "simple" — simple customer offerings, simple company structure. AT&T is 5G, and it is internet, and that's about it. "We can't be all things to all people, especially at the levels of capital you need to succeed in these businesses," Pascal Desroches, AT&T's new chief financial officer, said in an interview in August. Trying to "be all things" under the strain of a large debt load fed into why the brand lost market share, and now it's winning that back, he said.
AT&T added 2.3 million postpaid phone customers in the first nine months of 2021, a marked improvement from the past couple of years. That means that among the big three wireless carriers, 47% of new postpaid phone customers went to AT&T. This "would have been near inconceivable just a few years ago," Bryan Kraft, an analyst for Deutsche Bank AG, wrote in an October note to clients.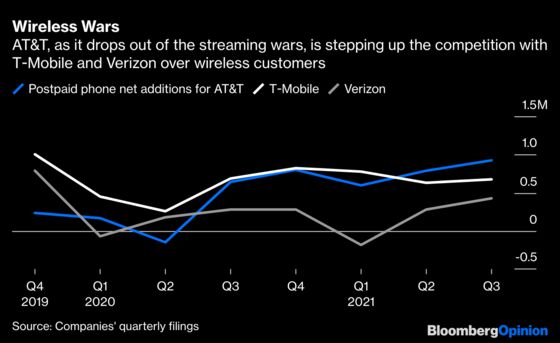 Jeff McElfresh, who runs AT&T's core businesses, predicts that postpaid wireless growth won't continue at this pace in 2022. Economic stimulus had probably encouraged some of the sign-up activity. The big three also face competition from cable providers now selling wireless plans.
The next growth opportunity that wireless carriers are eyeing is 5G. But that is dependent on the technology industry designing applications tailored to 5G's unique properties that can excite and upsell subscribers, and those might not be ready for some time. Meanwhile, the Covid-19 pandemic has motivated companies including AT&T to make a big push into broadband, a market expected to be buoyed by remote work, streaming and the new infrastructure spending. 
For now, investors burned by a decade of underperformance and strategy shocks aren't ready to embrace this simpler AT&T. "All heads are down making it happen, proving to the world we mean business," McElfresh said in an interview in September. "It's not going to happen overnight." But by mid-2022, AT&T could start to look unrecognizable again — this time in a good way.
This column does not necessarily reflect the opinion of the editorial board or Bloomberg LP and its owners.
Tara Lachapelle is a Bloomberg Opinion columnist covering the business of entertainment and telecommunications, as well as broader deals. She previously wrote an M&A column for Bloomberg News.