American Airlines CEO Switch Signals Covid Optimism
(Bloomberg Opinion) -- Another big U.S. airline is replacing its chief executive officer in a sign that the pandemic recovery is broadly still on track even as new Covid variants loom. 
American Airlines Group Inc. announced on Tuesday that CEO Doug Parker would step down in March and be succeeded by President Robert Isom. Parker is the longest-serving current CEO of a major U.S. airline; he took over the top job at America West in 2001, merged that carrier with US Airways in 2005 and then created the world's biggest airline through the 2013 combination with then-bankrupt American Airlines. He famously hasn't collected a base salary since 2015, choosing to be paid solely in stock to better align his pay with the long-term interests of the company and its shareholders. Those investors won't be in for too much of a change: Parker's successor, Isom, has been president since 2016 and worked alongside the outgoing CEO for two decades.
This echoes a shake-up announced earlier this year at Southwest Airlines Co., which plans in February to replace CEO Gary Kelly after more than 17 years at the helm with Bob Jordan, who has worked at the airline for more than 30 years. It's not the best testament to airlines' diversity efforts that both of these CEO shifts have involved the promotion of yet more entrenched white men. But the transition to steady, experienced hands underscores the uncertainty surrounding the pandemic recovery and provides something of a hedge against future disruptions. This probably isn't the time to tap, say, an automotive executive to run one of the biggest airlines. 
Kelly will become executive chairman at Southwest with the intent to stay in that role through at least 2026. Parker will also stay on as chairman at American; no timeline was given for how long he might remain in that position. Both leaders seemed wary of starting their successors' tenures with a hot mess and waited until the airlines were at least stabilized before handing over the reins. The CEO transition at American "likely would have happened sooner, but the global pandemic — and the devastating impact it had on our industry — delayed those plans," Parker said in a letter to employees released Tuesday. "While we still have work to do, the recovery from the pandemic is underway, and now is the right time to make the transition." 

Such optimism may seem jarring when the transmissibility and deadliness of the recently discovered omicron variant of Covid-19 is still largely unknown. But while countries are toughening international travel restrictions in light of omicron, there's no evidence yet of a sharp drag on domestic air travel demand. Quite the opposite in fact: U.S. travel agency ticket volumes continued to recover in the week after health-care authorities first raised concerns about omicron, trailing 2019 levels by the lowest percentage since the pandemic lockdowns in early 2020, according to data from the Airlines Reporting Corporation. Traffic through Transportation Security Administration checkpoints doesn't appear to have dropped meaningfully relative to seasonal demand trends. Indeed, an Axios-Ipsos poll of more than 1,000 U.S. adults conducted between Dec. 3 and Dec. 6 found less than a quarter were planning to cancel holiday travel because of the variant.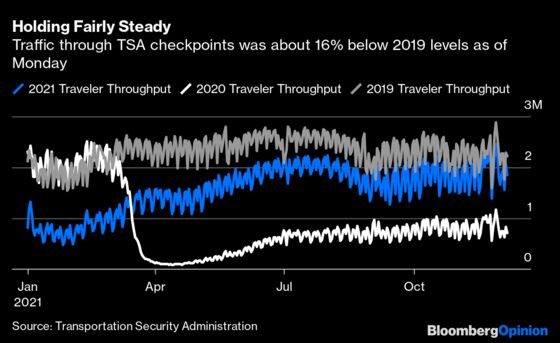 The impact of the delta variant of Covid-19 on air travel demand proved to be short-lived. Ticket purchases have soared each time international travel restrictions have been lifted, with the latest data point coming from Qantas Airways Ltd. The carrier said Tuesday that it expects to reach more than 115% of pre-Covid domestic capacity levels by April as Australia reopens its internal borders, according to Reuters. Much remains to be learned about the omicron variant, but at least for now, airlines seem justified in preparing for yet another bump in the road as opposed to a serious derailment of the recovery. 

More from other writers at Bloomberg Opinion:
This column does not necessarily reflect the opinion of the editorial board or Bloomberg LP and its owners.
Brooke Sutherland is a Bloomberg Opinion columnist covering deals and industrial companies. She previously wrote an M&A column for Bloomberg News.