London Needs A Tech IPO Hit To Forget Its Deliveroo Debacle
(Bloomberg Opinion) -- London is finally getting a proper test of its appetite for loss-making, high-growth technology stocks. The impending initial public offering of cybersecurity startup Darktrace Plc fulfills many of the criteria that much-hyped Deliveroo Holdings Plc didn't, but investors are still being asked to overlook some issues that would likely be less of a concern in the U.S.
Deliveroo's experience made it harder to gauge U.K. investors' enthusiasm for growth companies. They balked at the dual-class shares, which gave Chief Executive Officer Will Shu control over the food delivery company, and the business's dependence on poorly paid gig workers. Its market debut was a disaster, and the stock continues to trade 30% below its listing price.
By contrast, Darktrace is a loss-making but fast-growing, high-gross margin software business that will stick to Britain's predilection for one share, one vote. And a spate of recent high-profile hacks has underscored the importance of good cybersecurity. 
The Cambridge, England-based company is mimicking the approach of software-as-a-service pioneers such as Salesforce.com Inc., spending heavily on sales and marketing to drive early adoption of its products, which in Darktrace's case uses a strand of artificial intelligence called machine learning to spot incursions into customers' networks.
Chief Executive Officer Poppy Gustafsson spent 82% of revenue on sales and marketing last year — nary a glossy business magazine these days comes without a Darktrace ad — and the company has almost five times as many people working in sales as it does in research and development.
Some wrinkles in the finances suggest Gustafsson may have to work hard to convince investors that the model, which is tried and tested in the U.S., will yield results. Despite high spending on the sales force, the pace of growth slowed last year. The 45% revenue increase to $199 million still represents a sizable jump, but a year earlier it rose 73%. Meanwhile, the company boasts that its target market is worth some $40 billion.
Compare that with best-in-class peer Crowdstrike Holdings Inc. It similarly spent an average of 75% of revenue on marketing in the three years before its IPO, but the California-based firm doubled sales each year, and has since maintained the same growth trajectory.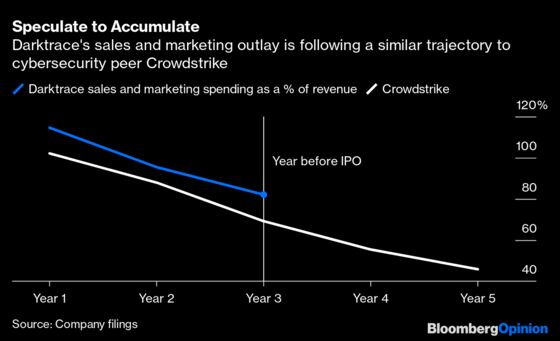 Darktrace's slackening growth may be due to the pandemic, since its sales teams rely heavily on in-person pitches and trade events to flog their wares. But it may also point to shortcomings in the product itself. The company spends remarkably little on R&D: The $12 million budget last year represented just 6% of revenue. While Gustafsson plans to increase that to between 10% and 13% of sales, that's still less than the 25% that cybersecurity peers typically spend on innovation.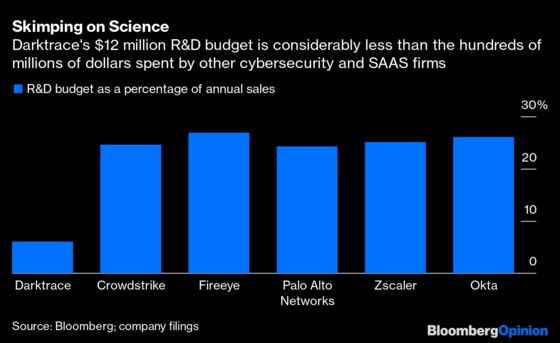 Darktrace argues that it has lower costs because its offering relies on AI and its research teams are based in Cambridge, where expenses are lower than Silicon Valley. But its core product team, led by Dave Palmer, who formerly worked at U.K. intelligence agencies MI5 and GCHQ, must expand rapidly to build the features that will let it compete. There are already many rivals in the so-called network analysis and visibility market, including Vectra AI Inc., VMWare Inc.'s Lastline, FireEye, ExtraHop Networks and Cisco Systems Inc., according to Forrester analyst Paul McKay. 
This year's first-quarter financial performance should be illuminating. The recent cyberattacks on the U.S. government ought to have accentuated the need for better cybersecurity and should have provided an earnings tailwind.
Unlike Deliveroo, Darktrace does appear to be taking a suitably cautious approach to its valuation: The mooted market capitalization of between $3 billion to $4 billion would represent about 18 times trailing revenue at the midpoint. That's a discount to New York-listed stocks that exhibit similar growth rates but lower proportionate marketing spend — Crowdstrike is valued at 53 times trailing revenue.
But there's also wariness about Darktrace's links with Autonomy Corp. founder Mike Lynch, who is fighting extradition to the U.S. over allegations of fraud. Darktrace says he no longer plays any active role at the company, but Lynch was an early investor and will own 19% of the stock with his wife. The legal issues may have been a bigger risk had the listing been in New York. 
Tech companies regularly bemoan how London investors shun stocks that are high-growth but loss-making. Darktrace is a more credible candidate than was Deliveroo. If it slips up too, then the ramifications for London's efforts to attract hot tech listings will be even more severe.
This column does not necessarily reflect the opinion of the editorial board or Bloomberg LP and its owners.
Alex Webb is a Bloomberg Opinion columnist covering Europe's technology, media and communications industries. He previously covered Apple and other technology companies for Bloomberg News in San Francisco.