A WeWork SPAC Was Looking Promising. Then Delta Happened
(Bloomberg Opinion) -- After a planned initial public offering blew up spectacularly in 2019, WeWork Inc. was counting on the post-Covid era of flexible working to staunch big cash outflows and gain a fresh start. Its attempt to go public (again) is premised on people now preferring its shared workspaces over traditional corporate offices.
But with virus cases surging in key markets like the U.S. and U.K., its recovery isn't going as well as hoped. Last week it warned that full year revenues would be lower, and losses larger, than previously forecast. U.K.-listed rival IWG PLC issued a similar warning in June.
There are signs that WeWork and IWG have overcome the worst — revenues have picked up again since the spring — but both are still losing money. The next weeks are therefore crucial: Even as virus worries re-emerge, they need to boost occupancy so their revenues better cover costs.
Things had really been looking up for WeWork. Since the last time it tried to list its shares, it has slashed costs, closed particularly unprofitable locations and appointed more sensible management. And like IWG, it should benefit from the shift to hybrid working that's been accelerated by the pandemic. Companies are realizing they don't need to own as much office space and their employees would prefer a shorter commute.
Thanks to the delta variant, however, the shared office market remains challenging. Such facilities have less appeal when even vaccinated people can't be sure they won't catch Covid. Meanwhile, a surplus of city office capacity has put pressure on how much these companies can charge.
So while it's a good time for anyone looking to rent new office space, it's a nerve-wracking time to be that shareholder or creditor. Having soared back above par earlier this year, WeWork's 7.875%-coupon senior unsecured bonds have been under a bit of pressure again lately.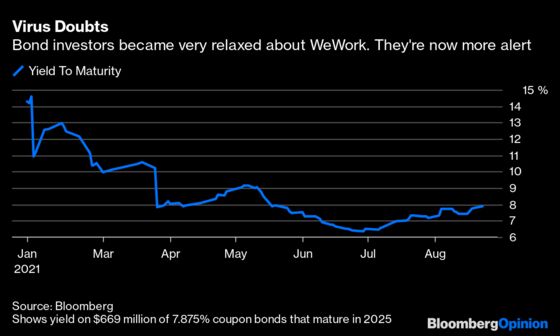 The shares of BowX Acquisition Corp, the blank-check firm that WeWork plans to merge with and go public through, have also sagged alongside much of the SPAC market.
The deal BowX announced in March values WeWork at $7.9 billion, excluding net debt. Although that's a fraction of the $47 billion value majority-owner SoftBank Group Corp. once ascribed to the business, it's a demanding price considering WeWork still bleeds money — it hemorrhaged $1.3 billion of cash in the last six months.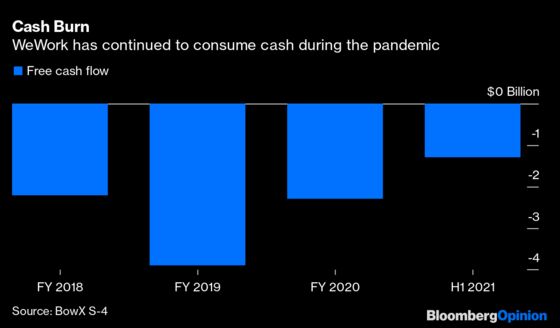 Investors have grown wearily accustomed to companies that merge with SPACs downgrading their optimistic financial projections as soon as they've gone public. At least WeWork did so before the BowX deal closed.
Last week it warned in a filing that 2021 revenues will decline around 17%, having previously said sales would be broadly flat. (In June IWG boss Mark Dixon told investors WeWork's old forecasts would require a "miracle" to achieve.) Even now, WeWork predicts a 64% rebound in annual revenues for 2022. That looks mighty optimistic.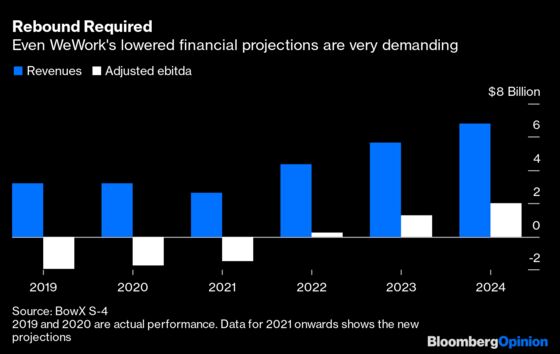 Despite taking an axe to headquarter costs since the end of 2019 — WeWork's headcount has declined 70% and selling and other general expenses have fallen 75% — it's still losing money just by opening its doors. Location operating expenses — things like rent, utilities, security and on-site personnel — exceeded revenues by around one-third in the six months to June.
With restructuring costs now mostly behind it, the immediate priority is to boost revenue and thereby reach cash flow breakeven. Here there are grounds for (cautious) optimism: Month-on-month revenues and occupancy are steadily increasing, though there's still a ways to go before this will translate into positive cash.
Plus, with customers now signing contracts that span almost two years on average, WeWork doesn't have to worry as much about them cancelling at short notice — a major weakness for such a debt-laden business. WeWork has more than $4 billion in borrowings and another $19 billion in discounted long-term lease liabilities. 
Less encouraging is what's happening in the SPAC market. BowX's full $480 million cash contribution to the merger no longer looks like a sure thing. With the stock falling below $10, redemptions are a possibility, as has happened with a lot of blank-check companies lately.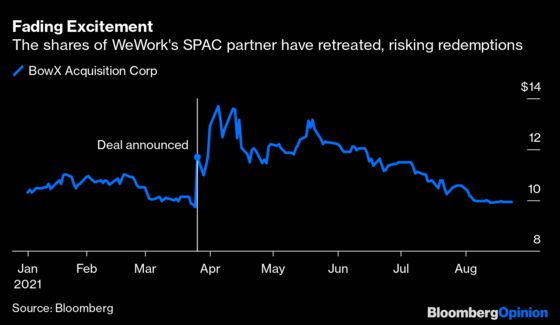 Assuming 50% of stockholders ask for their money back, WeWork could be left with about $2 billion of liquidity following the merger by my calculation. That's plenty to meet its obligations beyond the next 12 months, but an even bigger safety net would be sensible. WeWork is in discussions about a $150 million "backstop equity facility" with real estate services firm Cushman & Wakefield plc.
Given the renewed risk from virus variants, WeWork's purported valuation looks quite rich. IWG has more revenue, lower losses and less debt, yet its market value is around half that of its rival. 
Flexible working surely has a bright future, but investors need patience and to be prepared for virus-related setbacks.
WeWork's locations are typically downtown whereas IWG has comparatively more suburban sites closer to where some commuters live.
WeWork's occupancy is at 57%, including contracted deals. It needs to reach about 70% occupancy to achieve adjusted ebitda breakeven.
Including $1.7 billion that's outstanding under a letters of credit facility. Total security packages provided by WeWork in respect of its lease obligations are approximately $6.5 billion
After transaction expenses, bonus payments and a $350 million debt repayment and including the $800 million Pipe, existing cash of $844 million and a $550 million borrowing facility
This column does not necessarily reflect the opinion of the editorial board or Bloomberg LP and its owners.
Chris Bryant is a Bloomberg Opinion columnist covering industrial companies. He previously worked for the Financial Times.