A Massive Yield-Curve Headache Awaits the Federal Reserve
(Bloomberg Opinion) -- Federal Reserve officials, now in a self-imposed blackout period before their Dec. 15 decision, have made their policy pivot clear. They are no longer comfortable with the current level of inflation and are prepared to end their bond purchases sooner than previously expected to position themselves to raise interest rates to combat price pressures.
With this abrupt shift, they've potentially created another problem for themselves: Encouraging overzealous bond traders to front-run their policy actions and distort yield curves in the U.S. Treasury market.
The yield spread between two-year and 10-year Treasuries narrowed to 74 basis points at the end of last week, the smallest since December 2020 and down from 113 basis points just a month ago. The move in the curve from five to 30 years is even more drastic: It touched 53.5 basis points, the flattest since the worst of the market meltdown in March 2020 and an outright collapse from 112 basis points in early October. The curve from seven to 10 years is just a handful of basis points from inverting, while the spread between 20-year and 30-year bonds has been negative for weeks.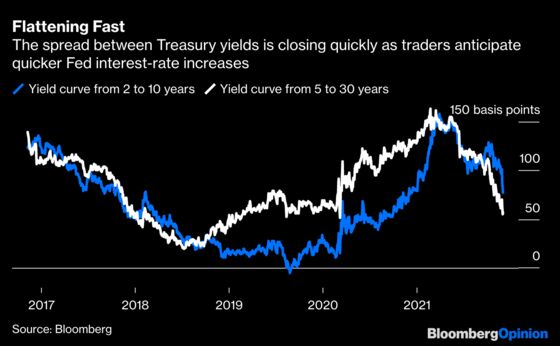 A flatter U.S. yield curve isn't that surprising when the Fed is turning more hawkish. The logic is straightforward enough: Central bankers will raise interest rates to cool demand, pushing up yields on shorter-dated Treasuries, while the potential hit to future inflation and growth will encourage investors to buy longer-dated bonds, therefore lowering their yields. There's also cross-asset effects at work, with the prospect of monetary tightening hitting high-flying technology stocks and potentially sending more investors into havens.
But it's the magnitude of the move, particularly when the Fed hasn't even starting raising rates yet, that could make policy makers at least slightly nervous.
To get a sense of how stark the current levels are relative to history, consider that as the central bank began its last tightening cycle in earnest starting in late 2016, it wasn't until after policy makers raised the fed funds rate to a range of 1.25% to 1.5% in December 2017 that the yield curve from five to 30 years reached its current level. The curve from seven to 10 years didn't flatten to its current mark until 2018.  
This is certainly a conundrum. Fortunately, the Fed has an obvious way to attempt to steepen the yield curve: Let its bond holdings run off its balance sheet, as it started doing in late 2017.
St. Louis Fed President James Bullard, who in mid-November was out in front of the central bank's pivot toward a faster pace of scaling back bond purchases, was ahead of this issue as well. On Nov. 16, in a comment that was largely ignored at the time, he argued that policy makers could allow balance-sheet runoff at the end of tapering. At that point, less than two weeks removed from the Fed's decision to take until June to wind down asset purchases, it seemed outlandish to talk about trimming its holdings. Now, with curves flattening sharply, it's a topic worthy of conversation as a way to prop up longer-term yields. He mentioned this idea again on Friday after the November jobs report, when the 30-year Treasury yield tumbled as much as 10 basis points to a meager 1.66%.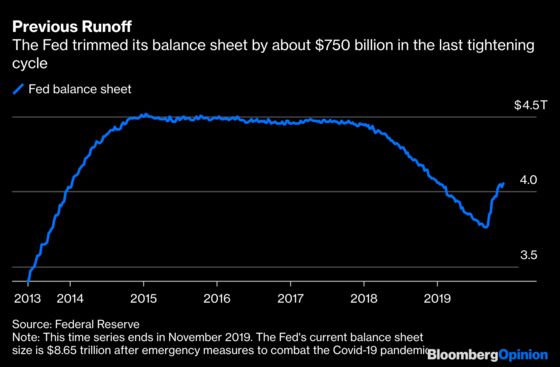 It's hard to see how such a decision would impair Treasury market functioning, given the ample liquidity flooding the financial system. The Fed's reverse-repo facility, an obsession of some Reddit traders, is still drawing more than $1.4 trillion of cash daily — essentially mopping up the central bank's own quantitative easing. Letting bonds roll off its balance sheet, sometimes referred to as "quantitative tightening," would serve to counteract the big use of the facility.
The last time the Fed reduced the size of its balance sheet, it caused an unintended squeeze in the repo markets in September 2019. That seems unlikely to happen again. The central bank is working on launching a standing repo facility that would serve as a backstop in such situations to prevent rates from spiking higher. Cleveland Fed President Loretta Mester noted in October that banks can hold lower levels of liquidity going forward knowing that they can always turn to the Fed — one reason she said she supports letting the balance sheet come down to a more normal level — whatever that might mean after ballooning during Covid.
Adding this lever would give the Fed even more options heading into next year. Recall that the central bank has a three-part test to determine whether to raise interest rates from near zero, two of which are about inflation and one about reaching the nebulous "maximum employment." Suppose officials feel they need to tighten policy in the first half of next year to head off price pressures but don't believe that the labor-market criteria is met. Starting balance-sheet runoff would be a neat way to get around that and buy some time before starting to raise rates.  
"I think we have to be nimble," Bullard said last week in response to a question about whether an interest-rate increase should be a option at the March meeting. "I would very much want to think we get to live meetings very soon, in case we need them. But it is only optionality at this point."
Flattening yield curves afford the Fed less flexibility. One route for policy makers would be to plow ahead with gradual rate increases unperturbed, confident that the bond market has gone too far when labor-market observers are saying the recovery is "in overdrive" and the economy is "booming right now." As it stands, the risk of the most-watched curves (2s10s and 5s30s) actually inverting in 2022 is relatively low, provided that the central bank gently taps on the brakes instead of slamming them. But traders, as they're wont to do, will push the envelope. 
Initiating a balance-sheet runoff plan if this continues after tapering is over is a countermeasure with few downsides. The messaging is obviously difficult now, considering that the Fed is still buying $90 billion of bonds this month. But don't be surprised if more policy makers start talking about it a few months from now, especially if yield curves are still causing headaches within the central bank.
This column does not necessarily reflect the opinion of the editorial board or Bloomberg LP and its owners.
Brian Chappatta is a Bloomberg Opinion columnist covering debt markets. He previously covered bonds for Bloomberg News. He is also a CFA charterholder.