'Shang-Chi' and Disney Alone Can't Revive AMC Theaters
(Bloomberg Opinion) -- Marvel film "Shang-Chi and the Legend of the Ten Rings" was such a hit that it resulted in record admissions revenue for the U.S. Labor Day weekend at AMC Entertainment Holdings Inc. — yes, a record even amid the pandemic. But jubilant shareholders of the theater chain are misreading a situation that instead reinforces an unfortunate truth: AMC's future is beholden to the decisions of one powerful Hollywood operator, Walt Disney Co. 
"Shang-Chi," starring Simu Liu, generated almost $95 million in ticket sales in the U.S. and Canada over the four-day weekend. That knocks out a Labor Day record previously set by "The Sixth Sense" in 1999, according to data provider The Numbers. It has grossed an additional $50 million in other countries, becoming the first real post-pandemic blockbuster. AMC investors celebrated by sending the share price up almost 9% Tuesday. The stock — a volatile security favored by online communities of retail traders — initially extended its gains on Wednesday before reversing course and retreating 1.3%. 
The Labor Day triumph of "Shang-Chi" offered the latest evidence of how Disney is king of the box office. But if Disney rules the box office, the box office can only win when Disney chooses to be there. It means AMC has become increasingly dependent on one supplier. This lopsided competitive landscape owes in large part to Disney's acquisitions of Marvel and "Star Wars" and the theatrical successes that followed those deals. In 2019, before Covid-19 upended the theater industry, Disney had a 33% share of ticket sales as moviegoers increasingly held out for its superhero blockbusters. Warner Bros., owned by AT&T Inc., was in a distant second place with a less than 14% share. Sony Pictures, Comcast Corp.'s Universal, Lions Gate Entertainment Corp. and ViacomCBS Inc.'s Paramount all trailed even further behind. Even in this erratic year for film, Disney has raked in more at the box office than Warner Bros. and Universal on half as many releases.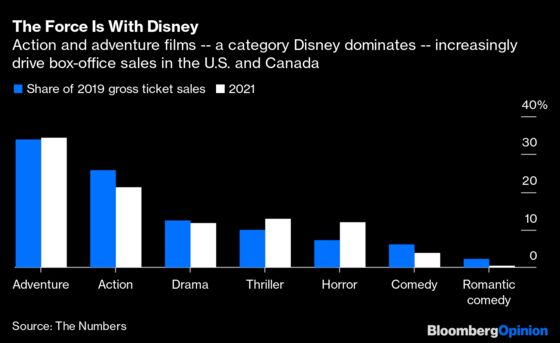 Disney's prowess leaves exhibitors in an unfavorable position because, as "Shang-Chi" shows, AMC's business is viable only if it can keep receiving exclusive releases — namely Marvel and "Star Wars" movies — capable of drawing huge audiences that aren't willing to wait for the at-home streaming debut. And with studios prioritizing their streaming-video businesses, consumers more often than not won't have to wait. Disney+ subscribers won't get to stream "Shang-Chi" until October, but its other recent Marvel flick "Black Widow" was made available on the app for a viewing fee the same day that it hit the big screen (sparking  a lawsuit by the film's star Scarlett Johansson). On Disney's August earnings call, Chief Executive Officer Bob Chapek said "Shang-Chi" stuck with its planned theater run because of "distribution agreements" and "just the practicalities of last-minute changes that wouldn't be possible." That's not a glowing endorsement of the traditional theater strategy, even if Disney does occasionally still employ it. 
The Numbers projects the total domestic box office will barely eclipse $3 billion by the end of the year, down 72% from 2019. And while much of the decline can be attributed to virus fears, related closings and a release schedule that's been thrown into disarray, theater patronage has been gradually declining for years. Adam Aron, CEO of AMC, has used his company's 15 minutes of meme-stock fame to raise money, reduce the self-inflicted burden of its debt load and drum up enthusiasm by appealing to Main Street investors' nostalgia and underdog mentality. He has masterfully recast AMC, which was put in a financially precarious position well before Covid, as purely a pandemic victim. Even if that were the case, revenue and Ebitda estimates for 2022 and 2023 — which are still below pre-Covid levels — remain the elephant in the room.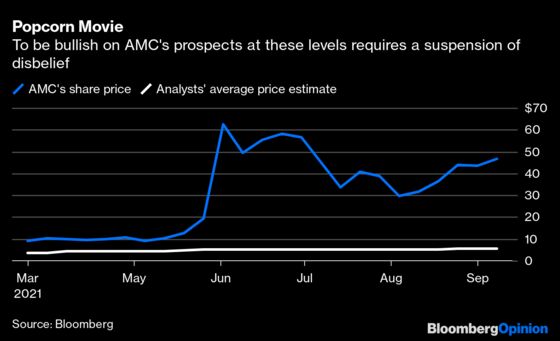 Being dependent upon a single supplier, and one that has its own attention focused elsewhere, isn't a strong business model. And while Covid may be what chiefly stopped people from going to the movies over the past 18 months, streaming-video services are what will keep many of them from returning to AMC's auditoriums.
This column does not necessarily reflect the opinion of the editorial board or Bloomberg LP and its owners.
Tara Lachapelle is a Bloomberg Opinion columnist covering the business of entertainment and telecommunications, as well as broader deals. She previously wrote an M&A column for Bloomberg News.