$9 Billion for a Supermarket? Private Equity Has to Think Bigger
(Bloomberg Opinion) -- The item is in the cart but we haven't gone through check-out yet. A consortium led by SoftBank-owned Fortress Investment Group LLC has little choice but to raise its 6.3 billion pound ($8.7 billion) bid for Wm Morrison Supermarkets Plc if it wants to take home this prize.
On Tuesday Silchester International Investors, the U.K. supermarket's biggest shareholder with a more-than-15% stake, said it was not inclined to support Fortress's agreed deal.
The 254 pence per share offer from Fortress, the Canada Pension Plan Investment Board and Koch Real Estate Investments LLC had been recommended by Morrison's board. But it always looked too skinny.
Yes, it enabled Morrison get a firm buyer on the hook. It set a benchmark against which any counterbids could be judged, on price but also on commitments on jobs, pensions and arrangements with suppliers. This was important, because just a few weeks before striking a deal with Fortress, Morrison had rejected a 230 pence per share approach from rival buyout group Clayton, Dubilier & Rice LLP.
Nevertheless, the Fortress offer, which included a 2 pence dividend, was at the low end of the 250 to 300 pence that looked reasonable. The shares have consistently been above Fortress's offer, at about 266 pence on Wednesday.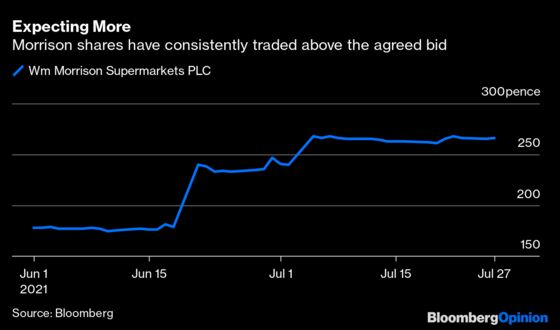 The situation has been crying out for an activist to take a stake in Morrison and agitate for a higher offer. Silchester has taken on that role. With the threshold to approve the deal quite high — at 75% of the share capital — it's not hard to see support falling short if other shareholders get behind Silchester.
The onus is now on the Fortress consortium to raise its bid to a level that the biggest investor would find more palatable.
Somewhere closer to the mid-point of the 250-300 pence range would represent about a 50% premium to the share price before news of CD&R's approach emerged on Jun. 19.  The consortium said on Wednesday that Singapore's sovereign wealth fund GIC had joined it, while Apollo Global Management, Inc. is in talks to do so. That gives it the extra firepower to reach this level.
But there is another route that could push the takeout price higher: a counter bid from CD&R. It has until Aug. 9 to come back with a higher offer, according to the U.K.'s takeover rules. The private equity group, which counts former Tesco Plc Chief Executive Officer Terry Leahy among its advisers, has been looking at ways to fund a higher bid, Bloomberg News reported on Monday.
The downside for Morrison shareholders is that if CD&R doesn't come back and Fortress's bid fails to win enough support, the company has limited leeway to emulate the bidders' strategies to increase value.
The grocer could sell off some of its property. Reducing its ownership of freehold property from 85% to say 65-70% could bring in proceeds. (Asda Group is demonstrating the possibilities as it's close to finalizing a deal to sell its distribution centers for well over 1 billion pounds.) Continuing to develop its wholesale business and its relationship with Amazon Inc. could also add further growth and elevate profit margins.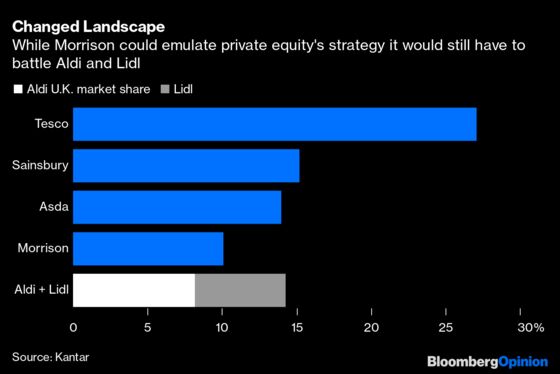 The biggest challenge for a standalone Morrison would be a battle with German discounters Aldi and Lidl, as well as with Tesco, if it decides to unleash a price war.
Those scenarios look far off right now. Neither CD&R nor Fortress have played their final hand. Either way, the latter must pay up if it wants to keep this supermarket in its trolley.
This column does not necessarily reflect the opinion of the editorial board or Bloomberg LP and its owners.
Andrea Felsted is a Bloomberg Opinion columnist covering the consumer and retail industries. She previously worked at the Financial Times.