Cabinet Approves Launch Of Bharat Bond ETF, India's First Bond Exchange-Traded Fund
The Union Cabinet has approved the launch for an umbrella bond exchange-traded fund.
The Union Cabinet has approved the launch of the first bond exchange-traded fund, which will create a new window for fundraising by state-owned firms, and give affordable entry to retail investors in the bond market.
The Bharat Bond ETF will be a basket of bonds issued by public sector firms or any government organisation, and will be tradeable on the exchanges, Finance Minister Nirmala Sitharaman said in a press briefing after the cabinet meeting. The unit size will be Rs 1,000, allowing small investors to invest, she said.
AAA-rated companies will be part of the Bharat Bond ETF, Sitharaman said, without disclosing names of the companies that will be included in the fund.
The move, according to the government, will provide easy and low-cost access to bond markets and increase participation of retail investors who are currently not participating in bond markets due to liquidity and accessibility constraints.
"Today retail investors have no means of accessing the bond market because bond issuances are done through private placements and the amount to be raised is Rs 10 lakh," Tuhin Kanta Pandey, secretary of Department of Investment and Public Asset Management, told BloombergQuint in an interview. Bond ETF will create a window for retail investors to subscribe to a basket of bond, he said. "This will be an interesting product in the fixed income group for retail investors."
Retail investors may get more returns from the bond ETF as compared to a bank fixed deposit, Sitharaman said.
In doing this we are giving an option for retail investors. In that every retail purchase will give the purchaser—one, the satisfaction that he is participating in the developmental activities of the country, and two, invest his funds not just into banks through fixed deposits.
Nirmala Sitharaman, Finance Minister
The ETF will have a fixed maturity date, and initially there will be two maturity series of three and 10 years, the statement said.
Investors will be able to buy or sell units of bond ETF using three methods:
Through exchanges during trading hours.
Through a market maker (market maker will buy or sell units of ETF, and keep an inventory of units worth Rs 1 crore.)
Through Asset Management Companies
The approval for the bond ETF will be sought from the Securities and Exchange Board of India, following which borrowing needs of public sector companies—that will be part of the ETF—will be assessed, Pandey said, adding that the companies will be soon decided by the committee of secretaries.
The ETF will also expand investor base of public sector companies through retail and high net worth individuals' participation, the government's statement said. "With increase in demand for their (PSUs) bonds, these issuers may be able to borrow at reduced cost thereby reducing their cost of borrowing over a period of time."
Its trading on the exchange will also help in better price discovery of the underlying bonds, it said.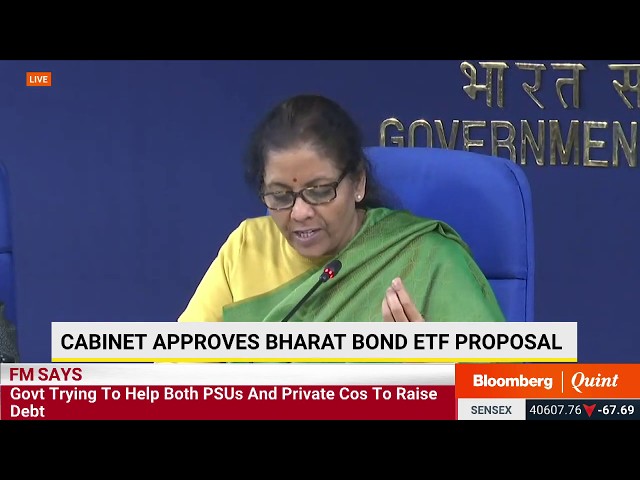 Investors can buy/sell units of bond ETF using three methods:
Through exchanges during trading hours.
Route of market maker where market maker will buy/sell units. The market maker will keep an inventory of units worth Rs 1 crore.
Through AMCs. Large investors can buy/sell through AMCs, the transaction value for whom will be Rs 25 crore or more.
Key features of Bharat Bond ETF
Will be tradable on exchanges.
Unit size Rs 1,000.
Transparent NAV (Periodic live NAV during the day).
Transparent portfolio (Daily disclosure on website).
Low cost (0.0005 percent).
ETF Structure
Each ETF to have fixed maturity date.
ETF will track underlying index on risk replication basis.
For now, it will have two maturity series: three and 10 years.
Get Your
Daily Newsletter
Get market moving news, top news & compelling perspectives
---