Government Seeks To Boost Exports Via Tax Incentive, Easier Credit Flow 
Finance Minister Nirmala Sitharaman introduced a slew of relief measures to support Indian exports.
14 Sep 2019, 8:57 PM IST
Finance Minister Nirmala Sitharaman introduced a slew of measures to bolster India's exports and to facilitate the growth of export-oriented micro, small, and medium enterprises.
This comes as India wants to more than triple its annual exports to $1 trillion in the next five years. India's exports totaled $330 billion in the year ended March.
The first measure introduced by the finance minister at a press conference held on Saturday was a new scheme for the reimbursement of taxes paid on exports, called the Remission of Duties or Taxes on Export Products, or RoDTEP. This will replace the existing Merchandise Exports From India Scheme, or MEIS.
Sitharaman said the new scheme would provide more incentives to exporters than all the existing schemes combined. It will come into effect from Jan 1, 2020 at which time the MEIS scheme will cease to exist.
Alok Chaturvedi, Director of Foreign Trade, said the government will have to forego additional revenue of Rs 5,000-10,000 crore after its implementation.
Currently, under MEIS, the government provides duty benefits depending on product and country. Under the scheme, an MEIS duty credit scrip can be transferred or used for payment of a number of duties including the basic customs duty.
"MEIS scheme was not compatible with World Trade Organisation norms, which was a problem," said Sharad Kumar Saraf, President of Federation of Indian Export Organisations, in an interview with BloombergQuint. The new scheme will be WTO compliant, he said.
In a separate measure, the government will provide Rs 1,700 crore to the Export Credit Guarantee Corporation to offer higher insurance cover to banks that lend working capital to export-oriented companies. The insurance coverage has been increased to 90 percent from 60 percent earlier and will give comfort to lenders, Chaturvedi said.
The move will result in a reduction in the overall cost of export credit, especially for MSMEs, Sitharaman said. In fact, it will likely reduce the interest charged on dollar and rupee export credit to below 4 percent and 8 percent respectively, Chaturvedi said.
Priority Sector Lending
The norms that govern priority sector lending for export credit are also being examined by the Reserve Bank of India, and revised limits will likely be notified soon. This is expected to release Rs 36,000-Rs 68,000 crore as export credit under priority sector, Sitharaman said.
"Higher credit availability to MSMEs for exports through releasing of an additional Rs 36,000-68,000 crore will counter the funding struggles faced by small exporters," said Mayank Jalan, president of Indian Chamber of Commerce.
Automated Refunds
Sitharaman also announced a fully automated electronic system for refund of input tax credit to businesses on the taxes paid on raw materials. The new system is expected to monitor and speed up input tax credit refunds. It will be implemented by end-September.
"It is a significant relief because of crores of GST refund was stuck, and this will immediately give a relief in terms of cash flow to the exporters," said Saraf from FIEO.
The steps announced by the government will make Indian exporters competitive in the global market which is becoming tougher due to factors like non-tariff barriers in major economies of the world and slowdown across different markets, said ASSOCHAM president, BK Goenka in an emailed statement.
Mega Shopping Fest
Finally, the government will organise mega shopping festival, like the one in Dubai, in four places by March 2020, Sitharaman said. These festivals will focus on promoting gems and jewellery, handicrafts, yoga, tourism, textiles and leather.
Watch the interview with Sharad Kumar Saraf, President of FIEO here...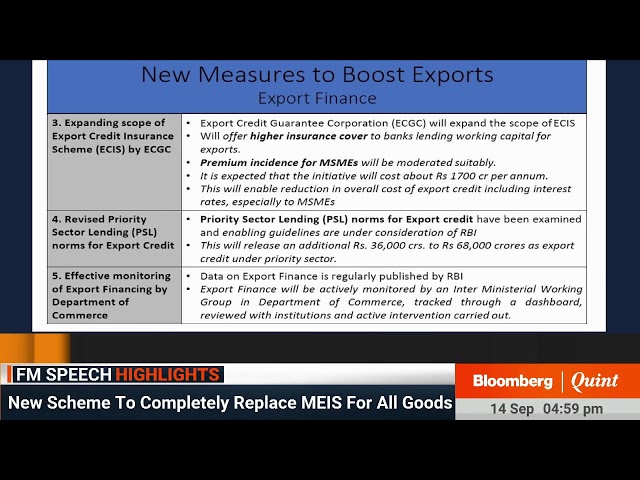 India Trade Gap Little Changed on Lower Oil Import Bill