Economic Survey: India 2019-20 GDP Growth Projected At 7%
Catch all live updates on the Economic Survey 2018-19 by KV Subramanian here.
Watch Live | Economic Survey 2018-2019 Press Conference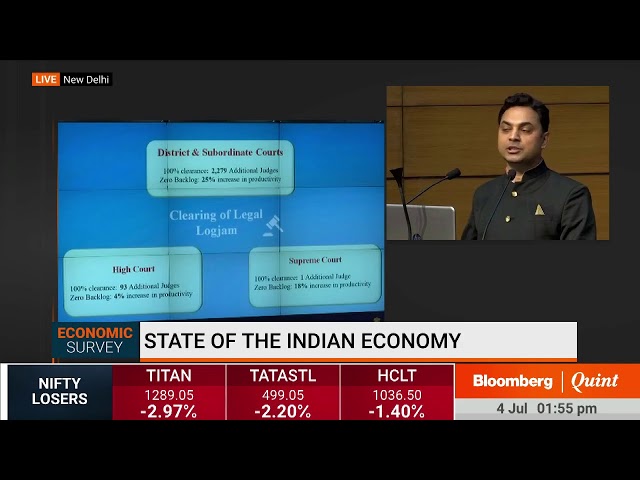 Exports Need To Be Integral To India's Growth, Survey Says
Exports must form an integral part of India's growth model because higher savings preclude domestic consumption as the driver of final demand, the survey said.
With the micro-economic and macroeconomic foundations laid over the last five years, the Indian economy is ready to shift gears so that economic growth, jobs and exports can be pushed up to the next level.
While it is true that world trade is currently facing some disruptions, India's share in global exports is so low that it should focus on market share.
One could even argue that the current disruptions provide an opportunity for India to insert itself into global supply chains.
Survey Suggests Path For India's Agricultural Policies
Diversification of livelihoods is critical for inclusive and sustainable development in agriculture and allied sectors, the survey said.
Agriculture policies should focus on dairying as India is the largest producer of milk; livestock rearing particularly of small ruminants and the fisheries sector, as India is the second largest producer there, the document said.
It added that the thrust should be on micro-irrigation to improve water use efficiency.
89 percent of groundwater extracted is used for irrigation. Hence, focus should shift from land productivity to 'irrigation water productivity'. Thrust should be on micro-irrigation to improve water use efficiency.
Fertiliser response ratio has been declining over time. Organic and natural farming techniques including Zero Budget Natural Farming can improve both water use efficiency & soil fertility.
Need Sustainable Energy Policy For Inclusive Growth: Survey
Access to fast battery charging facilities needed to increase the market share of electric vehicles, the survey said, adding that better energy policies are required for inclusive growth.
2.5 fold increase in per capita energy consumption needed for India to increase real per capita GDP by $5,000 at 2010 prices, and enter upper-middle income group.
4-fold increase in per capita energy consumption needed for India to achieve 0.8 Human Development Index score.
Market share of electric cars only 0.06 percent in India while it is 2 percent in China and 39 percent in Norway.
Redesigning Minimum Wage System For Inclusive Growth
KV Subramanian has proposed minimum wages to all employees and workers.
Survey supports rationalisation of minimum wages as proposed under the Code on Wages Bill.
'National Floor Minimum Wage' should be notified by the central government, varying across five geographical regions.
Minimum wages by states should be fixed at levels not lower than the 'floor wage'.
Minimum wages can be notified based either on the skills or on geographical region or on both grounds.
India Needs Health, Retirement Policies For The Ageing Masses: Survey
Despite being one of the youngest countries in the world in terms of average age of the population, India's policy makers need to prepare for those who are ageing, the survey said.
The country needs to invest in healthcare and increase the retirement age in a phase manner, it added.
Sharp slowdown in population growth expected in next 2 decades. Most of India to enjoy demographic dividend while some states will transition to ageing societies by 2030s.
National Total Fertility Rate expected to be below replacement rate by 2021.
Working age population to grow by roughly 9.7mn per year during 2021-31 and 4.2mn per year during 2031-41.
Significant decline to be witnessed in elementary school-going children (5-14 age group) over next two decades.
States need to consolidate/merge schools to make them viable rather than build new ones.
CEA Suggests Merging Government Datasets
Ramp Up Capacity In The Lower Judiciary, CEA Says
Need To Reduce Policy Uncertainty To Foster Investment, CEA Says
Must Look At MSMEs As Source Of Growth, Job Creation: CEA
General Government Fiscal Deficit At 5.8% In FY19
A Look At This Year's Economic Survey: Key Themes
Investment Key Driver To Create Virtuous Cycle
MPC Framework Successful In Containing Inflation
India Sees Economy Rebounding This Year As Growth Risks Balance
KV Subramanian's First Economic Survey
Economic Survey 2019 Set To Be Tabled Today